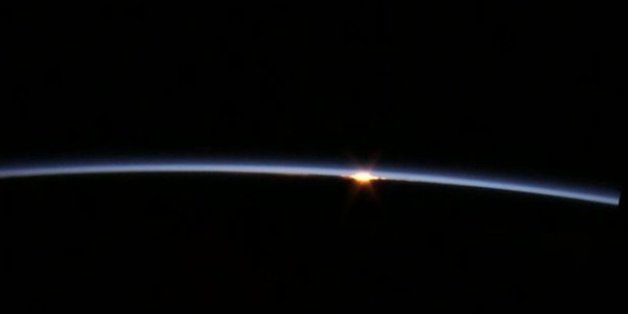 If you're sitting at your desk, wishing you were elsewhere, we have the perfect solution for you.
Below are five live-streams that allow you to appreciate the various animals, oceans and sunsets this planet has to offer, all while you're stuck inside. It's Mother Nature in real time.
1. From The International Space Station:
A few months ago, NASA gave us the opportunity to gain a little perspective in a big way. The High Definition Earth Viewing experiment, which went live in late April, tests how high-def video cameras, enclosed in special temperature-specific housing and affixed to the station, will fare in space's extreme environment.
The space station orbits Earth roughly every 90 minutes, which means every so often the screen will be black, because the cameras are facing the parts of Earth that are in "night." But this also means that viewers can watch multiple celestial sunrises and sunsets in a single day. And.they.are.awesome.
2. With The Creatures Of The Open Ocean:
Broadcast live streaming video on Ustream
Take a dip with dolphins without getting wet, via the Monterey Bay Aquarium's Open Sea Cam. The feed streams the California aquarium's largest tank, which holds more than 1 million gallons of water.
Watch for long enough and you might see a giant bluefin tuna, a glimmering school of sardines, scalloped hammerheads or lovesick sea turtles. The exhibition, along with the aquarium's many other live displays, aims to "inspire conservation of the oceans."
3. From The Mashatu Game Reserve:
Once hosted by National Geographic, the "Pete's Pond" webcam is now managed by WildEarth and brings you to eastern Botswana, where the Limpopop and Shashe rivers meet. The camera, which is operated by remote volunteers called "zoomies," might give you a glimpse at a hyena stopping by at night, or an elephant playing in the water during the day.
The WildEarth archives highlight the best footage, like this giraffe stopping by for some lunch:
4. From Beaches Around The World:
Surfers usually use Surfline.com's webcams to check out wave conditions, but the feeds are equally useful for those in need of a beach getaway. The cameras stream all day long from almost every continent, giving you the chance to zone out on a virtual vacation. We know you need it.
If you want to see Mother Nature's perfectly-timed power, try to catch surfers shredding during a good wave swell, or terrify yourself by watching while Hawaii's winter surf season consumes the islands' northern coastlines.
5. From A California Sunset:
Broadcast live streaming video on Ustream
California dreamin'? Now you can bring that dream a little closer to real life while watching the Santa Monica Sunset Cam. The camera streams all day and night, providing a gorgeous view 24/7, but set a reminder if you want to catch the colorful hues of the sunset:
BEFORE YOU GO
PHOTO GALLERY
Google Earth GIFs