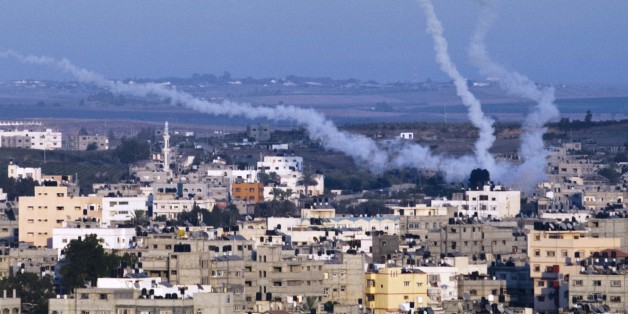 JERUSALEM, Aug 22 (Reuters) - A rocket fired from Gaza hit a synagogue in the Israeli city ofAshdod on Friday, wounding three people, police said.
"There is damage at the scene and a number of people were injured by shrapnel," police spokesman Micky Rosenfeld said. The attack came shortly before evening prayers ahead of the Jewish Sabbath. Ashdod is around 30 km (20 miles) from Gaza.
Hamas and other militant groups fired more than two dozen rockets into Israel on Friday, injuring two other people, with no signs of a let up in the six-week war.
Israel carried out 25 air strikes on Gaza, killing four people, Gaza health officials said.
(Writing by Allyn Fisher-Ilan; editing by Luke Baker)
BEFORE YOU GO
08/26/2014 12:41 PM EDT
VIDEO: Gazans Celebrate
CNN reporter Ian Lee posted this video on his Instagram account of Gazans celebrating the cease-fire deal.
08/26/2014 12:36 PM EDT
Report: No Deal On Seaport, Airport
According to BBC producer Michael Shuval, an Israeli official said Hamas' demands for the opening of a seaport and airport in Gaza are not part of the Egypt-brokered deal both factions agreed to on Tuesday, but will be discussed in further talks within a month.
Israeli official: CF doesn't include Hamas demands on port, airport, prisoners & funds. Sides will discuss those via Egypt within a month.

— Michael Shuval (@MichaelShuval) August 26, 2014
08/26/2014 12:29 PM EDT
Officials: Israel To Ease Gaza Blockade As Part Of Cease-fire
An Israeli official told the Associated Press that Israel will ease its blockade of the Gaza Strip as part of an Egyptian-brokered cease-fire deal. The agreement will enable the passage of humanitarian aid and construction material to rebuild the war-torn territory, according to the report.
Meanwhile, a Palestinian official told Buzzfeed that the terms of the deal were similar to those reached after the last major conflict between Israel and Hamas in 2012. That year, Israel pledged to ease restrictions at Gaza's border in exchange for a cessation of rocket fire from Hamas militants.
-- Charlotte Alfred
08/26/2014 12:20 PM EDT
Gaza Celebrates
In #Gaza, @AP staff there report heavy celebratory gunfire as cease-fire between #Israel, Hamas takes hold.

— Jon Gambrell جون (@jongambrellAP) August 26, 2014
08/26/2014 12:16 PM EDT
Barrage Of Rockets
According to several reporters in Israel, Palestinian militants have fired a barrage of rockets at Israel moments before the start of a long-term ceasefire.
Sirens warning of rocket attacks sound in southern Israel after Gaza ceasefire was due to take effect

— Reuters Top News (@Reuters) August 26, 2014
Heavy rocket fire continuing on Gaza border areas 5 minutes after Hamas says ceasefire in effect.

— Daniel Nisman (@DannyNis) August 26, 2014
Ceasefire or not, rocket sirens going off in #Gaza border communities #Israel

— Ben Hartman (@Benhartman) August 26, 2014
08/26/2014 12:10 PM EDT
More On The Israeli Position
Via the Associated Press:
JERUSALEM (AP) — An Israeli official says Israel has accepted an Egyptian-brokered cease-fire plan to end a seven-week war against Islamic militants in the Gaza Strip.

The official said Tuesday that Israel "responded positively" to Egypt's call for an open-ended cease-fire.

Egyptian state media reported the cease-fire was to begin at 7 p.m. local time (1600 GMT).

The Israeli official said Israel would ease its blockade of Gaza to allow humanitarian and construction materials to enter the war-battered territory.

He said indirect talks on more substantial issues would begin in Cairo within a month. Issues are expected to include Hamas' demand for an end to the blockade and Israel's calls for Hamas to disarm.

The official spoke on condition of anonymity because he was not authorized to discuss the issue with journalists.
08/26/2014 11:49 AM EDT
Haaretz: Israel Accepts Truce
A senior Israeli official told Haaretz that Israel has accepted the Egyptian-proposed truce. The official added that members of Israel's cabinet had been notified.
Read more here.
08/26/2014 11:44 AM EDT
More On The Egyptian Announcement
CAIRO (AP) — Egyptian state media has announced a cease-fire between Hamas and Israel to halt the seven-week Gaza war, which has killed over 2,200 people.

Both Egyptian state television and the state news agency MENA announced the deal Tuesday night. Both said it begins at 7 p.m. local time (1600 GMT), without elaborating.

Earlier, officials with from Hamas and Islamic Jihad, the main groups fighting in Gaza against Israel, said a cease-fire had been reached. Israeli officials have not immediately commented. They described it as an "open-ended" cease-fire that included an Israeli agreement to ease its blockade of Gaza to allow relief supplies and construction materials into the war-battered territory.

Israeli officials have yet to comment.
08/26/2014 11:34 AM EDT
Egyptian State TV: Cease-Fire Reached
Egypt state TV reports as well that a cease-fire was reached between Hamas and Israel, the Associated Press writes.
08/26/2014 11:22 AM EDT
Reports: 3 Israelis Seriously Wounded
Reporter Ben Hartman writes on Twitter that reports have emerged that 3 Israelis were seriously wounded in an attack from Gaza.
BREAKING: Reports of 3 or more people seriously wounded in Eshkol Region by mortars/or rockets, (developing) #Israel #Gaza

— Ben Hartman (@Benhartman) August 26, 2014