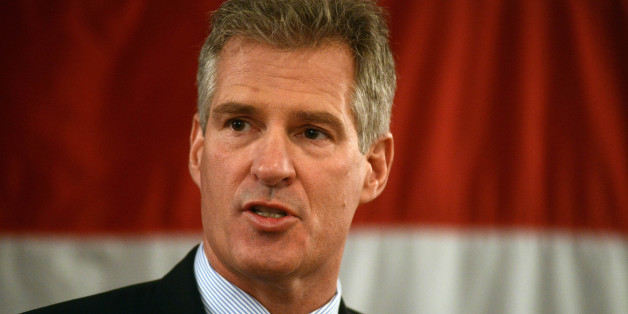 WASHINGTON -- Two surveys released this week shattered perceptions of key Senate battleground races in New Hampshire and Georgia, but dig a little deeper and you'll find ample reason to be skeptical about any game-changing declarations less than three months from Election Day.
A new UNH/WMUR poll released Thursday showed Scott Brown (R) in a statistical tie with Sen. Jeanne Shaheen (D) -- a 10-point gain for the former Massachusetts senator since UNH last polled the race in July. The same poll found that Shaheen's favorability rating dropped by a net 16 points, which the pollster attributed to President Barack Obama's unpopularity across the country.
"Sound the alarms!" the National Republican Senatorial Committee wrote in an email. "The poll has enormous ramifications." Jonathan Weisman of The New York Times tweeted, "If this poll is right, the bottom may be dropping out for Senate Democrats." Politico's Mike Allen chimed in by noting that the new numbers will "help bring other big donors off the sidelines because they are saying, 'Wow, a Senate Majority Leader Mitch McConnell might be a real thing.' If Scott Brown wins, they are very far on the way to that."
But add some context, and the poll's significance narrows considerably. Shaheen had consistently edged Brown all year in the Democrat-leaning state, often by double digits. HuffPost Pollster, which averages publicly available polling data, shows Shaheen topping Brown by 6 points -- including the new UNH poll. So why the movement now? The Washington Post notes that more identified Republicans responded to this poll than previous polls. Moreover, the base is beginning to coalesce around Brown, and the race is likely to tighten further as Election Day approaches.
As Tom Jensen, the director of Democratic-leaning Public Policy Polling, told The Huffington Post on Friday, the race was never truly a 12-point blowout for Shaheen, as some polls had registered early in the race. Nor is it likely a dead heat, as the UNH poll showed. Rather, it's more likely somewhere in between.
Over in the Georgia Senate race, which has consistently leaned Republican, another poll released Friday raised eyebrows among political operatives. According to a Landmark Communications survey conducted for WSB-TV, Democrat Michelle Nunn tops Republican David Perdue by a 7-point margin. Right on cue, the Democratic Senatorial Campaign Committee blasted out the poll to reporters, in hopes of drawing attention to the game-changing results.
But the new data stands in stark contrast to other polling in the race, which has consistently found the Republican businessman to be topping Nunn. According to HuffPost Pollster, Perdue currently maintains a 5-point lead. Curiously, Landmark Communications has shown Nunn with a substantial lead over Perdue all three times it has polled the race. In July, one poll found Nunn with a 7-point advantage, while another had her up a whopping 10 points.
The survey's results also left WSB-TV political analyst Bill Crane scratching his head. "David Perdue being behind Michelle Nunn is surprising," he said.
Both the Georgia and New Hampshire Senate races are likely to narrow as voters begin to tune in ahead of November's midterm elections. But recent polling is best taken with a grain of salt, lest we forget the lessons of the 2012 presidential campaign.
BEFORE YOU GO
PHOTO GALLERY
Senate Seats Up For Grabs In 2014