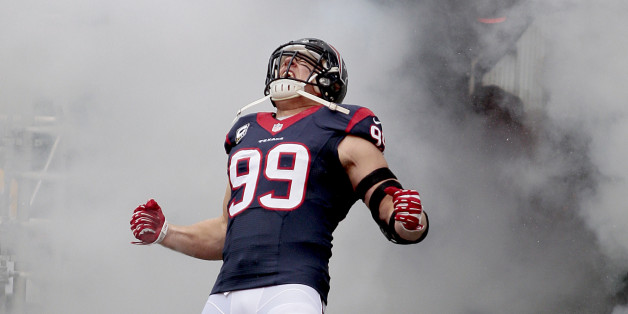 By Ari Nissim, National Football Post
With just under two weeks until the commencement of the 2014 NFL regular season, some integral contract negotiations have been completed, while some additional deals will likely get done before the conclusion of the preseason.
With that in mind, let's take a look at some of the notable players who are of interest to people and break down what we should be watching for.
Some players from the 2011 draft class such as Atlanta's Julio Jones (injury), Denver's Von Miller (suspensions) and San Francisco's Aldon Smith (off the field) will more than likely have to wait to get new deals until after this season. However, there are still plenty of interesting deals that could see pen hit paper in the very near future.
1. Dez Bryant, WR, Dallas Cowboys: I'm hearing this deal is not close. In addition, Eugene Parker (Bryant's agent) has been known to take his time to exert maximum leverage, so I don't expect this deal to get done until later or after the season.
Prediction: Late season or after season
2. A.J. Green, WR, Cincinnati Bengals: One of the top wide receivers in the league with prototype size who has produced over 1,000 receiving yards receiving every year in the league. Green is going to be looking to be paid at the top of the wide receiver market (currently approximately $16 million per year) in both average per year and guaranteed money. The Bengals do not guarantee money outside of a signing bonus, so this is going to create a potential pitfall that will only be able to be worked around with a huge signing bonus (think $20 million+), followed up with a roster bonus in the second year for approximately another $10 million. The fact that Green will be looking to get maximum money will create issues in this deal getting done. I do not expect this deal to be concluded any earlier than next offseason. Green potentially could play out his contract and get tagged by the Bengals after next year.
Prediction: A long way off
3. Justin Houston, OLB, Kansas City Chiefs: The two-time Pro-Bowler alleviated pre-draft concerns and has put together some solid numbers as a pass rusher, with double-digit sack totals in each of the last two years while averaging 1.0 sack per start in 2013. The pass rushing market is a bit volatile at the moment, with deals ranging from $8 million all the way up to $16 million for Mario Williams. At 25 years of age, I would assume this contract would be right around the deal fellow Kansas City pass rusher Tamba Hali signed for.
Prediction: During the season
4. Gerald McCoy, DT, Tampa Bay Buccaneers: McCoy is everything the Bucs hoped for when he was selected third overall back in 2010. The roadblock to this deal is the fact that McCoy is scheduled to make $12.7 million this year, a number higher than the $12.1 million average for the highest paid DT in the league (Haloti Ngata, 2011). But this deal is going to get done as I believe both sides will meet in the middle on a price in the $12-$13 million range, making McCoy the highest paid defensive tackle in the league for a short period until Detroit's Ndamukong Suh signs a new deal with the Lions or elsewhere.
Prediction: Anytime from now until the end of the season
5. Robert Quinn, DE, St. Louis Rams: I think both sides here reach an agreement in due time. However, some intangibles may keep this deal from getting done sooner rather than later, I expect an average in the $14 million range.
Prediction: Before the end of the season
6. Alex Smith, QB, Kansas City Chiefs: So the Chiefs traded for Alex Smith and went to the playoffs in his first year with the club. However, Smith doesn't really inspire teams to say, "This is our franchise quarterback." He enjoyed his best statistical season in 2013 with career highs in almost every category, but Smith is a game manager and most teams are looking for more than that. On the positive side, he's only 30-years-old, is accurate and doesn't turn the ball over. So there are plenty of teams that would be happy to make them their starter. If this deal gets done, it should be pretty close to what Andy Dalton got in Cincinnati, which is not going to make agent Tom Condon fond of signing off. A bridge could come in the form of adding more guaranteed money to the deal to get it done with a lower average per year. Without that, Alex will likely have to step it up or step in to get the deal done.
Prediction: Do I look like a genie?
7. Ndamkong Suh, DT, Detroit Lions: Looking to become the highest paid defensive player at $16+ million is difficult enough. Looking to do it on a team that already pays two players over $16 million per year is pretty unlikely even if Detroit does believe that Suh is the best defensive lineman in the league. In addition, Suh has maximum leverage as he enters the final year of a contract created under the old rookie system. Suh has already pocketed over $50 million and has a cap number of over $22 million in 2014, making it highly unlikely and, more pointedly, dumb to franchise him next year.
Prediction: Not done until the 2014 Combine at the earliest
8. Demarius Thomas, WR, Denver Broncos: This deal makes way too much sense not to get done. However, Mike Sullivan (Broncos Director of Football Administration) hasn't shown a great track record of getting contracts signed early since he joined the Broncos. Offensive tackle Ryan Clady signed the last day a franchise player could sign a long-term deal and pass rusher Elvis Dummervil is now a Raven after he got cut because signatures were not all in before the Broncos' imposed deadline.
Prediction: Unknown
9. J.J. Watt, DE, Houston Texans: I don't see this deal getting done until after the season. With the money that Watt is asking for, there really isn't a reason to wrap this up early.
Prediction: Next offseason
10. Muhammad Wilkerson, DE, New York Jets: He is the best player on a very good defensive front for the Jets and can play end in either a 3-4 or 4-3 defense, as well as move inside to play defensive tackle if needed. Wilkerson is one of the more underrated players in the league. However, general manager John Idzik is not in a hurry to do a deal with anyone, as reported earlier this year during free agency, so this deal will not likely get done until next offseason at the earliest. Unless, of course, Wilkerson takes a below market deal for peace of mind.
Prediction: Next year or later
Follow Ari on Twitter: @arinissim
Ari Nissim worked with the New York Jets from 2006 through 2013, six as Director of Football Administration; In addition he interned at the NFL League office and worked at Athletic Resource Management Sports Agency, and currently teaches in the NYU Sports Management Program.