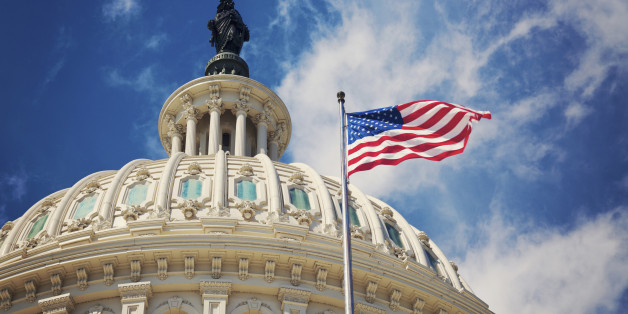 Gallup finds that turnout correlates with congressional approval, based on just six elections. Daily Kos launches another poll based Senate forecast. And Nate Silver highlights the continuing accuracy of statewide Senate and Governor election polls despite the major challenges roiling the polling world. This is HuffPollster for Monday, August 25, 2014.
DISAPPROVAL OF CONGRESS LINKED TO HIGHER TURNOUT - Jeffrey M. Jones: "Americans' disenchantment with Congress may lead to higher voter turnout on Election Day this year. In the last five midterm elections, voter turnout has exceeded 40% when Congress' approval rating was low, but turnout was below 40% when Americans were more approving….The disapproval-turnout link is a fairly recent phenomenon. From 1974 -- the first year Gallup measured congressional job approval -- until 1990, there was only a weak relationship between turnout and approval, with turnout higher when approval was higher, the opposite of the current pattern. But that weak relationship was driven mostly by the 1974 midterm elections, when turnout was among the higher ones for midterms and Congress was relatively popular after the Watergate hearings that led to President Richard Nixon's resignation that summer….Since 1994, voters may have a greater belief that they can change the federal government and its policies by their choices of members of Congress in midterm elections. That belief in turn may help drive up turnout when voters feel a change is needed." [Gallup]
-Prof. Michael McDonald, who studies voter turnout: "Interesting cong disapproval [leads to] higher midterm turnout, but caution small number of elections to generalize from" [@ElectProject]
AMERICANS WANT GOVERNMENT TO TAKE A MORE ACTIVE ROLE IN INVESTIGATING CAMPUS SEXUAL ASSAULT - HuffPollster: "Americans support a more active role for the federal government in investigating how colleges and universities handle sexual assault, but are divided on whether there should be new laws dealing with campus sexual assault, a HuffPost/YouGov [poll] found. An overwhelming majority of poll respondents, 72 percent, said the U.S. Department of Education should take a very active or somewhat active role in investigating how individual colleges and universities deal with sexual assault. Another 10 percent said the Department of Education should not play a very active role, while 11 percent said it should play no role at all." [HuffPost]
WHAT DOES TODAY'S LIBERTARIAN MOVEMENT LOOK LIKE? - Jocelyn Kiley: "The question of whether libertarianism is gaining public support has received increased attention, with talk of a Rand Paul run for president and a recent New York Times magazine story asking if the "Libertarian Moment" has finally arrived. But if it has, there are still many Americans who do not have a clear sense of what 'libertarian' means, and our surveys find that, on many issues, the views among people who call themselves libertarian do not differ much from those of the overall public. About one-in-ten Americans (11%) describe themselves as libertarian and know what the term means….Self-described libertarians tend to be modestly more supportive of some libertarian positions, but few of them hold consistent libertarian opinions on the role of government, foreign policy and social issues." [Pew]
DAILY KOS (D) LAUNCHES A NEW SENATE MODEL - David Jarman: "Daily Kos Elections is pleased to announce the introduction of its Poll Explorer! The Poll Explorer is a statistical model that allows us to track public opinion in each Senate and gubernatorial race this year, and from there, predict the likely outcome of each race and the number of seats that each party will control after the election is held….The Daily Kos Elections Poll Explorer is an adaptation of Votamatic, which was a site developed for 2012 by Drew Linzer that correctly predicted the 332-206 outcome in that year's presidential election. We've repurposed the Votamatic model to work in the Senate and gubernatorial context as well. It's a Bayesian model that, first, creates smoothed trendlines for each individual race and then runs thousands of Monte Carlo simulations to see how likely Democratic candidates are to win each race, and how likely Democrats are to win the Senate and gubernatorial playing fields as a whole….We've stress-tested the model by retroactively applying it to the 2012 election, which finds it correctly predicting all but two Senate races." [Daily Kos]
REVIEWING THE STATE OF POLLING ACCURACY - Nate Silver: "There is no shortage of reasons to worry about the state of the polling industry. Response rates to political polls are dismal. Even polls that make every effort to contact a representative sample of voters now get no more than 10 percent to complete their surveys — down from about 35 percent in the 1990s…..But all of this must be weighed against a stubborn fact: We have seen no widespread decline in the accuracy of election polls, at least not yet. Despite their challenges, the polls have reflected the outcome of recent presidential, Senate and gubernatorial general elections reasonably well. If anything, the accuracy of election polls has continued to improve….It's important to note that the accuracy of the average poll — what these figures describe — is not the same thing as the accuracy of the polling average. The polling average will cancel out some of the errors from individual polls provided that the misses come in opposite directions. But at other times, almost all the errors are in the same direction. This was the case in 1998, for instance, when Democrats did surprisingly well in the midterm elections. Perhaps it can be viewed as a hopeful sign that we haven't had such a disastrous year since then. But 1998 serves as testimony that when the polls have a bad year, they often make the same mistakes in a number of states, systematically underestimating the performance of Democratic or Republican candidates. That means you can have one election cycle, or several in a row, when the polls get almost every state right — followed by another where there are misses all over the map. Another bad polling year might be lurking around the corner." [538]
HUFFPOLLSTER VIA EMAIL! - You can receive this daily update every weekday via email! Just click here, enter your email address, and and click "sign up." That's all there is to it (and you can unsubscribe anytime).
MONDAY'S 'OUTLIERS' - Links to the best of news at the intersection of polling, politics and political data:
-Pew Research and USA Today find Americans give police relatively low ratings post-Ferguson. [Pew]
-Sen. Al Franken (D) holds on to a comfortable lead in Minnesota. [SurveyUSA]
-Unusual poll results in New Hampshire and Georgia drew plenty of attention last week. [HuffPost]
-Martha Coakley (D) and Charlie Baker (R) both look like safe bets to win their respective primaries in Massachusetts. [Suffolk]
-Jonathan Bernstein explains why public opinion can often seem like "an incoherent mess," particularly with respect to Obamacare. [Bloomberg]
-Chris Wilson (R) makes a case for the necessity of polling. [WPA Opinion Research]
-Robert Shapiro reviews the history of Americans discomfort with protests. [WashPost]
-Chris Cillizza discusses the decline in ratings of Obama's positive qualities. [WashPost]
-Vermont and Connecticut are the most likely to re-elect their governors. [Smart Politics]
-Data firm i360 says it is polling 200,000 voters a month "in an effort to offer Republicans unparalleled voter turnout capabilities." [Washington Examiner via @MagellanStrat]
-Vala Afshar explains why you should hire a data scientist. [HuffPost]
-"North Dakota: Legendary Among States" [Gallup]
-Americans in the suburbs are happier than those in cities. [The Atlantic]