And the award for Outstanding Achievement in Weirdness goes to ... The Emmys!
The first Emmys were awarded on Jan. 25, 1949, at the Hollywood Athletic Club. The "Emmy" was not named after a person -- unlike the Oscars -- but rather a special camera tube, known at the time as an "Immy." When it was decided that the statue would be a female figure, with wings representing the muse of art and the atom representing science, the Academy of Television Arts & Sciences modified "Immy" into a more feminine name.
But, those are just fun facts and not all that strange. Much more interesting are the weird moments and anomalies of the long-running television awards ceremony.
1. Betty White has been nominated for an Emmy in six different decades and won in four.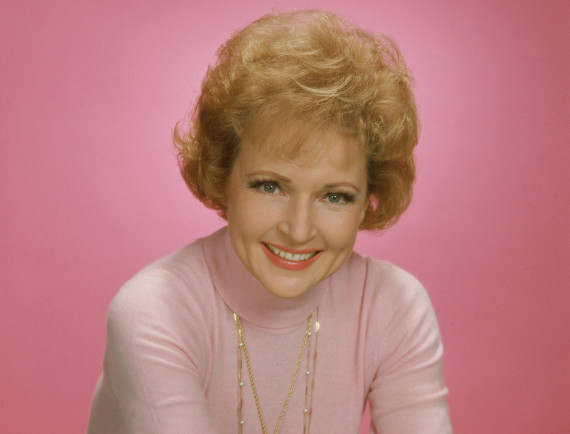 Overall, Betty White has five wins and 21 nominations. The wins:
Outstanding Continuing Performance by a Supporting Actress, 1975.
Outstanding Continuing Performance by a Supporting Actress, 1975.
Outstanding Lead Actress in a Comedy Series, 1986.
Outstanding Guest Actress for a Comedy Series, 1996.
Outstanding Guest Actress in a Comedy Series, 2010.
2. A ventriloquist won the first Emmy.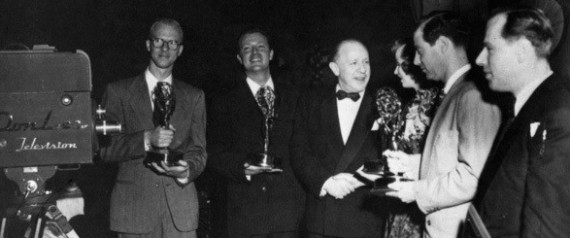 Shir­ley Dinsdale was 20 years old when she became the first person to be awarded an Emmy, for her variety show "starring" a puppet named Judy Splin­ters. The Emmy was given to both Dinsdale and Splinters.
After the win, the two went on to star in a Western-themed children's show named after the puppet.
Image: Emmys
3. Winners aren't just given the statuette, they actually have to buy it if they want to take it home.
Each statuette costs about $400 to make and consist mostly of cheap metals, dipped in liquid gold. This cost is then passed on to the Emmy winners, as they're required to purchase the statuette if they'd actually like to keep the award.
It's also very expensive to even win an Emmy in the first place. Talking with The Daily Beast, Tom O'Neil, editor of the entertainment awards site GoldDerby.com, explained:
It is big business and it's odd to think that Hollywood would spend more than $30 million a year to win a fake gold statuette that costs $400 to manufacture ... But it's a place in the history books, the approval of your peers. It's a pat on the back they crave.
4. The yellow first down line shown on broadcasts of NFL games was awarded an Emmy.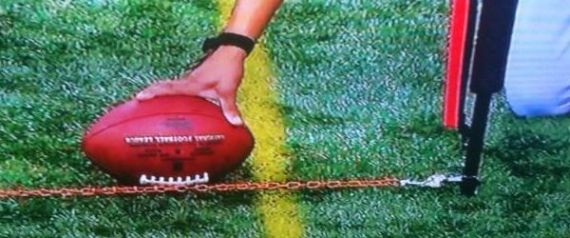 The yellow line was introduced by a technology company called Sportvision and ESPN on Sept. 27, 1998 during a game between the Baltimore Ravens and the Cincinnati Bengals. The line, named 1ST & TEN, ended up winning two Emmys for technical achievement.
Image: Flicker user IntelFreePress
5. And so were multiple video game controllers.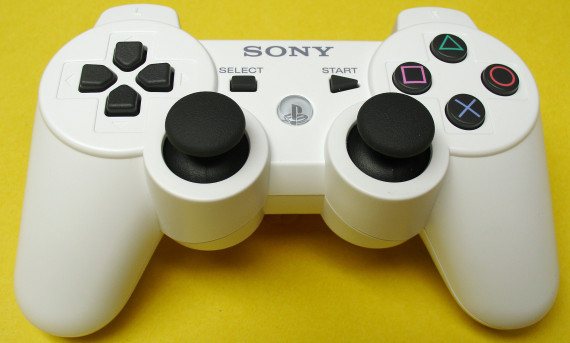 Both Sony's original Dual Shock Analog Controller and Nintendo's NES/Famicon controller won in 2007 at the 58th Annual Technology & Engineering Emmy Awards. If you're wondering what the Technology & Engineering Emmys are for, its site explains they honor achievements in two fields:
Science, Engineering & Technology for Broadcast Television, which includes broadcast, cable and satellite distribution, and secondly, Science, Engineering and Technology for Broadband and Personal Television, encompassing interactive television, gaming technology, the Internet, cell phones, private networks, and personal media players.
Image: WikiCommons
6. Who has won the most Emmys ever? The Academy Awards.
As of July 2010, the Academy Awards had won 46 times and been nominated for 195 Emmy awards. The third telecast of the Oscars ceremony in 1955 was the first to receive an Emmy nomination. Bob Hope hosted that year.
The Academy Awards have already won a statuette in 2014 for Outstanding Art Direction For Variety, Nonfiction, Reality or Reality-Competition Programming, beating out "Cosmos," "Portlandia," "Saturday Night Live," "The Voice," and the Sochi Olympics.
7. The Emmys once let the Governor of California host the awards show.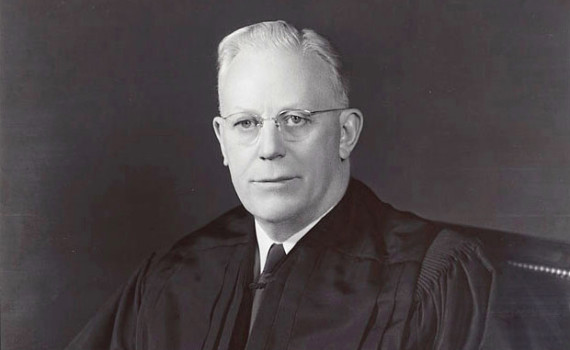 Earl Warren hosted the 1951 Emmy Awards while he was Governor of California. Just two years later, Warren would become the 14th Chief Justice of the United States, where he presided over landmark cases such as "Brown v. Board of Education."
This was the 3rd annual Primetime Emmy Awards and the last time the awards mainly served to recognize Los Angeles-based television shows. Groucho Marx won that year for Most Outstanding Personality. Upon receiving the award, Marx joked, "I've been a good father to all my children and a good husband to all my wives."
During the ceremony, Warren also made a seemingly forgotten, albeit prescient, prediction: "It will be recorded that television has had a greater impact on the lives of the people than the atomic bomb."
Image: WikiCommons
8. Dr. Frasier Crane is the only character to be nominated for three different shows.
Kelsey Grammer has performed as Dr. Fraiser Crane on "Cheers," "Wings" and "Frasier," all of which received Emmy nominations. His work on Frasier gained nine nominations and four wins. Besides the previously mentioned Academy Awards, "Frasier" was recognized with more Emmys than any other television show, winning 37 times.
9. "Scrubs" won an Emmy for Outstanding Multi-Camera Picture Editing for a Series when they shot an episode making fun of multi-camera sitcoms.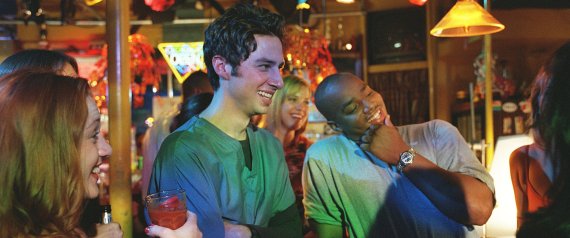 "Scrubs" won this award in 2005, one year after being only nominated for Outstanding Single-Camera Picture Editing for a Series.
The episode, titled "My Life in Four Cameras," made fun of sitcoms and eventually concluded that life isn't quite like the stories often depicted in multi-camera comedies. Zach Braff as J.D. sums up in the episode:
Unfortunately, things around here don't always end as neat and tidy as they do on sitcoms. Relationships aren't always magically fixed in 30 minutes, you have to work on them. Problems don't always have easy solutions. And around here, nice people don't always get better. And at times like that, it's always comforting that there's something that can pick your spirits up.
10. An Emmy statuette has been engraved with the infamous words "Dick in a Box."
"Dick in a Box" won in 2007 for "Outstanding Original Music and Lyrics." Talking with Marc Maron on the "WTF Podcast," Andy Samberg revealed that the words "Dick in a Box" are actually engraved on the award.
Samberg also admitted he's come to terms with only be remembered for the song when he dies saying: "I've said before, and am fine with ... that's the thing that'll be in my obituary."
All images Getty unless otherwise noted.
BEFORE YOU GO
PHOTO GALLERY
All Things Emmy