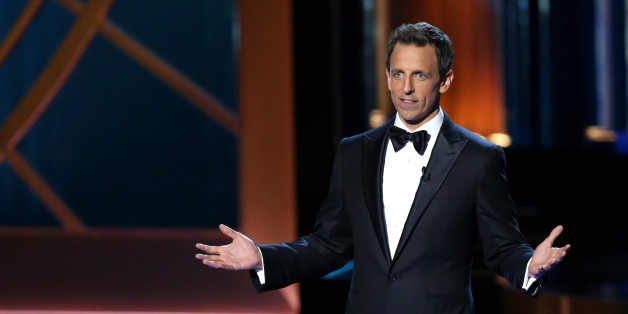 Seth Meyers took a break from hosting his late night talk show to emcee the 2014 Emmy Awards in Los Angeles on Monday night. It was Meyers first time as host, and he enlisted many of his friends to help with the event: Amy Poehler, Jimmy Fallon, Andy Samberg, Billy Eichner, Jimmy Kimmel and Stephen Colbert were among the comics to participate in the show.
Meyers, however, started things off on his own, with a traditional monologue of jokes, many of which were of the inside variety. "This year we're doing the Emmys on a Monday night in August -- which, if I understand television, means the Emmys are about to get cancelled," Meyers said.
While the Emmys would not go on to honor "House of Cards" or "Orange is the New Black" in the major drama and comedy categories, Meyers made the Netflix shows a central focus of his monologue.
"We're doing the show on Monday in part because the MTV Music Awards were last night," Meyers said. "That's right: MTV still has an awards show for music videos even though they no longer show music videos. That's like network TV holding an awards show and giving all the trophies to cable and Netflix. That would be crazy."
One of the big highlights was Meyers and Billy Eichner teaming up for a special Emmys-themed version of "Billy on the Street."
Meyers also opened the broadcast up to some audience questions:
And, later, introduced a bit where "Weird Al" Yankovic sang parody songs of some famous television show themes, such as "Mad Men" and "Game of Thrones."
Even though a few highlights stood out, not everyone was feeling the humor:
Weird Al is actually making me wish Seth Meyers was still onstage telling bad jokes.

— Zach Falkow (@ZachInTheMane) August 26, 2014
NBC shouldn't have allowed Kimmel on stage -- outshining Seth Meyers #Emmys

— Jeanine Poggi (@jpoggi) August 26, 2014
Seth Meyers best joke was the HIMYM finale, aside from that everything has been terrible
#Emmys

— Pablo Troncoso (@PabloTroncosoU) August 26, 2014
Oh Seth Meyers, this is almost as bad as your Late Night Show #Emmys #Emmys2014

— Michelle Zambrana (@meeshsparks) August 26, 2014
#emmys drinking game: take a shot every time Seth Meyers tells a bad joke. #alcoholpoisoning

— Sean Slagle (@SeanSlagle) August 26, 2014
Before the Emmys broadcast, Meyers gave a host of interviews about the prestigious job. "Part of what makes [hosting] rewarding is that everybody knows you're taking a risk," Meyers told The New York Daily News. "I don't think there's a perception that hosting them is easy."
In an interview with Vulture, Meyers said that he enlisted Tina Fey and Amy Poehler, his former "Saturday Night Live" colleagues, to help write some of the jokes in his Emmys monologue.
"If they could give me one joke each that would be so awesome," he said. "It's almost like you want them to give you a bad joke, so you can be like, 'I didn't want to tell it, but Tina Fey ...'"
What did you think of Seth Meyers' hosting performance?
BEFORE YOU GO
PHOTO GALLERY
Emmys Red Carpet 2014