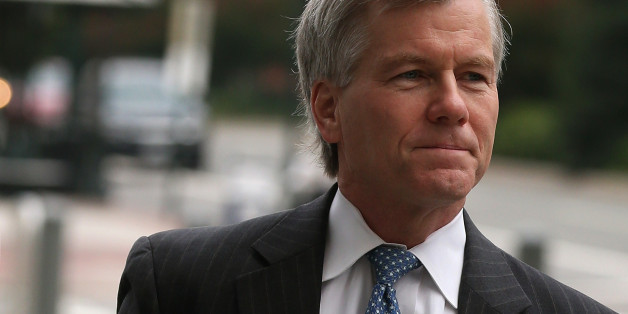 RICHMOND, Va., Aug 26 (Reuters) - Former Virginia Governor Robert McDonnell returns for more prosecution questioning on Tuesday during the fifth week of his federal corruption trial.
McDonnell, a Republican, has been on the witness stand for five days. He underwent sometimes-tense cross-examination by Assistant U.S. Attorney Michael Dry on Monday.
McDonnell and his wife, Maureen, face a 14-count indictment for allegedly taking $177,000 in gifts and loans from dietary supplement entrepreneur Jonnie Williams Sr. in exchange for promoting his company, Star Scientific Inc, and its main product, Anatabloc.
McDonnell, 60, testified on Monday that his finances were sound and he did not need money from Williams. He has contended that he provided nothing more than routine courtesies for Williams, who wanted state-backed research for Anatabloc.
The McDonnells' strained marriage is a key part of the defense strategy in U.S. District Court. Lawyers for the couple contend that they could not have conspired since they were barely on speaking terms.
If convicted on all charges, the McDonnells could be sentenced to 20 years in prison and face hefty fines. McDonnell's four-year term as governor ended in January. (Reporting by Ian Simpson; Editing by Eric Beech)
BEFORE YOU GO
PHOTO GALLERY
United States Governors