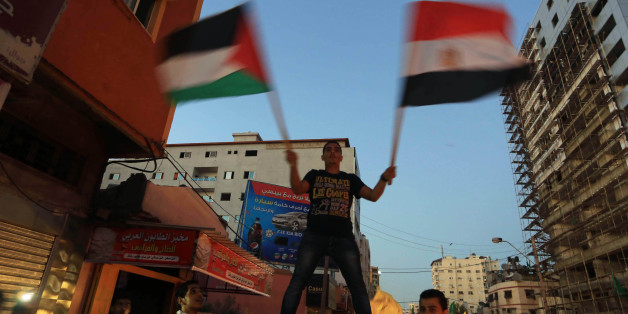 By Nidal al-Mughrabi and Luke Baker
GAZA/JERUSALEM, Aug 26 (Reuters) - Israel and the Palestinians agreed on Tuesday to an Egyptian-brokered plan to end the fighting in Gaza after 50 days of combat in which more than 2,100 Palestinians, most of them civilians, 64 Israeli soldiers and five civilians in Israel were killed.
Following are the broad parameters of the agreement, which Israeli and Palestinian negotiators have been working on through indirect talks in Cairo over recent weeks.
As part of the deal, both sides have agreed to address more complex issues dividing them - including the release of Palestinian prisoners and Gaza's demands for a sea port - via further indirect talks starting within a month.
IMMEDIATE STEPS
* Hamas and other militant groups in Gaza agree to halt all rocket and mortar fire into Israel.
* Israel will stop all military action including air strikes and ground operations.
* Israel agrees to open more of its border crossings with Gaza to allow the easier flow of goods, including humanitarian aid and reconstruction equipment, into the coastal enclave.
* In a separate, bilateral agreement, Egypt will agree to open its 14 km (8 mile) border with Gaza at Rafah.
* The Palestinian Authority, headed by President Mahmoud Abbas, is expected to take over responsibility for administering Gaza's borders from Hamas. Israel and Egypt hope it will ensure weapons, ammunition and any "dual-use" goods are prevented from flowing into Gaza.
* The Palestinian Authority will lead in coordinating the reconstruction effort in Gaza with international donors, including the European Union.
* Israel is expected to narrow the security buffer along the inside of the Gaza border, reducing it from 300 meters to 100 meters if the truce holds. The move will allow Palestinians more access to farm land close to the border.
* Israel will extend the fishing limit off Gaza's coast to six miles from three miles, with the possibility of widening it gradually if the truce holds. Ultimately, the Palestinians want to return to a full 12-mile international allowance.
LONGER TERM ISSUES TO BE DISCUSSED
* Hamas wants Israel to release hundreds of Palestinian prisoners rounded up in the West Bank following the abduction and killing of three Jewish seminary students in June, an attack that led to the war. Hamas initially denied involvement in the killings, but a senior Hamas official in exile in Turkey last week admitted the group did carry out the attack.
* President Abbas, who heads the Fatah party, wants freedom for long-serving Palestinian prisoners whose release was dropped after the collapse of peace talks between Israel and the Palestinian Authority.
* Israel wants Hamas and other militant groups in Gaza to hand over all body parts and personal effects of Israeli soldiers killed during the war.
* Hamas wants a sea port built in Gaza, allowing goods and people to be ferried in and out of the enclave. Israel has long rejected the plans, but it is possible that progress towards it could be made if there are absolute security guarantees.
* Hamas wants the un-freezing of funds to allow it to pay 40,000 police, government workers and other administrative staff who have largely been without salaries since late last year.
* The Palestinians also want the airport in Gaza - Yasser Arafat International, which opened in 1998 but was shut down in 2000 after it was bombed by Israel - to be rebuilt. (Reporting by Nidal al-Mughrabi; writing by Luke Baker; editing by Larry King)
BEFORE YOU GO
08/26/2014 12:41 PM EDT
VIDEO: Gazans Celebrate
CNN reporter Ian Lee posted this video on his Instagram account of Gazans celebrating the cease-fire deal.
08/26/2014 12:36 PM EDT
Report: No Deal On Seaport, Airport
According to BBC producer Michael Shuval, an Israeli official said Hamas' demands for the opening of a seaport and airport in Gaza are not part of the Egypt-brokered deal both factions agreed to on Tuesday, but will be discussed in further talks within a month.
Israeli official: CF doesn't include Hamas demands on port, airport, prisoners & funds. Sides will discuss those via Egypt within a month.

— Michael Shuval (@MichaelShuval) August 26, 2014
08/26/2014 12:29 PM EDT
Officials: Israel To Ease Gaza Blockade As Part Of Cease-fire
An Israeli official told the Associated Press that Israel will ease its blockade of the Gaza Strip as part of an Egyptian-brokered cease-fire deal. The agreement will enable the passage of humanitarian aid and construction material to rebuild the war-torn territory, according to the report.
Meanwhile, a Palestinian official told Buzzfeed that the terms of the deal were similar to those reached after the last major conflict between Israel and Hamas in 2012. That year, Israel pledged to ease restrictions at Gaza's border in exchange for a cessation of rocket fire from Hamas militants.
-- Charlotte Alfred
08/26/2014 12:20 PM EDT
Gaza Celebrates
In #Gaza, @AP staff there report heavy celebratory gunfire as cease-fire between #Israel, Hamas takes hold.

— Jon Gambrell جون (@jongambrellAP) August 26, 2014
08/26/2014 12:16 PM EDT
Barrage Of Rockets
According to several reporters in Israel, Palestinian militants have fired a barrage of rockets at Israel moments before the start of a long-term ceasefire.
Sirens warning of rocket attacks sound in southern Israel after Gaza ceasefire was due to take effect

— Reuters Top News (@Reuters) August 26, 2014
Heavy rocket fire continuing on Gaza border areas 5 minutes after Hamas says ceasefire in effect.

— Daniel Nisman (@DannyNis) August 26, 2014
Ceasefire or not, rocket sirens going off in #Gaza border communities #Israel

— Ben Hartman (@Benhartman) August 26, 2014
08/26/2014 12:10 PM EDT
More On The Israeli Position
Via the Associated Press:
JERUSALEM (AP) — An Israeli official says Israel has accepted an Egyptian-brokered cease-fire plan to end a seven-week war against Islamic militants in the Gaza Strip.

The official said Tuesday that Israel "responded positively" to Egypt's call for an open-ended cease-fire.

Egyptian state media reported the cease-fire was to begin at 7 p.m. local time (1600 GMT).

The Israeli official said Israel would ease its blockade of Gaza to allow humanitarian and construction materials to enter the war-battered territory.

He said indirect talks on more substantial issues would begin in Cairo within a month. Issues are expected to include Hamas' demand for an end to the blockade and Israel's calls for Hamas to disarm.

The official spoke on condition of anonymity because he was not authorized to discuss the issue with journalists.
08/26/2014 11:49 AM EDT
Haaretz: Israel Accepts Truce
A senior Israeli official told Haaretz that Israel has accepted the Egyptian-proposed truce. The official added that members of Israel's cabinet had been notified.
Read more here.
08/26/2014 11:44 AM EDT
More On The Egyptian Announcement
CAIRO (AP) — Egyptian state media has announced a cease-fire between Hamas and Israel to halt the seven-week Gaza war, which has killed over 2,200 people.

Both Egyptian state television and the state news agency MENA announced the deal Tuesday night. Both said it begins at 7 p.m. local time (1600 GMT), without elaborating.

Earlier, officials with from Hamas and Islamic Jihad, the main groups fighting in Gaza against Israel, said a cease-fire had been reached. Israeli officials have not immediately commented. They described it as an "open-ended" cease-fire that included an Israeli agreement to ease its blockade of Gaza to allow relief supplies and construction materials into the war-battered territory.

Israeli officials have yet to comment.
08/26/2014 11:34 AM EDT
Egyptian State TV: Cease-Fire Reached
Egypt state TV reports as well that a cease-fire was reached between Hamas and Israel, the Associated Press writes.
08/26/2014 11:22 AM EDT
Reports: 3 Israelis Seriously Wounded
Reporter Ben Hartman writes on Twitter that reports have emerged that 3 Israelis were seriously wounded in an attack from Gaza.
BREAKING: Reports of 3 or more people seriously wounded in Eshkol Region by mortars/or rockets, (developing) #Israel #Gaza

— Ben Hartman (@Benhartman) August 26, 2014