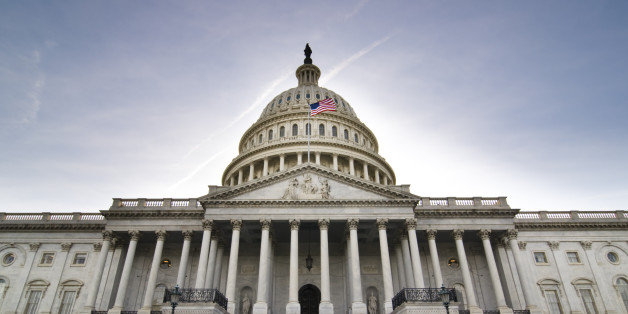 Republicans are increasingly optimistic about the midterms, but not as much as they were in 2010. The electoral landscape continues to look pretty much stagnant. And support for airstrikes in Iraq continues to grow. This is HuffPollster for Tuesday, August 26, 2014.
'EXPECTATIONS GAP' BETWEEN REPUBLICANS AND DEMOCRATS GROWS CONSIDERABLY - Pew: "With just over two months before the midterm elections, Republican voters are widening the 'expectations gap' with the Democrats. About six-in-ten (61%) Republican and GOP-leaning registered voters think their party will do better than in recent elections — roughly double the share of Democrats (32%) who feel similarly about their party's chances. This gap has not reached the same levels of the GOP's margin before their large 2010 gains or the Democrats' expectations in their 2006 sweep of both houses of Congress. Last December, the expectations gap was narrower; 55% of Republicans and Republican-leaning registered voters said the party would do better than recent elections, compared with 43% of Democrats...The public's congressional vote preference remains fairly even. Among registered voters, 47% would vote for the Democratic candidate today or lean Democratic and 42% would vote or lean Republican (11% volunteer 'other' or don't know). In surveys going back to last October, neither party has opened up a large lead in the generic ballot." [Pew]
LITTLE CHANGE IN MIDTERM ENVIRONMENT - HuffPollster: "Americans are pessimistic and broadly anti-incumbent, President Barack Obama's ratings are mediocre, and neither party is exactly surging ahead. In short, the situation looks pretty much the same as it did in January. Voter sentiment in the year's most closely watched Senate races has barely budged since spring. In the 17 Senate races polled often enough to track, the margin between candidates over the past three months has shifted by an average of about 1.7 percentage points.….Opinions of the president also seem to have settled, along starkly partisan lines: The vast majority of Democrats continue to approve of him, while nearly all Republicans disapprove, and independents hang somewhere in the middle. His approval rating remains about as low as it has ever been during his tenure as president. The occasional headlines proclaiming Obama at an all-time low (usually meaning his numbers have dropped a point or two) obscure the fact that his overall job approval has been mired for months in the mid-to-low 40s….Numbers on which party Americans would prefer to send to Congress often vary significantly from pollster to pollster, but the average result has also moved relatively little this year. By this point in 2010, Republicans were already beginning to significantly widen their lead, with an end-of-August Gallup poll giving them a record 10-point advantage. This year's polling, however, has rarely showed one party with an advantage of more than a few points." [HuffPost]
AMERICAN SUPPORT FOR AIRSTRIKES IN IRAQ CONTINUES TO GROW - Emily Swanson: "American support for U.S. airstrikes in Iraq has solidified in recent weeks, a new HuffPost/YouGov poll shows. But the survey shows continued wariness about additional involvement to quell the insurgency there. According to the poll, 66 percent of Americans now favor the decision to conduct airstrikes in Iraq, while only 20 percent oppose it. In a HuffPost/YouGov poll conducted earlier in August, just after President Barack Obama announced that the U.S. would begin conducting airstrikes, 58 percent of respondents said they favored it and 24 percent said they opposed that action...But Americans continue to oppose sending ground troops to Iraq, by a 56 percent to 20 percent margin. Sixty-three percent of Democrats, 59 percent of independents and a 41 percent to 31 percent plurality of Republicans said they oppose sending ground troops. [HuffPost]
IN DEFENSE OF THE UNH/WMUR POLL SHOWING A CLOSE RACE IN NEW HAMPSHIRE - Sean Trende: "The New Hampshire Senate race poll released last Thursday night caused quite a stir. It showed Sen. Jeanne Shaheen's lead over former Sen. Scott Brown collapsing to two points….The poll might be an outlier….But there are good reasons to suspect that the movement in the polls reflects actual movement of the electorate. The University of New Hampshire's Dante Scala points out that the poll specifically shows tightening among Republican respondents….WMUR/UNH's 'bounciness' should be a source of comfort, not skepticism. I've seen various commenters suggesting that this tendency to fluctuate substantially from poll to poll is a reason to doubt the poll. For my money, nothing could be further from the truth. Remember, these polls are supposed to move around the 'true' value and to do so randomly. Given that we have two points around which they are supposed to move, we should actually expect to see quite a lot of movement in the spread." [RCP]
LOW RESPONSE RATES ARE ALSO AFFECTING OUR ABILITY TO MEASURE UNEMPLOYMENT - David Leonhardt: "A new academic paper suggests that the unemployment rate appears to have become less accurate over the last two decades, in part because of this rise in nonresponse. In particular, there seems to have been an increase in the number of people who once would have qualified as officially unemployed and today are considered out of the labor force, neither working nor looking for work….The declining response rate to surveys of almost all kinds is among the biggest problems in the social sciences. It's complicating our ability to understand how people live and what they believe. 'It's a huge issue,' says Alan Krueger, a Princeton economist and one of the new paper's three authors….The response rate of the Labor Department's monthly jobs survey is far higher (about 89 percent) than that of a political poll, but it has also fallen (from 96 percent in the 1980s). Not surprisingly, the people who do not respond have different experiences in the job market than those who do." [NYT]
AAPOR ANNOUNCES NEW INITIATIVE - From the American Association for Public Opinion Research: "Today's practitioners and consumers of survey data are exposed to a wide array of methodologies, each with its own challenges — increased cost, under-coverage, low participation, mixing of modes, uncertainty in the links between theory and practical application, etc. This environment has produced a range of reactions, from those who are developing and testing new techniques and innovative methods to address many of these issues, to those who have grown skeptical of contemporary survey methods, whether new approaches or traditional methods….Last week, AAPOR Council approved the formation of a special task force to reassess the current state of survey methods (both new and traditional) and provide guidance on the types of information survey practitioners and end users need to help assess the data quality of all forms of surveys." [AAPOR release]
Earlier this month, AAPOR issued a statement criticizing the New York Times and CBS News for its decision to publish results from a "non-probability, opt-in survey" produced by YouGov (which also conducts surveys in partnership with the Huffington Post). HuffPollster notes that the new task force is led by Reg Baker, a market researcher and active AAPOR member who criticized the organization for its Times/CBS statement ("AAPOR Gets It Wrong"). It also includes several individuals who use or produce non-probability surveys, such as CBS News Elections Director Anthony Salvanto and NPD Group President George Terhanian. "We are very pleased and energized to have such a great group of people participating in this special task force," AAPOR President Michael Link tells HuffPollster via email. "They represent a broad mix of experts who are involved in the research, the practice, and the end user side of survey research."
-Online survey researcher SurveyMonkey also announces a new advisory committee. [SurveyMonkey]
HUFFPOLLSTER VIA EMAIL! - You can receive this daily update every weekday via email! Just click here, enter your email address, and and click "sign up." That's all there is to it (and you can unsubscribe anytime).
TUESDAY'S 'OUTLIERS' - Links to the best of news at the intersection of polling, politics and political data:
-Samantha Lachman has a rundown of Tuesday's primary elections. [HuffPost]
-Larry J. Sabato, Kyle Kondik and Geoffrey Skelley see waning chances for a massive GOP wave. [Politico]
-The Upshot's Senate model now gives Republicans a "moderate edge," rather than a "slight edge," of winning the Senate. [NYT]
-Scott Clement discusses the dangers of Obama's unpopularity for Democrats in tight Senate races. [WashPost]
-Sam Wang sees a chance that an independent candidate in Kansas could swing control of the Senate. [New Yorker]
-Quinnipiac finds racial divides in views of New York City Mayor Bill de Blasio. [Quinnipiac]
-Glen Bolger breaks down Americans' views on protesting. [WSJ]
-Gallup looks at health care differences between LGBT and non-LGBT Americans. [Gallup]
-The Honolulu Civil Beat's pollsters break down how their primary polling did, race by race. [Honolulu Civil Beat]
-Americans think it's unfair to criticize the president for playing golf, but make something of an exception for President Obama. [YouGov]
-Micah Roberts (R) ponders how simpler opinion research can produce insights on complicated policy research. [POS]
-Wilson Perkins Allen (R) sees no dominant issue grabbing the public's attention in 2014. [WPA]
-A study finds that three-quarters of whites don't have close non-white friends. [WashPost]
-Ben Casselman finds Ferguson's demographics are remarkably...unremarkable. [538]
-"GOP Maintains Solid Hold On Youth That Already Look Like Old Men" [The Onion]