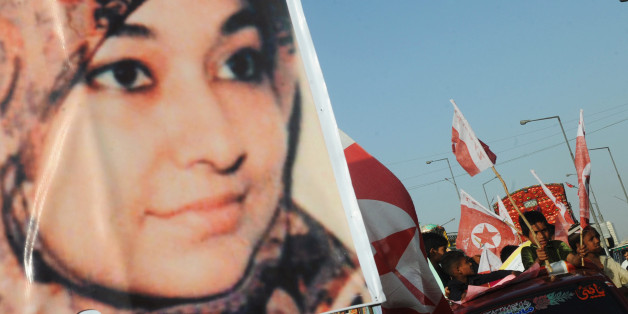 The Islamic State demanded a $6.6 million dollar ransom on Tuesday to release a 26-year-old American woman captured in Syria. They also reportedly called for the U.S. to release female neuroscientist Aafia Siddiqi, who was sentenced to 86 years in prison in 2010 for attempted murder of U.S. authorities.
Siddiqi's Pakistani relatives have responded in outrage to the demand from the extremist group. In a letter obtained by ABC News, they said they want nothing to do with the group's tactics.
"While we deeply appreciate the sincere feelings of those who, like us, wish to see the freedom of our beloved Aafia, we cannot agree with a 'by any means necessary' approach to Aafia's freedom," they wrote. "Nor can we accept that someone else's daughter or sister suffer like Aafia is suffering."
The Islamic State had also previously demanded that the U.S. release Siddiqi in exchange for American journalist James Foley, whose beheading by the group was shown in a video released last week.
Siddiqi's sister, Fowzia, told a Pakistani news outlet that the family's campaign for Aaifa's release rejects all forms of violence, and that people connecting her family to the Islamist militants are "enemies of the nation."
Siddiqi, a mother of three, moved from Pakistan to the U.S. in 1990 and spent more than a decade studying at MIT and Brandeis University, where she earned a bachelor's degree and a Ph.D. in cognitive neuroscience, respectively. She married a Pakistani doctor in 1995 and had three children with him. They later returned to Pakistan and got divorced, and Siddiqi then married Ammar al-Baluchi, the nephew of 9/11 mastermind Khalid Sheikh Mohammed.
In 2003, Siddiqi disappeared for five years after the FBI issued an alert for her and her husband. The following year, the FBI announced that she was wanted in connection with a terrorist threat on the U.S., calling her an "al Qaeda operative and facilitator."
Initial reports in Pakistani media said that Siddiqi was in Pakistani custody during this time, but officials later denied this. Siddiqi's lawyers said in 2011 that they had evidence she was held by Pakistani intelligence services. Meanwhile, many in Pakistan believe that she was in U.S. custody at the notorious Bagram base in Afghanistan. The U.S. military, FBI and CIA have all denied this.
In July 2008, Sidiqqi turned up and was arrested in Ghazni, Afghanistan. She reportedly had documents that explained how to make explosives in addition to notes alluding to attacks on the U.S. During an interrogation by the U.S., she seized a soldier's gun and fired, shouting "death to Americans," according to prosecutors. She was found guilty of attempted murder and assault of U.S. officers.
Thousands of protesters took to the streets of Pakistan after her conviction, and the government vowed to work for her release.
Michael Semple, a former European Union representative in Kabul, told the Telegraph that the Islamic State might be including Siddiqi in its demands because militants originally from Afghanistan and Pakistan have taken on her cause. Another possibility, he said, is that the group is "trying to mobilize people in righteous condemnation of [what they see as] oppression of the Muslim nation at the hands of the West."
BEFORE YOU GO
PHOTO GALLERY
Fighting in Iraq