As a St. Louis, Missouri native, Engelbreit was struck by the unfolding injustice in the nearby city of Ferguson after Brown was shot by police officer Darren Wilson. She took that pain and turned it into art with an illustration titled "In the USA."
The print depicts a small black child posing with his hands up while seated on his mother's lap. The text reads: "No one should have to teach their children this in the USA." The illustration echoes the statement "Hands up, don't shoot," a refrain chanted by protesters in Ferguson as Brown reportedly had his hands in the air when he was shot multiple times. The print is for sale on Engelbreit's website for $49.99, and all the proceeds will go to the Michael Brown Jr. Memorial Fund.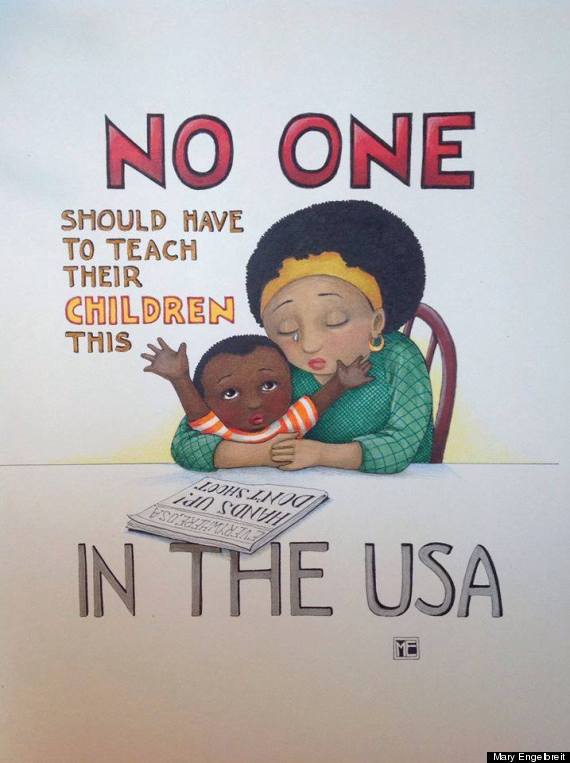 When situations turn horrible and I find it hard to move on, I usually draw my way through it. These drawing hardly ever see the light of day, since they're really just a form of therapy for me. But these events unfolding now in my hometown and across the country , shining a light on the ugly racism that still runs rampant in our country, made me think that maybe this drawing could help in some small way. While it's not a cheerful little picture you'd want to hang over the sofa, you might know of a school or an office or a police station that could use it.
After posting the message, Engelbreit was hit with an onslaught of criticism ranging from defense of law enforcement to name-calling and epithets, according to the Washington Post. When she responded to critics in a follow-up post, so many users reported it as offensive that Facebook removed it from her page.
The post was reinstated and a Facebook representative contacted Engelbreit to apologize, according to St. Louis Public Radio. Still, the fallout left her shocked.
Brown's death rattled Engelbreit as a mother, she said. She lost her own son 14 years ago and could relate to the sorrow felt by Brown's mother, Lesley McSpadden.
"[I]t was the sight of Michael Brown's mother's face that made me want to release this drawing as a print to raise money for the family's memorial fund," she explained to The Huffington Post in an email Wednesday. "I lost my son 14 years ago and I know the devastation and heartbreak she was feeling. I didn't want to address this particular shooting but wanted instead to address the larger problem of racial profiling and the racism that is so prevalent in our country, and the anguish it is causing so many families."
"I hoped the people who are unaware or unconcerned about this problem because it doesn't affect them, would see the print and maybe give it a little more thought," she added. "I believe Michael Brown's death -- the third police shooting of an unarmed black man that week -- is the straw that will break the camel's back and force Americans to decide if living in a militarized police state divided by racism and intolerance is really how they want to live."