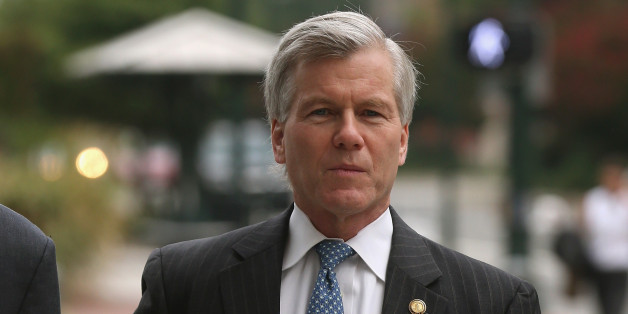 By Gary Robertson
RICHMOND, Va., Aug 27 (Reuters) - Defense lawyers rested their case on Wednesday as the corruption and fraud trial of former Virginia Governor Robert McDonnell and his wife neared its end.
McDonnell, a Republican, and his wife Maureen face a 14-count indictment for allegedly accepting $177,000 in gifts and loans from Star Scientific Chief Executive Jonnie Williams Sr. in exchange for promoting his dietary supplements company and its main product, Anatabloc.
The case could go to the jury this week following closing arguments and instructions from U.S. District Court Judge James Spencer.
The defense team for Maureen McDonnell also presented its case on Wednesday, with a daughter testifying about her parents' arguments and lack of communication.
Jeanine McDonnell Zubowsky, 33, the couple's oldest daughter, testified under defense questioning that her mother was beset by "frustration, loneliness and anger sometimes" as her husband climbed the political ladder from state legislator to attorney general and, in 2010, to governor.
"There was barely any communication, and if there was it wasn't good," Zubowsky said.
McDonnell, who had stressed family values in his campaign for governor, was increasingly absent from home, she said.
Zubowsky said public appearances in which the couple were seen holding hands and caressing were mainly for the camera.
One of the foundations of the couple's defense is that their marriage was crumbling, and they could not have hatched a conspiracy with Williams because they were not talking with each other.
During five days on the witness stand, McDonnell insisted that he had only performed routine courtesies for Williams. He said Williams had never specifically asked him to do anything.
Zubowsky acknowledged that she had taken gifts from Williams, including airplane flights and a $10,000 check as a wedding present.
"Once we realized Jonnie himself was a criminal," she said, the check was returned.
Williams was granted immunity to testify for the prosecution about what he described as a "business relationship" with the McDonnells, with gifts and loans in exchange for influence.
April Niamtu, a friend of Maureen McDonnell, described her as "very gullible" and easily persuaded.
Niamtu said the former first lady was a nervous person, always biting her fingernails and concerned about her lack of privacy at the governor's mansion.
If convicted, the couple could spend 20 years in prison and face hefty fines. McDonnell's term as governor ended in January. (Editing by Ian Simpson and Mohammad Zargham)
BEFORE YOU GO
PHOTO GALLERY
Bob McDonnell Through The Years