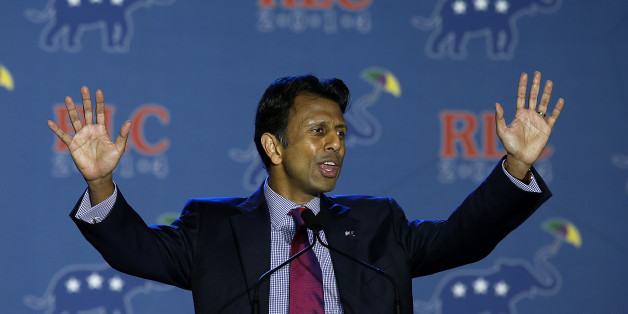 Louisiana Gov. Bobby Jindal isn't about to throw away his presidential ambitions just because his Republican colleagues might run, too.
Former Republican presidential nominee Mitt Romney stirred up 2016 speculation on Tuesday when he told conservative radio host Hugh Hewitt that he doesn't have plans to make another bid for president, but that "circumstances can change."
When Jindal appeared on Hewitt's show Wednesday night, the radio host asked whether a decision by Romney or Texas Gov. Rick Perry (R) to seek the GOP nomination in 2016 would affect his own decision to run. Jindal told Hewitt that he thinks "as many people" as want to run should run and that the pool of other candidates shouldn't necessarily determine anybody's decision.
"I think our party's got a deep bench, and so I wouldn't, I wouldn't stay out of the race simply because I had friends running," the Louisiana governor said. "I imagine that regardless of what decision I make, I will have multiple friends running. I think that's a good thing."
Jindal, who initially backed Perry in the 2012 electoral cycle before throwing his support behind Romney, told Hewitt that he has a soft spot for governors pursuing the party's nomination for president.
"We've got some great governors. I am biased towards governors," Jindal said. "I will tell you that and I've been saying that. I said that in '12 and I said that in '08. I like governors. I think they've got proven experience with balanced budgets. They've made executive decisions."
Romney aimed to deflate any talk of his making a repeat bid for the GOP nomination on Tuesday, saying he thinks another member of the party would have a better chance in the general election.
"We said look, I had the chance of running. I didn't win. Someone else has a better chance than I do," Romney said. "And that's what we believe, and that's why I'm not running. And you know, circumstances can change, but I'm just not going to let my head go there."
BEFORE YOU GO
PHOTO GALLERY
Potential 2016 Presidential Contenders