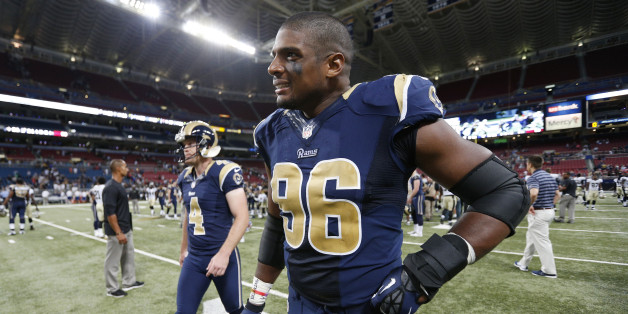 ESPN proudly bills itself as "The Worldwide Leader In Sports." But it regrets briefly becoming the worldwide leader in unnecessary, awkward reports on the showering habits of Michael Sam, the first openly gay player drafted into the NFL.
Reporting from the St. Louis Rams' training camp on Tuesday, ESPN reporter Josina Anderson discussed Sam's showering habits when asked how he was fitting in with teammates during an episode of "SportsCenter." In a brief statement issued by ESPN PR staffers on Wednesday, the sports media giant expressed regret for the segment.
"ESPN regrets the manner in which we presented our report. Clearly yesterday we collectively failed to meet the standards we have set in reporting on LGBT-related topics in sports."
WATCH ESPN SEGMENT BELOW
The backlash to the brief report was perhaps best summed up by one of Sam's teammates. Veteran defensive end Chris Long tweeted out a response to the report on Tuesday that garnered thousands of retweets and favorites.
Dear ESPN,

Everyone but you is over it.

— Chris Long (@JOEL9ONE) August 26, 2014
WATCH: ESPN REPORTS ON MICHAEL SAM'S SHOWER HABITS