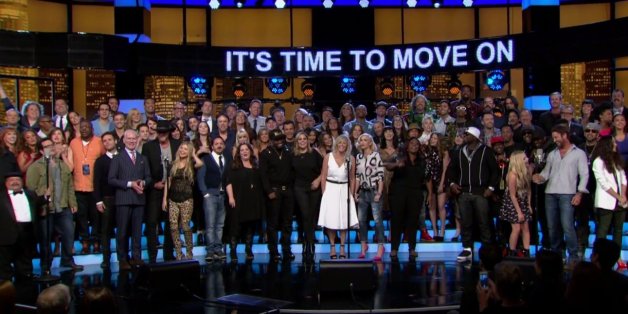 Forget the VMAs and the Emmys. The final episode of "Chelsea Lately" looks like the most star-studded party of the year.
Practically all of Hollywood joined together on Aug. 26 to sing host Chelsea Handler a hilarious goodbye song. There are seriously too many celebrities to count, but here's an obligatory name-drop to prove our point: Gwen Stefani, Jennifer Aniston, Miley Cyrus, Selena Gomez, Sandra Bullock, Gerard Butler, Vanessa Hudgens, Wiz Khalifa, Alanis Morissette, Melissa McCarthy, Dave Grohl ... do you believe us yet?
Even the Kardashian Klan, who were not there for obvious reasons, got a shout out. Avril Lavigne sang in her solo line, "She can't go on faking every day that Chelsea cares about Kim and Kanye," referencing when Handler said that having to report on the Kardashians was part of her decision to leave the network.
Tim Gunn followed up with, "She's done with 'Teen Moms' and Justin Bieber too."
Wonder how Selena Gomez took that last line.
Watch the whole song here:
BEFORE YOU GO
PHOTO GALLERY
Celebrity BFFs