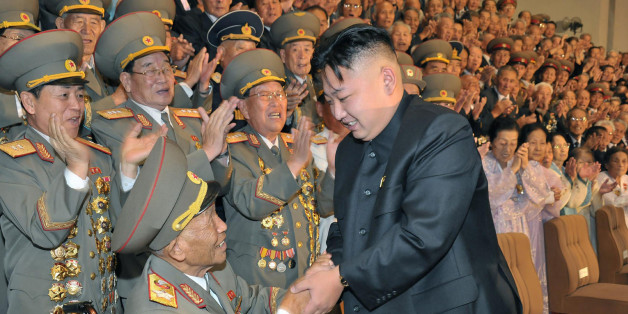 Repressive regimes looking to criticize the U.S. have all recently turned to events in Ferguson, Missouri, where police shot unarmed black teenager Michael Brown earlier this month. Engaging in what's known as "whataboutism" in political circles, these nations are jumping at the chance to promote their views that the U.S. can't meet the standards it preaches to the rest of the world.
Yet while the events in Ferguson reminded many in the U.S. that the country urgently needs to tackle questions of inequality and race relations, these oppressive governments -- perhaps unsurprisingly -- fail to mention their own records on human rights over the years.
North Korea
In a statement published by state media on Tuesday, North Korea says that the shooting of Michael Brown is proof that the United States is a "graveyard of human rights."
American citizens "are subject to discrimination and humiliation due to their races and they are seized with such horror that they do not know when they are shot to death," the statement says.
The regime in Pyongyang, which has been globally condemned for running prison camps, oppressing its population and cracking down against opposition, has often been quick to denounce the United States, and in doing rarely separates fact from fiction.
Russia
Konstantin Dolgov, the special representative for human rights for Russia's Ministry of Foreign Affairs, argued in an official statement last week that the events in Ferguson reveal "the deep-rooted problems with human rights and democratic standards in the U.S." Dolgov also deplored American authorities' "harsh" reaction against "active opponents of continuing inequality" and the treatment of some members of the press who covered the events in Ferguson.
The representative even had some advice for U.S. authorities: "Address long-simmering domestic problems and give up the outdated policy of interference in other nations' affairs to overturn undesirable regimes under the pretext of protecting democracy and human rights."
Though Dolgov may have a point in his critique of the police's use of "army arsenals against civilians," he fails to mention Russia's brutal crackdown on political opposition as well as its efforts to limit freedom of speech in the country.
China
The Chinese government's official news agency Xinhua slammed the U.S. for so often lashing out at foreign governments for infringing on people's rights while it violates human rights in its own country.
"The Ferguson incident once again demonstrates that even if in a country that has for years tried to play the role of an international human rights judge and defender, there is still much room for improvement at home," Xinhua wrote.
The U.S. is one of several western countries that have regularly criticized Beijing for its human rights record. In a February report, the U.S. State Department argued that "repression and coercion, particularly against organizations and individuals involved in rights advocacy and public interest issues, were routine."
Syria
Syria, a country engaged in a brutal civil war that has claimed the lives of more than 190,000 people, condemned Ferguson authorities' behavior in a recent report published by state media. According to Reuters, news agency SANA described the actions of Missouri police as "racist and oppressive."
Iran
Iran has been relishing calling out the U.S. over its actions in Ferguson, with the country's state TV claiming that "Obama has endorsed the use of the National Guard to suppress protests." In addition to the televised jabs, leader Ayatollah Khamenei has made repeated disparaging remarks on Twitter about U.S. hypocrisy and crackdowns on dissent. Unsurprisingly, Khamenei made no mention of Iran's own record on human rights.
Egypt
On Aug. 19, Egypt's Ministry of Foreign Affairs issued a statement on Ferguson that called on the United States to have "respect for the right of assembly and peaceful expression of opinion." The statement came just a few days after the one-year anniversary of an Egyptian massacre, in which security forces killed more than 800 protesters.