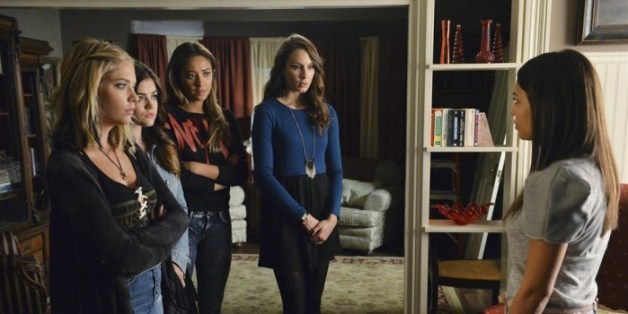 "Pretty Little Liars" has been teasing one big death all summer, and on Tuesday, during its "Fatal Finale," the show killed off one of its most divisive characters. SPOILERS AHEAD!
As many fans predicted, Mona Vanderwal, the original A, didn't make it out alive. She was seemingly murdered in her home by an unknown blonde girl -- we have our guesses! -- after an hour of switching sides for good. In the beginning of the episode, the liars teamed up with Mona after Alison convinced Mona's A-team to join her "army." There was an undercover trip to Radley, a car accident that injured Toby and a lot of excitement about Christmas decorations.
Most of summer finale revolved around finding out more information on Bethany, who was buried alive by Melissa -- we found that out last week -- after she thought Bethany was Alison. The snooping worked, and the two girls' connection was revealed: Bethany's father was having an affair with Mrs. DiLaurentis and the two girls knew each other. Turns out, Alison lured Bethany to Rosewood because she was jealous and wanted to kill her. Okay, sure. We'll buy this for now. Also, Rosewood's finest arrested Spencer for Bethany's murder after Alison gave a cryptic lie detector test.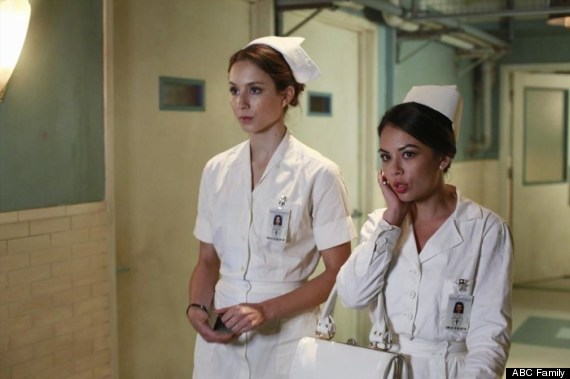 But back to Mona's death: Often in "Pretty Little Liars" land, nothing is as it seems. Sure, we saw a blood-spattered house and Mona's cold dead body wrapped in sheets, eyes wide open, but do we believe the show? Is Mona really dead for good? Janel Parrish, who plays Mona, recently told Cosmopolitan, "Ultimately when people die in Rosewood, sometimes they stay dead. This person is dead." Parrish also confirmed that she'll appear on the show next season in flashbacks.
MONA MURDERED. Yep. It's true :( Don't worry guys! I'm still gonna be on the show in flashbacks!!!! #PLLChat

— Janel Parrish (@JanelParrish) August 27, 2014
Executive producer Marlene King told The Hollywood Reporter that the death had been planned for "more than a year." "Fans are going to be left speechless," she said earlier in the summer.
"Pretty Little Liars" returns for a holiday-themed episode entitled "How The 'A' Stole Christmas" later this year. Hopefully Spencer will be out of jail by then.
BEFORE YOU GO
PHOTO GALLERY
"Pretty Little Liars"