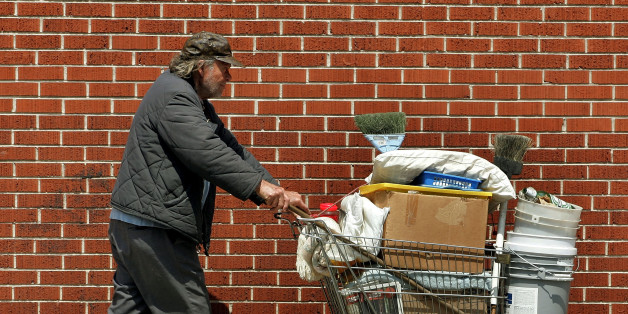 It may take something a lot less bureaucratic than sweeping legislation to put an end to homelessness. It may require something as simple as a locker that can hold an individual's basic belongings.
One of the main issues homeless people face is one that has nothing to do with the usual suspects of mental illness, addiction or unemployment. Many people living on the streets are often unable to look for work during the day or risk sleeping in a shelter at night because of the burden of having to cart –- and guard -- every item they own at all times.
"When you're literally homeless, you're like a turtle that carries everything on his or her back," Michael Stoops, director of community organizing for the National Coalition for the Homeless, told CityLab. "Which can be problematic if you're walking long distances or trying to work. There's always the danger of things being lost, stolen, or thrown away by police officers."
Seattle has pledged to offer 100 lockers for homeless people by the end of the year and San Diego has 270 bins. In 2012, Los Angeles paid for 500 of the 600 bins made available to homeless people by nonprofit group Central City East Assn.
Just having a safe plastic box to store a license and some clothes can be invaluable.
In 2011, San Diego opened its Transitional Storage Center -- which was part of a settlement deal after a group of homeless people's belongings was wrongfully taken and destroyed, according to the group's website.
It currently offers 270 bins free of charge, which have freed up the city of 30,000 pounds of "stuff," and is planning on expanding soon.
Running the facility costs the city $1 a day per bin and it's proven to fulfill its goals.
Since opening, an estimated 100 homeless people have been able to gain employment and move off the streets, thanks to the center's services.
"The storage center gave me freedom from worry and the ability to go to the library and seek employment," said D. May, a former client of the program. "My job search has been successful. I will once again be a productive member of society."
In addition to giving people the mobility to look for jobs and go to medial and social service appointments, the free storage also ensures that the few precious items they're holding onto remain safe.
A common concern of homeless people is that going to shelters often means risking having their possessions stolen.
"I spent most of my time homeless out on the street. It wasn't until the very end of my homelessness that I ended up in a shelter. And I found out that a lot of what I was afraid of was true," David Pirtle, an advocate for homeless people who was once homeless himself, told NPR in 2012. "I had my shoes stolen, just like people said you get your shoes stolen."
Being relieved of the burden of carrying every last belonging around also restores a sense of dignity.
Mark Horvath, a homeless activist who also once lived on the streets, said the first day he had to resort to hauling everything he owned in a shopping cart was "a low point of my life."
"I manhandled the cart over each curb for about a half a mile and I was exhausted," Horvath wrote in a HuffPost blog last November. "It was very humiliating; people drove by laughing at me."
Government officials appreciate just how vital it is to have these systems in place.
"The storage center has taken literally tons of objects and belongings off of our streets … and in some instances homeless individuals have been able to get jobs and other needed assistance because they were no longer having to lug all of their belongings with them," San Diego Housing Commission President Richard C. Gentry said at a press conference in February. "It is a key element in our plan to try and end the cycle of homelessness, and moving people off the streets and into more productive, self-sufficient paths."
BEFORE YOU GO
PHOTO GALLERY
Artist Spends $7,000 Buying Homeless People's Signs For Good Reason