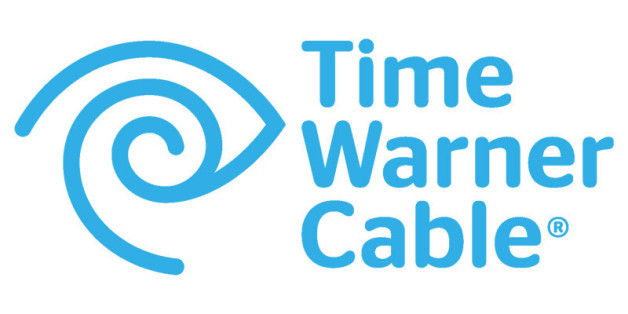 UPDATE: 8:50 A.M. -- A spokesperson for Time Warner Cable says that service has largely been restored. "Most if not all should be back online now," Time Warner Cable's Bobby Amirshahi told The Huffington Post.
EARLIER:
Time Warner Cable seems to be down nationwide, causing Internet outage throughout most of the country.
The official Time Warner Cable Twitter account hasn't addressed the issue yet, having tweeted about a filmmaking contest eight hours ago and nothing since. Time Warner Cable's online customer care team addressed the issue just now, nearly an hour since complaints began surfacing on Twitter:
We're working to restore services to all areas as quickly as possible; no ETR. Tweets will be delayed while this is addressed.

— TWC Help (@TWC_Help) August 27, 2014
TWC's website seems to show a spike in reported problems since the early morning hours: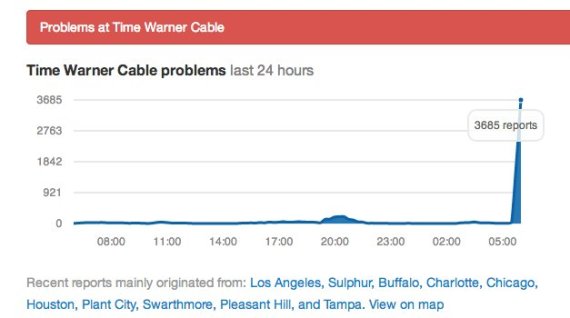 While this Time Warner outage map shows both east and west coasts heavily affected:
Time Warner outage map: #timewarnercable pic.twitter.com/lSb7AcjQBM

— Diana (@Sollitaire) August 27, 2014
The hashtag #timewarnercable started quickly trending, as many took to Twitter to air their grievances, spread the news or poke fun at the company:
wait, @TWC is out and people are surprised? DOESN'T MAKE ANY SENSE WHATSOEVER.

— alex bodie (@heyheybodie) August 27, 2014
This is how Planet of the Apes starts. #timewarnercable

— Ryan Harris (@ryanharebit) August 27, 2014
I don't worry about a Russian cyberattack on the nation's internet. I worry about someone at @TWC -- and @comcast soon -- having a bad day

— Jeremy Binckes (@jbinckes) August 27, 2014
Think we found the cause of the Time Warner cable outage pic.twitter.com/SizsprqIhW

— Paul (@psmithgb) August 27, 2014
@TWC you never fail to disappoint!

— Anna Balch (@annabalch) August 27, 2014
Ironic that people are complaining on the internet about @TWC @TWC_Help internet access being down

— Jeremy Schell (@JeremySchell) August 27, 2014
Guess the coyote finally caught the Road Runner. #timewarnercable

— Metroland (@Metroland) August 27, 2014
An updated outage map as of 7:25 a.m. EST shows TWC in some areas is still down, particularly in the northeast, while most of the country is back up:
TWC outage map (as of 7:25 a.m. ET) http://t.co/usaYutBJeH pic.twitter.com/HBKPZj3HfO

— Amanda Wills (@AmandaWills) August 27, 2014
Meanwhile, in an unfortunate case of a surely pre-scheduled tweet, the official TWC account promoted UFC 177 in the midst of its outage (and subsequent Internet outrage):
.@RenanBaraoUFC & @TJDillashaw battle it out this Saturday night in #UFC177. Watch it all LIVE on Pay-Per-View: http://t.co/gOZ9gc3PF2

— Time Warner Cable (@TWC) August 27, 2014
Time Warner Cable said that the service disruption was due to a problem during network maintenance. Brian Stelter of CNN has tweeted TWC's statement regarding the outage, writing:
TWC statement: "At 430am ET this morning during our routine network maintenance, an issue with our Internet backbone created disruption..."

— Brian Stelter (@brianstelter) August 27, 2014
"w/ our Internet & On Demand services. As of 6am ET services were largely restored as updates continue to bring all customers back online."

— Brian Stelter (@brianstelter) August 27, 2014
This is a developing story, check back for updates.
BEFORE YOU GO
PHOTO GALLERY
Internet Download Speed By Country (2013)