Public high school teachers in Missouri were recently treated to a utility-sponsored seminar on energy, where they learned that fossil fuels are king and man-made climate change may not be real.
Twenty-three educators gathered at the University of Missouri on Aug. 5 and 6 for the "Energy in Today's Classroom" workshop, where they received lessons on the basic science of electricity, the sources and economics of power generation and transmission, and primers on energy efficiency and conservation. These presentations were interspersed with one presenter's message that most scientists are wrong about humanity's contribution to climate change.
The workshop came at a "key time," according to a press release from a sponsoring utility, "as electricity producers battle the Environmental Protection Agency in an effort to maintain an all-of-the-above energy policy" that includes fossil fuels.
Now in its second year, the teachers' workshop is funded in part by the Central Electric Power Cooperative, a group of eight independently owned electric utility cooperatives serving 22,000 square miles of central Missouri, and the St. Louis-based Ameren corporation, the parent company for the largest power provider in Missouri and one of Illinois' largest power and gas utilities. Both companies produce much of their electricity from coal, which is one of the largest sources of U.S. carbon dioxide emissions and a major contributor to man-made climate change.
The course's curriculum is "jointly developed" with the Central Electric Power Cooperative and the University of Missouri, and teachers are sent home with materials from the presenters to help them form lesson plans for their classrooms.
Dr. Leon Schumacher, a professor of agricultural systems management and one of the course's organizers, told The Huffington Post that the workshop is a collaboration between academia and industry. He said he felt the makeup of presenters was "balanced," but said some presenters had "stronger opinions" than others.
Tom Andreas, an engineering teacher at Versailles High School and one of the workshop participants, felt the industry influence was perceptible. "The forces of dark energy -- coal, oil and gas -- were pretty big in the room," he told HuffPost about one lesson on energy economics. "They had an agenda."
John Agliata, communications manager for one of the eight co-ops, Co-Mo Electric Cooperative, was direct about the workshop's purpose.
"We know there's a very pro-environmental bend [sic] to a lot of the instructional material in some of our schools," he said in a press release. "What this course aims to do is show there are different ways of looking at some of these things stated as facts."
"Our job is to make sure the other side to what the EPA claims is reality is at least discussed so hopefully the students are given all the facts and can make a choice for themselves as they get older about which way our country should go," he added.
This "other side" to "reality" came from speaker Dr. Anthony Lupo, a professor of atmospheric science at the University of Missouri and an expert for the Heartland Institute. It was revealed in a 2012 document leak that Heartland was paying Lupo $750 a month for his services. The same leaked documents also revealed that Heartland was receiving significant funding from fossil fuel interests to promote climate-change skepticism in schools and present the issue as an unsettled controversy. Heartland no longer discloses its donors, but it has received significant contributions in the past from Exxon Mobil and foundations affiliated with the Koch Brothers.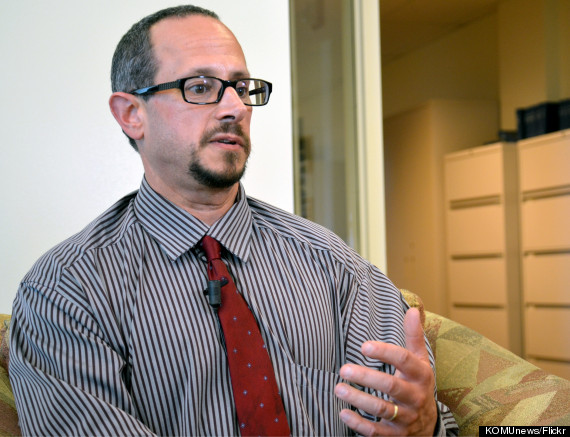 Dr. Anthony Lupo (Photo: KOMU News/Flickr)
Lupo was a speaker at Heartland's ninth International Conference on Climate Change in Las Vegas this July, which the group says "attracted some 650 scientists, economists, policy experts, and guests willing to question whether man-made global warming is a problem worth addressing." The conference's website also claims the "debate over the causes and consequences" of climate change is "one of the great controversies of the modern era."
Lupo also contributed to a 2009 Heartland paper, "Climate Change Reconsidered," and published two short articles expressing climate-change skepticism in the Journal of Missouri Medicine in 2009, but other publications listed on his faculty page are about meteorology, rather than climate change or its causes. A lack of recent research in climate hasn't stopped him from weighing in on the issue, however. "I think it is rash to put the climate change completely on the blame of humans, I still think nature has something to do with it," Lupo told Missouri's KOMU News in May.
For the Missouri teachers' workshop, Lupo gave a talk on the science behind climate change and "the reasons for uncertainty in the belief that man is largely to blame," according to Co-Mo, one of the sponsoring utility companies. He also spoke about an observed "pause" in global warming, a claim often trumpeted by climate-change skeptics but refuted by climate scientists who note that skeptics ignore other indicators of climate change beyond rising surface air temperatures.
Dr. Lupo presenting on climate change at the "Energy in Today's Classroom" workshop.
The slides from Lupo's presentation, which were obtained by The Huffington Post and can be read here [PDF], suggest that "actual surface and satellite temperatures [are] well below IPCC predictions" despite evidence to the contrary.
In a slide presenting "the case against" global warming, Lupo said temperatures on various scales correlate to a "natural phenomenon." Yet the graph he presented only shows U.S. temperatures through 1999. The United States covers less than 2 percent of the Earth's surface, and globally, the first decade of the 21st century was the warmest on record.
Lupo said humans can affect the planet's climate, but argued that "our contribution is small."
The most recent report from the U.N. Intergovernmental Panel on Climate Change, a thorough summary of the latest and best research on climate change, stated with 95 percent confidence that "more than half" of the observed rise in average surface temperatures between 1951 and 2010 can be attributed to human greenhouse gas emissions. There is near unanimity among active climate-change researchers that the Earth is warming due to human activity.
Mainstream climate researchers also assert that a so-called "pause" in global warming in recent years does not disprove climate change, mankind's role in it or its urgency as a global issue. Increased atmospheric greenhouse gas concentrations continue to manifest themselves in ways other than increased surface temperatures and recent research points to the deep Atlantic ocean as a store for the excess energy still being absorbed in the planet's system.
The utilities funding the Missouri teachers' workshop have an interest in promoting talking points to the contrary, however. The Central Electric Power Cooperative is a member of the National Rural Electric Cooperative Association, which represents the interests of more than 900 not-for-profit electric co-ops in 47 states, and its Cooperative Action Network, an advocacy group with the stated mission of taking action "to stop the EPA from implementing costly new regulations."
The group has attacked new limits the EPA released in June for greenhouse gas emissions from existing power plants.
The EPA's Clean Power Plan gives states until 2030 to cut emissions by 30 percent below a 2005 baseline. The final version of the rule is not due until June 2015, and states will have another year after that to develop their compliance plans.
"The EPA's energy plan goes too far, too fast -– jeopardizing the wellbeing of millions of American families in the process," NRECA's executive director for environmental issues, John Novak, said at a public hearing at the EPA headquarters in Washington in July.
Ameren has also emphasized its opposition to the EPA's proposed rule. Company officials recently told the St. Louis Post-Dispatch that they are still considering participation in a legal challenge to the EPA's plan. "Ameren believes the EPA's proposed rule is currently unworkable in many respects and will result in significant cost increases to our customers, raise system reliability risks, cause job losses and damage the economy," Ameren chairman and CEO Warner Baxter said. Ameren is advocating for a later deadline than 2030, among other changes.
More than 90 percent of Ameren Missouri's 10,300-megawatt generating capacity comes from fossil fuel power plants.
Utility representatives at the teacher workshop portrayed their industry as the victim, Andreas told HuffPost. "They painted themselves as 'we're being beat up' and 'we're facing the President's War on Coal,'" he said.
"I don't think the university should be involved in a situation where they're taking their academic prestige and putting it on the line for private interests," Andreas said.
BEFORE YOU GO
PHOTO GALLERY
15 Ways You Contribute To Climate Change