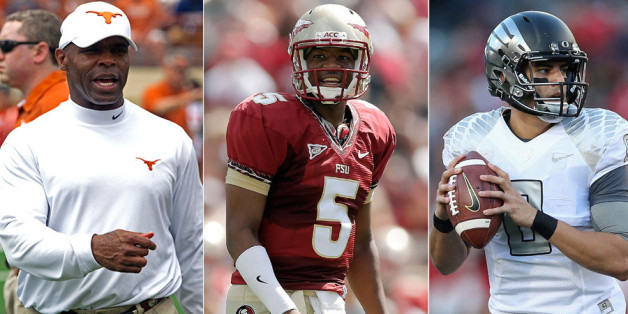 The 2014 college football season is upon us, and it's full of star power, questions and the anticipation of an unprecedented four-team playoff to determine the national championship. Likely No. 1 pick Jameis Winston will return for defending champs Florida State, while the Pac-12 is teeming with talent in the hopes of crowning its first national champion since USC a decade ago. Perennial powerhouses like Alabama and South Carolina are loaded, but the SEC appears to be on the verge of a change -- could we be looking at a sleeping giant?
FAMOUS JAMEIS
Florida State's #AskJameis campaign may have fizzled out, but Heisman-winning quarterback Jameis Winston might still be a better prospect than former No. 1 overall pick Andrew Luck. He has the size (6-foot-4, 230 lbs.), the arm strength, the athleticism and the general bravado to make NFL teams, dare we say, tank -- and best of all, he's only 20 years old. The Alabama native tossed 40 touchdowns and just 10 interceptions as a redshirt freshman and has the Seminoles thinking repeat national title. The ACC, meanwhile, remains a sub-par Power 5 conference that Winston should be able to light up like the Fourth of July.
NAMES TO REMEMBER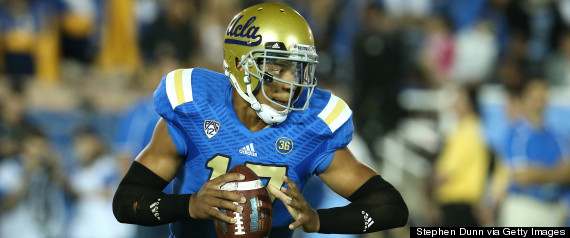 Now that Notre Dame quarterback Everett Golson is back from his season-long suspension, we can't wait to see what he'll do. Baylor's 23-year-old ace Bryce Petty, whose numbers are like something out of a video game, is also one to watch. Something special is brewing in Pac-12 country, specifically at quarterback, where 10 starters return. UCLA's Brett Hundley (above) and Oregon's Marcus Mariota, both fourth-year juniors, could have been top ten five picks in 2014, but both chose to return to school with hopes of making title runs. Both represent the new breed of NFL quarterback. They can move the pocket with ease, make you miss, and most importantly, deliver the accurate deep ball. Between this pair and Winston, the 2015 NFL Draft could start with three quarterbacks off the board for the first time ever. Meanwhile, Ohio State faces a colossal setback with the season-ending injury of two-time Big Ten Offensive Player of the Year Braxton Miller.
PLAYOFFS
Yes, we're talking about playoffs! Here's what you need to know: There is a 13-person committee that will select four teams to compete for the national championship. Here are the questions to ask: How will the SEC's eight-game conference schedule (compared to the nine that the Pac-12 plays) affect this process? Will a non-power school (think Fresno State, Utah or Boise State in the past) have any shot at making the playoff? We can only speculate at this point, but Florida State head coach Jimbo Fisher may have summed it up best: "I think the playoff is going to enhance [college football], and for the fans, that's very important." Amen to that!
SEC POWER SHIFT
No conference has been more dominant in the past decade than the SEC, but times are changing in college football, and even the SEC is not immune. Alabama, Georgia and South Carolina appear to be the cream of the crop (no surprise there), but Ole Miss (which has several key returning starters, including quarterback Bo Wallace), Mississippi State (which has a rising star at quarterback in Dak Prescott) and Missouri (which averaged 40 points per game last year) have amassed a ton of talent as well. Plus, with Florida, Auburn and LSU all very young, there hasn't been a better opportunity to break through the SEC's top tier for a long time.
THE RUNNING BACKS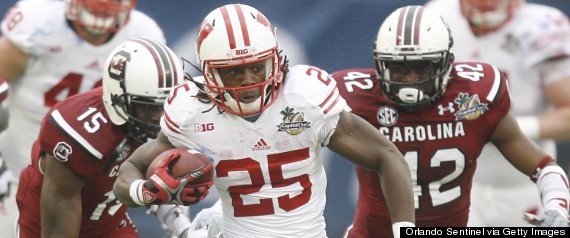 While the NFL has devalued the running back position, college football certainly has not. The four must-watch gems are Alabama's T.J. Yeldon, Georgia's Todd Gurley, Nebraska's Ameer Abdullah and Wisconsin's Melvin Gordon (above). Gurley is arguably the most physically talented -- he and Yeldon would probably both have been Heisman finalists a year ago if not for injuries. Abdullah is your classic workhorse back at 230 lbs. who does everything well -- he averaged 130 yards per game as a junior. Then there is Gordon, who rushed for over 1,600 yards and led the nation with his 7.8 yards per carry average. Gordon has bulked up to a robust 216 lbs. while spending the offseason running stadium steps with 25-pound vests. All four of these guys are special, and you can all but lock it in that at least two will be first-round picks next April or May.
RETURN TO GLORY?
Several marquee programs are welcoming new head coaches, including Texas (Charlie Strong), Washington (Chris Petersen) and USC (Steve Sarkisian). Strong, who helped turn Teddy Bridgewater into a star at Louisville, has already made his presence felt by dismissing several players for violating team policy and for taking the trademark longhorn logo off the helmets until he decides the players have earned it. He faces the always lofty expectations of coaching at Texas while also taking over a Longhorns program that lacks elite talent, though they return 14 starters and a top-ten defense.
Petersen heads to UW with a preseason ranking, the most experienced roster in the Power 5 and the swashbuckling coaching style that put once moribund Boise State on the national map with two Fiesta Bowl wins. The Huskies, however, have lost two of their best players -- running back Bishop Sankey and tight end Austin Seferian-Jenkins -- to the NFL Draft, and they've also lost record-setting quarterback Keith Price, now a free agent.
Sarkisian, meanwhile, helped restore the Huskies during a five-year tenure in Seattle, and returns to USC with a loaded crop of talent, including an emerging star at receiver in junior Nelson Agholor. The Josh Shaw mess aside, the highly ranked Trojans were No. 1 in the Pac-12 last season in both red-zone offense (92.5 percent) and defense (62.8).
Email me at jordan.schultz@huffingtonpost.com or ask me questions about anything sports-related at @Schultz_Report, and follow me on Instagram @Schultz_Report. Also, be sure to catch my NBC Sports Radio show "Kup and Schultz, which airs Sunday mornings from 9 to 12 EST, right here.