As a beauty editor, I probably pack way more toiletries than the average traveler. And of course on my most recent trip, foaming shaving cream was the one item missing from my carry-on bag. During a vacation at the Maya Tulum Retreat & Resort in Tulum, Mexico, my hairy legs forced me to do the unimaginable: Shave with honey shampoo.
It had been months since I shaved because I prefer the smooth and ingrown hair-free results I get from professional waxing. However, I've had friends brag about using shampoo whenever they've ran out of shaving cream. And I needed to do something fast because all I wanted was to slip into my swimsuit and not be self-conscious about my legs being covered in prickly hairs.
What Is It?
Sitting atop the brightly-colored tiled bathroom counter in my cabana was a mini bottle labeled "Mayan Bee Natural Honey Shampoo." It possessed a sweet and slightly floral scent and was thick in consistency, much like the kitchen staple. But I wasn't about to dip my fingers inside to taste it, even though it was 100% natural.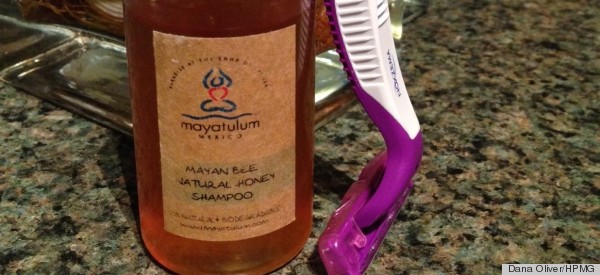 How I Did It
After taking a warm shower, I smoothed on the honey shampoo to my damp legs and used a Noxzema twin blade disposable razor to shave in the direction of my hair growth. I noticed immediately how the razor was able to catch everything in one slow, steady and even stroke.
I kept this same flow throughout the process, ensuring that I rinsed out my shaver after three to four glides along each leg. Once I finished, I rinsed the entire area with lukewarm water and patted dry with a towel. Thanks to honey being a natural humectant, my skin felt softer and well-hydrated (though not enough to lay out in the Mexican sun sans moisturizer or sunscreen). Plus, the honey shampoo didn't clog up the shower drain.
My legs remained smooth and hairless for the six days that I vacationed in Tulum -- much longer than any other time that I would've used traditional shaving cream.
Rating: 5 out of 5. My aesthetician has stiff competition since I've discovered that honey shampoo also works as an effective shaving cream. But I won't go this far.
Try this hair removal hack at home with honey shampoos by Lush Cosmetics, 100% Pure or Organic Doctor.
Have you discovered any amazing hotel beauty products? Share in the comments section!
BEFORE YOU GO
PHOTO GALLERY
Shaving Products To Try