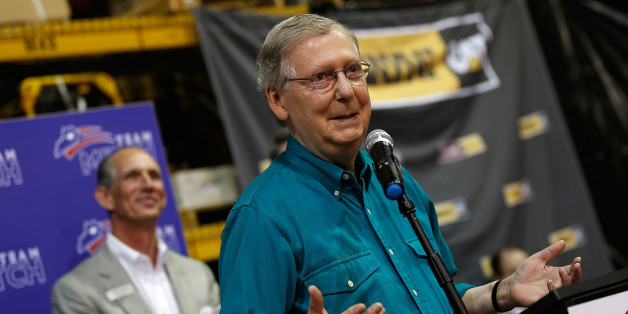 In a local radio interview Wednesday, Senate Minority Leader Mitch McConnell (R-Ky.) gave a frank response when asked why he thinks his re-election race against Kentucky Secretary of State Alison Lundergan Grimes is so competitive.
On Charlie Perry's "Duke Of Danville" show, McConnell pointed to the spending against him as a reason for why Grimes appears to be within reach of his seat.
"I think it's because of all the spending beating me up, frankly, which they have a right to do," he told Perry. "When you get to this level, you get to be a big target, there is a lot of attack ads and it can make a race competitive, and that's what [Democrats have] done."
The McConnell-Grimes matchup could end up as the most expensive Senate race in history, with spending expected to exceed $100 million.
Though Republicans have spent significantly more than Democrats in the race, McConnell apparently thinks the spending against him has struck a chord among voters. McConnell's campaign, plus outside groups backing him, have put up about three times as much as Grimes and her backers in media spending so far.
McConnell's campaign did not respond to a request for comment about his spending-related remarks.

The senator also repeatedly emphasized his leadership position in the Congress' upper chamber, saying that it made him a tempting target for Democratic attacks.
"And the reason for that is that I'm the Republican leader of the Senate, so I'm a target for every activist liberal in the country," he explained. "It's not new. My counterpart Harry Reid had a similar experience when he was up in 2010. ... It is a national race, and that's why you're seeing a lot of advertising on both sides."
Grimes campaign spokeswoman Charly Norton accused McConnell of trying "to play the victim card."
"It's ironic that the day after Mitch McConnell was caught red-handed selling out Kentuckians to the Koch brothers and billionaires, he tries to play the victim card in a race he's trying to buy," Norton told The Huffington Post in an email. "For over a year, Mitch McConnell and his allies have spent millions of dollars attacking our campaign, and what we've seen in poll after poll remains true: Their mudslinging isn't working. Kentuckians are making clear that this Senate seat is not up for sale. The people of Kentucky are ready for a U.S. senator who will work to create jobs and grow the middle class -- not one who doesn't believe it's his job to bring jobs to the Commonwealth."
In a separate portion of the interview, Perry asked McConnell about his strategy for running against Grimes. Though many of McConnell's attacks against Grimes have focused on President Barack Obama, McConnell acknowledged that "the presidency is not on the ballot" this cycle.
"Her argument is, she's a new face and I've been there too long," McConnell said of Grimes. "And my argument is this is a race about the next six years, who can do the most to turn the country around and protect Kentucky. She'll simply maintain the status quo. So if anybody's listening to us this morning and they're happy with the current situation, with a Senate that almost always supports the president, than maybe it makes sense to vote for her. But if people are unhappy with where we are, the only thing that can be done in 2014, the presidency is not on the ballot, the only thing that can be done is to change the Senate, to change America, and it gives Kentucky a huge advantage to have the majority leader of the Senate."
"We are glad that Mitch McConnell agrees that this race is between Alison Lundergan Grimes and McConnell," Norton also told The Huffington Post. "The people of Kentucky agree that this race is about someone who will stand up for Kentucky vs. a Washington politician who's spent 30 years failing to do that."
Listen to the rest of McConnell's interview with Perry below:
BEFORE YOU GO
PHOTO GALLERY
Senate Seats Up For Grabs In 2014