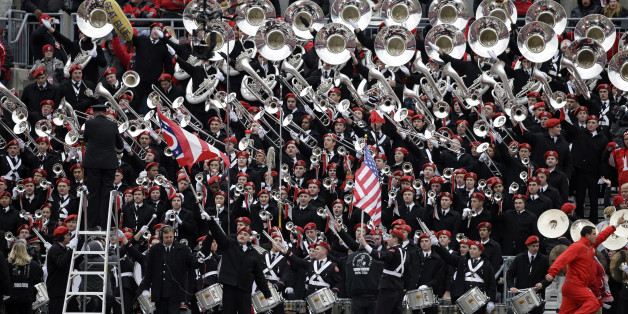 Ohio State University will not offer former marching band director Jonathan Waters a chance to get his job back, after he was fired following an investigation into "sexualized" hazing among his squad.
On Tuesday, Waters, through his attorney David Axelrod, requested a hearing in order to present what he said would be evidence clearing his name of the various transgressions of which he's been accused. Waters' request was denied.
"We will not be revisiting this decision," said Chris Davey, OSU assistant vice president for public relations, in a statement Wednesday evening. "It is closed, and it is time to move on. Jonathan Waters was not forthcoming or truthful with University personnel on multiple occasions."
The school's decision comes after a formal request by Waters for his reinstatement, as well as anger from alumni and some band members, who say that aspects of the university's report on Waters are flat-out untrue.
For example, Jeanette Town, a 2011 OSU graduate who was known to other members of the marching band as "Tiggles," wrote in a letter to university administrators that her nickname was not sexual in nature, and that, contrary to the report's claims, she had not been made to rub her breasts against another band member nicknamed "Joobs."
"This anecdote was presented in such a way that made it sound sexual and degrading, when in reality it was no more than a goofy shimmy done by two girls standing side by side, often to comedic effect due to our vastly different body types," Town wrote in the letter, provided to The Huffington Post. "It was two friends acting silly with one another, with the sole intent of making others laugh. Most importantly, it was done off-campus and of our own accord."
Waters' attorney emphasized that these and other aspects of the university's report have been rebutted as false by current and former band members. Several other former members have issued letters similar to Town's.
"The University's voluntary dissemination of the information described above, combined with its refusal to afford Mr. Waters any sort of hearing, has denied his due process rights -- both before his termination and after," Axelrod wrote on Tuesday.
Earlier this week, the 2012 and 2013 marching band student squad leadership released a lengthy statement defending Waters against the investigation, which they called "false and misleading."
Those alumni pointed out that a couple of years ago, Waters had disciplined students who were circulating a songbook with inappropriate sexual lyrics. Writing in Waters' defense, the alums stated: "Jon found one [such songbook] by accident during a 2012 bus trip and proceeded to shut it down. If you were found in possession of or distributing songbooks, you would be suspended or terminated from the program."
Davey pounced on the squad leaders' recollection, saying in a statement that Waters had denied ever seeing the songbook as a staff member. Davey also said that other former band members have corroborated the existence of sexual nicknames, and that no one has denied the claims of alcohol abuse among band members, hazing, a newsletter with sexual content called "Trip Tic" or various other forms of sexually charged misconduct.
"The culture created by these and other issues detailed in the university investigative report necessitated a change in leadership of the Marching Band," Davey said.
The Ohio State trustees have backed the administration's decision not to give Waters a second chance.