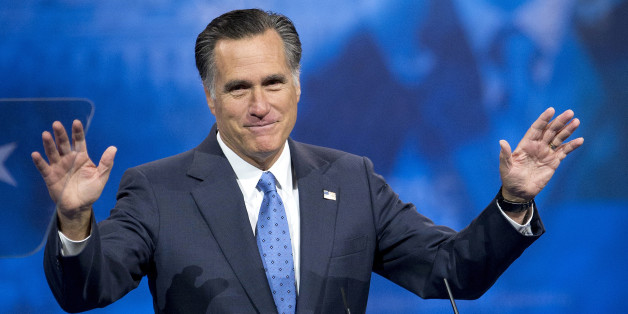 A few days ago, former Massachusetts governor and two-time presidential aspirant Mitt Romney told Hugh Hewitt that he was not going to run for president in 2016. What everyone seems to have heard, however, is that he might run for president in 2016. And so, Mitt Romney 2016 is now a thing. It's August. This is what happens in August.
The words that everyone is citing to suggest that Romney is "leaving the door open," as they say, to a run, are "circumstances can change." Go ahead and Google "Mitt Romney circumstances can change" and you'll see what I mean. (The Huffington Post is quoting those words, too, though we are at least really clear about Romney's stated intentions.) It's worth taking a look at the relevant transcript (emphasis mine):
HEWITT: Now I'm pressing, and I'm pressing an advantage of long acquaintance, and so forgive me for this, but that's subject to change, right? People's candidacies implode, circumstances change. People who organized campaigns approach you. And so I'm not asking you to -- I wouldn't presume to ask you to say, "Yeah, I'm in the race." But circumstances change. And if you thought that in fact it were not that way, that you thought you were the only one who could do this, you'd change your mind, wouldn't you?

ROMNEY: I'm not going there, Hugh. I know you're going to press, but you know, this is something we gave a lot of thought to when, early on, I decided we're not going to be running this time. And again, we said, "Look, I had the chance of running. I didn't win. Someone else has a better chance than I do." And that's what we believe, and that's why I'm not running. And you know, circumstances can change, but I'm just not going to let my head go there. I remember that great line from "Dumb and Dumber," where the...

HEWITT: "So you're telling me I have a chance?"

ROMNEY: There you go, you remember. You're telling me I have a chance? That's one of a million.
So all those headline writers probably should have attributed the "circumstances change" language to Hugh Hewitt, with whom Romney was politely playing along.
Or they could have gone with, "Romney: 'If Everyone Else's Candidacies Implode And A Well-Organized Campaign Comes To Me, Maybe I'll Run,'" as an alternative. Because those are the conditions to which Romney is agreeing here: Jeb Bush, Chris Christie, Bobby Jindal, John Kasich, Rand Paul, Marco Rubio, Rick Santorum, Scott Walker, and whoever else suffers an "implosion," and then a bunch of people who are well-positioned to support a campaign -- financially and infrastructurally -- but who have not joined a campaign in the meantime suddenly decide to approach Romney.
I mean, it could happen. Giraffes from space could cure leukemia. The Detroit Lions could go to the Superbowl. Tupac could be alive. The world is full of possibilities. But likelihoods are more scant, by comparison. This is really just Romney funnin' around with Hewitt, who -- back when it was chic in establishment conservative circles to beg any Republican with a pulse to jump into the 2012 GOP primary and prevent Romney from winning it -- stuck by Romney. (He is, after all, Romney's biographer.)
But, remember, it's August! And someone -- specifically, USA Today/Suffolk University -- polled Iowans, and this is what they found:
According to a USA Today/Suffolk University poll released Wednesday, 35 percent of likely GOP caucus voters would vote for the 2012 GOP nominee in 2016. When Romney's name was added to the pool, no other candidate received double-digit votes.

The survey comes as rumors have begun to swirl about a potential Romney bid for president in 2016. After months of insisting that he will not run again, the former Massachusetts governor on Tuesday acknowledged that "circumstances can change."
(In the second paragraph, a copyeditor should have changed "The survey comes as rumors have begun to swirl about a potential Romney bid for president in 2016" to "The survey comes at a time when we're desperate to find something to write about, got any ideas?")
Back in January, Ariel Edwards-Levy and I came up with a system of shorthand symbols that could be deployed for polls conducted well before anyone has any business conducting polls. In our system, this USA Today/Suffolk University poll would get the "ℑ" for "It's way too early to write about 2016, but here we are doing it anyway, like idiots" and the "Ñ" for "No, [name of candidate] is not running/cannot run/will not run, but what if [name of candidate] did/could/would run? Huh?! What then!?" We created a symbol for polls in which Public Policy Polling is just trolling people, as is their wont, but since PPP isn't implicated here we wouldn't do that. Same spirit, though!
Ariel and I failed to come up with a symbol for "absurdly teensy sample size," because we didn't think a poll with an absurdly teensy sample size would touch off a cuckoo-bird media frenzy. We forgot about what happens in August, and we apologize. More to the point, though, this poll has an absurdly teensy sample size! "How many Iowans actually support Romney for 2016?" asks Dave Weigel, "One hundred seventy Republicans were polled, and 60 chose Romney."
Why would 60 people do this? Well, if you recall, a bunch of Republican voters in Iowa voted for Mitt Romney not so long ago. That was a discrete, concrete decision that they made. If Romney had said to Hugh Hewitt, "YOLO, cuz, I am gonna go for it one more time in '16," it's very possible that Romney would bring many of them along again. In the meantime, however, we have Republican voters who, when presented with a hypothetical question about an imagined set of circumstances that won't take place for another year, retreat to the least abstract position: a decision they already made before about which they are probably still quite happy.
This would be a good time to point out that one thing Mitt Romney has never actually done, technically speaking, is win an Iowa Caucus.
[Would you like to follow me on Twitter? Because why not?]
BEFORE YOU GO
PHOTO GALLERY
Awkward Mitt Romney