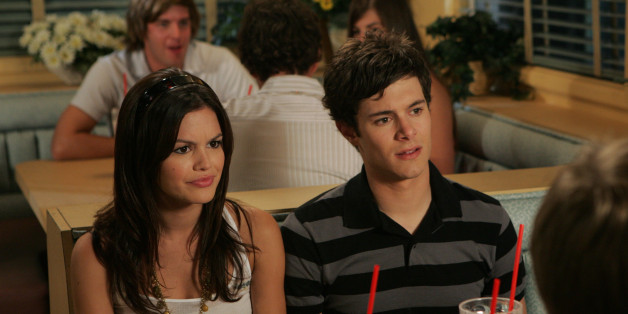 Adam Brody, our favorite Death Cab for Cutie fan and all-around chill guy, participated in a Reddit Ask Me Anything session on Thursday to promote the premiere of "The Cosmopolitans." The series, from director Whit Stillman, is part of Amazon's newest batch of pilots (it's great, we've seen it!), and showcases Brody in a starring role as an American ex-pat living in Paris. That's all well and good, but Brody's AMA really focused on his other works: "Scream 4," a guest appearance on "Gilmore Girls" and, of course, "The O.C." Ahead, our favorite quotes from Brody's dip into the Reddit world, including one about what it was like to kiss Rachel Bilson, his former girlfriend and "O.C." co-star.
Question: "Do you miss the OC? I miss the OC." -- EckhartsLadder
Brody: "I miss the original 90210, actually."
Question: "Alright, I have to ask. What was it like to work on Gilmore Girls? Was it tiring, keeping up with all the pop culture going back and forth? And did you understand all the references??" -- courtiebabe420
Brody: "It was nice because the people were cool and the writing was great, but also hard because they made sure you said every syllable. In a way I've never seen before or since."
Question: "Hi Adam! Do you think there is any chance for an OC reunion in the future? And; is Big Japan still active? If so, what kind of drum kit do you play? (My Sister wants to know how it felt to be killed in Scream 4!)" -- Maccas75
Brody: "Dying in Scream 4 felt silly, and if you look closely I'm pretty sure I'm smiling."
Question: "did Peter Gallagher ever give you advice in real life ?" -- Frajer
Brody: "He always told me to grow out my eyebrows. Boom!"
Question: "Chris Pratt said that when he was on The OC final season, all you young actors were so ready for it to be over and basically said that it pissed him off because you guys didn't know how lucky you had it when there were so many actors struggling for work. Do you think you and other actors were guilty of taking it all for granted and acted a bit bratty actor-ish?" -- SoltanPill
Brody: "I do not think we were guilty of taking it for granted. I also love Chris and he loves me so shut up!"
Question: "Hi Adam! You were definitely the best part of the O.C., i've always enjoyed when you were improvising. But anyway, i've been wanting to ask you a question since i was 13 or 14: how was it like to kiss Rachel Bilson? Is she a good kisser? Since i had a crush on her at the time, the 13 years old that's still in me is screaming and is dying to know." -- George_Hale
Brody: "One of the all time greats!"
BEFORE YOU GO
PHOTO GALLERY
Celebrity News & Photos