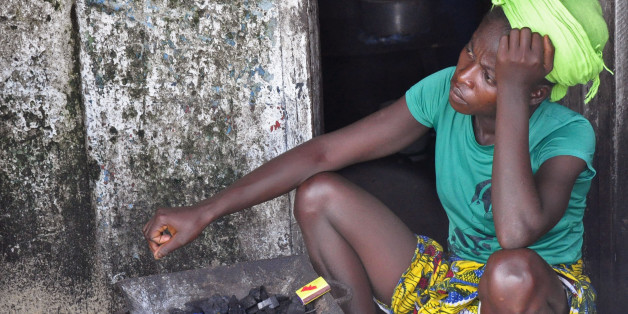 The current Ebola outbreak may ultimately infect as many as 20,000 people and a disproportionate number of those cases will be women, experts say.
Since this strain of the disease first hit Guinea in May, 1,552 people have succumbed to Ebola, which has been rapidly making its way through four countries in West Africa, the Associated Press reported. More women than men are contracting the disease though, since they traditionally serve as health care workers and are the ones who are expected to look after ill family members, according to UNICEF.
Women account for 55 to 60 percent of victims who have died from Ebola in the current epidemic in Liberia, Guinea and Sierra Leone, according UNICEF.
But figures may actually be even higher.
Health teams in Liberia recently reported that women made up 75 percent of victims who were infected or died from Ebola, The Washington Post reported.
The outbreak is being attributed to the consumption of infected bushmeat -- the meat of wild animals -- which many rely on for their livelihood and as their main source of protein, according to Irin News.
The disease spreads when there is direct contact with the blood, body fluids and tissues of infected animals or people, which is more of a risk for women who are expected to spearhead taking care of ill family members and preparing for funerals, according to UNICEF.
"Women are the caregivers -- if a kid is sick, they say, 'Go to your mom,'" Sia Nyama Koroma, first lady of Sierra Leone, told The Washington Post. "Most of the time when there is a death in the family, it's the woman who prepares the funeral, usually an aunt or older female relative."
A key reason this outbreak, and ones similar to it, continue to hit West Africa is because -- across the board -- both men and women are reluctant to seek medical care. They've developed strained relationships with healthcare workers and century-old traditions mandate that the ill be taken of at home, Raphael Frankfurter, executive director of Wellbody Alliance -- a group that provides free healthcare in Sierra Leone -- told HuffPost earlier this month.
This burden of tending to the sick, however, is the one that women have to bear.
"If a man is sick, the woman can easily bathe him but the man cannot do so," Marpue Spear, executive director of the Women's NGO Secretariat of Liberia, told Foreign Policy. "Traditionally, women will take care of the men as compared to them taking care of the women."
Helping to change these perspectives is what will finally put an end to these devastating outbreaks, Frankfurter said.
Currently, because there is so much confrontation associated with the disease -- the military will surround an infected person's home and healthcare workers often don't respect a patient's ancient traditions -- Ebola victims don't want to seek out help from clinics.
But if these relationships could be mended and West African men and women would be more open to getting treated at clinics, then these epidemics could be stopped before they spread to this insidious level, Frankfurter believes.
The 23-year-old aid worker saw firsthand how this methodology actually works.
After a woman in Kona, Sierra Leone, tended to a funeral, she became infected and died from the disease.
Wellbody Alliance then went out into the community to find the 35 people she had been in contact with and did so in a compassionate way, Frankfurter said.

Each of the 35 people willingly got tested and no one had been infected with the disease, which was an "unprecedented success," he told HuffPost.
"Health workers should acknowledge, publicly, how frightening this disease will be for affected communities and how difficult it is for families to part with loved ones to likely die in isolation wards," Frankfurter wrote in a blog for Wellbody Alliance. "Such sympathetic gestures would serve to align the priorities of communities and the public health response."
BEFORE YOU GO
PHOTO GALLERY
Ebola Outbreak