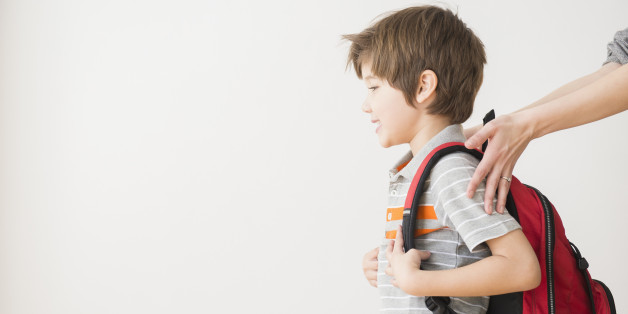 It's the moment you've been dreading--OK, maybe slightly anticipating--all summer. Yes, it's time to wave goodbye to your little ones as they head out for their first day of school.
(We'll pause here so you can compose yourself.)
Before you wrap your kids in hockey pads, stuff a week's worth of food in their backpacks, and send them on their way, remember that there are better ways to prepare them. We buddied up with Ziploc® to bring you a binder full of expert-approved ideas to help get you and your budding scholar through the stressful first day -- with flying colors.
1. It's Never Too Early for a Field Trip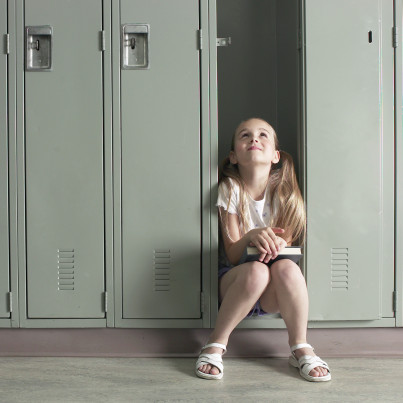 Even for an adult, starting in an unfamiliar place can be daunting. Just imagine how unnerving it can be for your kid. Luckily, fields trips are never not fun.
Jennifer Latch, the "master mom" behind the parenting blog Our Urban Playground, recommends taking your kids on a school-run tour or volunteering to help teachers set up their classrooms. Alternatively, you might take your little explorer on a fun bike trip or a picnic, stopping to check out the school along the way -- especially where you'll pick them up.
2. Do Some Potty Training
It's entirely natural for your wee ones to be worried about the bathroom situation in their new surroundings. After all, stuff happens -- even when you have extensive bathroom experience.
Still, you can alleviate potty panic. Many elementary school classrooms, Latch says, have a bathroom inside to accommodate smaller bladders. Walk the route to the bathroom on your tour. If your children have frequent toilet trouble, do a little emergency planning with their teachers beforehand.
3. Schedule Around the Back-to-School Daze
A big change in routine can flummox anyone. Adjusting your little ones to their new schedules can ease a lot of anxiety. The problem: they have spent months on a flexible summer schedule.
"During the break, I'm not a Mom who's like, 'wake up at 7:30 AM!'" admits Latch. "So it's important to start adjusting your schedule two weeks before school begins."
But don't panic! No one's telling you to lay down a curfew cold turkey. Most schools post their schedules online, so push bedtimes up gradually -- around 15 minutes a night. Explain to your kids what the new schedule will be like. Adjust mealtimes accordingly, especially since some elementary schools serve lunch insanely early. (Even if you've seen how your kids act when they're hungry, it doesn't mean their teachers should!)
4. The Buddy System: Still Your Best Friend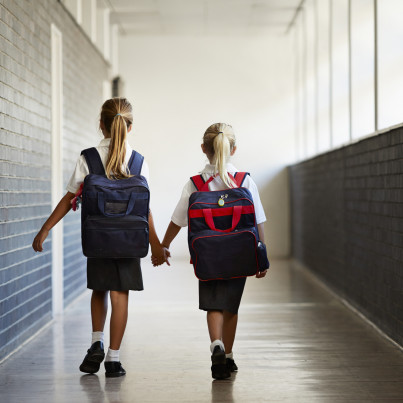 In many kids' imaginations, the first day of school plays out like that scene in Forrest Gump: "can't sit here." It doesn't matter how many times you assure them they'll find a friend to be "peas and carrots" with. This will be the only time we say this during your child's academic career, but it's okay to cheat a little.
Latch says that when it comes to exposing your kids to their peers, you don't have to wait for the first day.
"For my middle daughter, who's naturally a little shy, it was really important to plan get-togethers before school started," she says. Join (or, heck, organize) a playgroup with your child's future classmates before the first day. Find out which teacher their preschool bestie has. Even if your child doesn't share the same teacher, he or she can at least meet a friendly face before and after school.
5. Supply Them with Confidence (and Plenty of Crayons)
Here's an easy step to relax your kid: go out and get them some goodies for school. Shopping for supplies can remind your kids of the fun stuff they will learn and distract them from their fears. Mix in one or two non-essentials to boost their confidence.
"Having a new, special outfit might be really important for that first day," says Latch. Some moms we interviewed even suggested buying plain bookbags, then decorating them with your kids.
After all, there's a reason they call it retail therapy.
6. Expand the Summer Reading List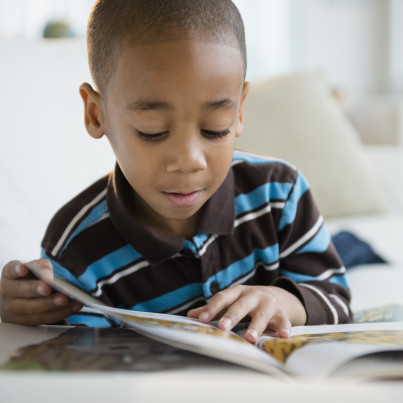 To paraphrase the awesome theme song to "Reading Rainbow," books give your kids "friends to know / and ways to grow / Reading Rainbooow!" The right book can help a nervous child push through those first-day shivers. There are literally shelves dedicated to characters getting through the first day.
Another bonus of summer reading: it'll help keep them on pace with their classmates. Erin Craddock, an elementary school teacher in Virginia, says: "Kids can slide back an entire grade-level of reading during the summer. Practicing helps them get back in the mindset and reduces the pressure kids feel to keep up with their peers."
7. Make a Home Sweet Homeroom
If your kid is still nervous about their first day away from home, why not send a little bit of home with them? A talisman from home--whether it's a picture of you or their sibling or even the dog--can smooth away the jitters. Glue it to the back cover of a folder or a binder so they can glance at it if they need it. One of the parents we interviewed even gave their son a (fake) car key to assure him she'd be there to pick him up after school.