Move over white sand beaches, things are about to get colorful.
We've seen pink, black and purple sand, but now we're going green. Green Sand Beach (also known as Papakolea Beach), is located on the Big Island of Hawaii, and its olive tint is absolutely gorgeous.
The beach's unique coloring is a result of a 49,000-year-old volcano called Pu'u Mahana that spewed greenish stones, called olivine. When mixed with the beautiful Pacific ocean, the olivine from the cinder cones erodes, giving the sand its jade-like color.
Who knew volcanic spew could be so pretty?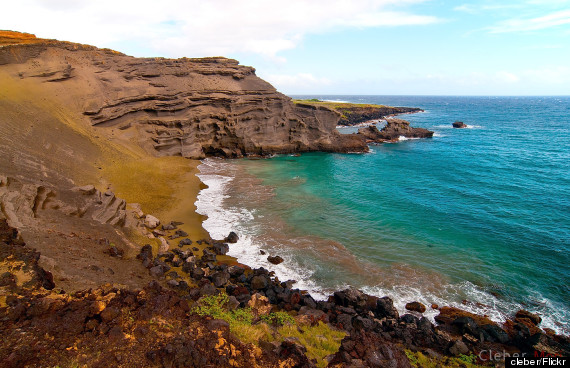 Getting to beach is a little bit of a trek, as you can only get there by taking a 90-minute hike. Since the beach is located on the very tip of the island, we recommend you make a day of it and check out the Volcano National Park on your way there.
Bye, Green Beach!
BEFORE YOU GO
PHOTO GALLERY
Colorful Beaches