Those at Burning Man this year had plenty of attractions and installations to keep them busy, but perhaps none as expressly spiritual as the Temple of Grace.
Designed and constructed by long-time sculptor David Best and The Temple Crew, the Temple of Grace stood at over 70 feet high, with a footprint of 80 feet by 80 feet, for all of one week before it was burned in the annual end-of-festival ritual.
On its website, The Temple Crew wrote its intentions for the structure to be a place of sanctuary:
The Temple of Grace is intended to be a spiritual and sacred space for memorials, reflection, celebration, and to commemorate life transitions. It is the latest in a long line of temples going back to 2000, which started the tradition of the temple built as a spiritual center for this art festival. It is a special work of art given to the community, and is a spiritual refuge where thousands gather, each to engage with it in his or her own way. The community comes to write their memorials and place tokens of their transitions, and it is burned at the end of the festival in a tradition of releasing them by the immolation of the temple.
Witness the life cycle of the exquisite Temple of Grace:
Photo: The Temple of Grace is making progress despite adverse conditions (it's very windy). #brc... http://t.co/CSvdyikdPV

— gott zero (@godzero) August 22, 2014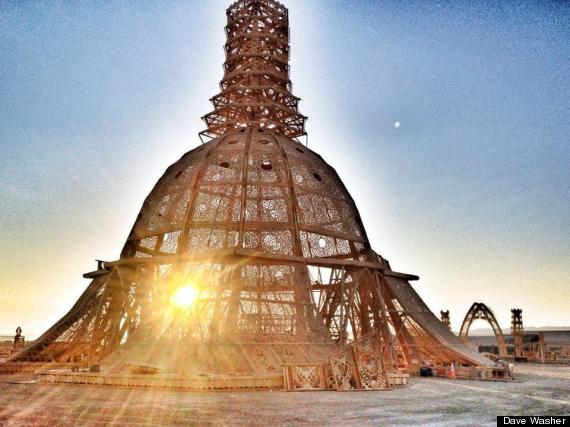 Burning Man - The Temple of Grace at Sunrise #facebookphoto #rimington pic.twitter.com/NRRYTEIxKM

— Dave Rimington (@drimington) September 2, 2014
The Temple of Grace at #BurningMan.

PLAYA WEBCAM: http://t.co/vf1xatDQLF pic.twitter.com/6Q3vK2Coe9

— Electronic Midwest (@ElectronicMidW) August 31, 2014
Temple of Grace by David Best #BurningMan via @balazsgardi pic.twitter.com/oqjg7e38MK

— t (@InTheTief) August 29, 2014
Sacred space. #templeofgrace #burningman2014 #sunset#on#theplaya pic.twitter.com/SRwLMeh5Zi

— Mandy Gill (@mandiipops) September 2, 2014
Inside the Temple of Grace at Burning Man 2014. I was in complete awestruck. pic.twitter.com/Hgs8BCjGXm

— Luis Cochez (@L_uisCochez) September 2, 2014
The Temple of Grace — Burning Man ... https://t.co/unKliAoiWY pic.twitter.com/Poj5mo7oqw

— J.R. Ewing (@mystuff9090) August 31, 2014
BEFORE YOU GO
PHOTO GALLERY
The Amazing Art Of Burning Man Temples