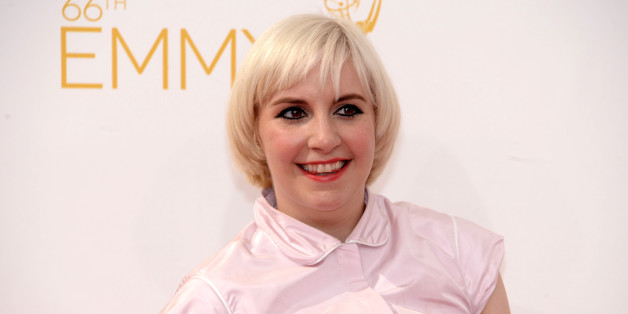 This past Sunday, a 4chan user posted nude and revealing photos online, supposedly hacked from the iCloud accounts of numerous female celebrities such as Jennifer Lawrence, Kate Upton, Lea Michele and more. While some outlets have reported this leak as a juicy celebrity "scandal," it's more accurately described as a sex crime.
Despite the clear criminality of the leak, corners of social media have regressed to the all-too-familiar victim-blaming routine, placing the blame squarely on the women for taking the photos rather than the hacker who blatantly broke the law. Just because a woman (or person of any gender for that matter) is famous does not mean their private photos are fair game to anyone and everyone.
As Esquire's Luke O'Neil put it: "Very few of us would hide in the bushes outside of a woman's home in order to catch a glimpse of her getting changed, but how is that any different from this?"
Many female celebrities took to Twitter to voice their outrage and poignantly clarify why leaked photos such as these are so insidious. Some were eloquent, others were short and sweet. Either way, all are correct.
Here are six reasons why leaking nude photos of famous women is wrong, straight from celebrity women themselves:
1. It is -- above all -- a woman's choice with whom she shares her body with and how she does it.
The way in which you share your body must be a CHOICE. Support these women and do not look at these pictures.

— Lena Dunham (@lenadunham) September 1, 2014
Remember, when you look at these pictures you are violating these women again and again. It's not okay.

— Lena Dunham (@lenadunham) September 1, 2014
Seriously, do not forget that the person who stole these pictures and leaked them is not a hacker: they're a sex offender.

— Lena Dunham (@lenadunham) September 1, 2014
The "don't take naked pics if you don't want them online" argument is the "she was wearing a short skirt" of the web. Ugh.

— Lena Dunham (@lenadunham) September 1, 2014
2. People have the right to take nude photos. No one has the right to hack them. It's that simple.
People have the right to take whatever pics they want on their own fucking phone. People don't have the right to hack them. Is it that hard?

— christine teigen (@chrissyteigen) September 1, 2014
What the fuck is on your phone? I'm sure you got some shit. Everyone is entitled to parts of their lives they don't have to share with you.

— christine teigen (@chrissyteigen) September 1, 2014
3. It's just creepy.
To those of you looking at photos I took with my husband years ago in the privacy of our home, hope you feel great about yourselves.

— Mary E. Winstead (@M_E_Winstead) August 31, 2014
4. "Integrity is sacred."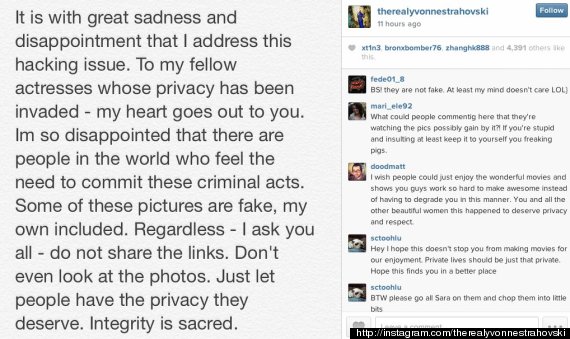 4. iCloud accounts are meant to be PRIVATE -- and might need a little work done. (Translation: Piece of sh*t)
Thank you iCloud🍕💩

— Kirsten Dunst (@kirstendunst) September 1, 2014
5. By looking at these photos and negatively engaging in the conversation surrounding them, you are perpetuating the problem.
Even worse than seeing women's privacy violated on social media is reading the accompanying comments that show such a lack of empathy.

— Emma Watson (@EmWatson) September 1, 2014
6. There is a much better way of going about seeing a woman naked.
You know what's better then leaked nudes? Earning the trust & respect of another human to the point that they share their body with you.

— Susan Burke (@ThatSusanBurke) August 31, 2014
These are real women and should be treated as such.