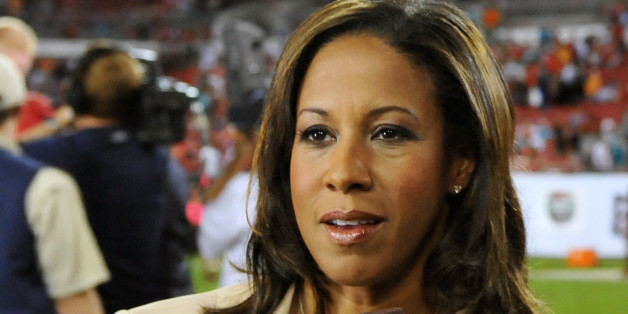 Another member of the media has decided to stop using the controversial nickname of Washington, D.C.'s NFL team on the air. Lisa Salters, ESPN's sideline reporter for "Monday Night Football," will not say "Redskins" when referring to the team, according to Richard Deitsch of Sports Illustrated.
ESPN MNF reporter Lisa Salters has chosen to say "Washington" as opposed to the Redskins. That's how she'll handle heading forward.

— Richard Deitsch (@richarddeitsch) September 2, 2014
Washington is scheduled to play two games on "Monday Night Football."
Salters joins a growing list of NFL reporters and analysts who have stopped using Washington's nickname, including Peter King of Sports Illustrated, CBS Sports' Phil Simms and NBC's Tony Dungy. Even the Washington Post editorial board has decided to stop using the word "Redskins" when referring to the team.
Others like ESPN reporters Josina Anderson and Adam Schefter have stayed neutral on using the name, which was described by the U.S. Patent and Trademark Office as "disparaging to Native Americans" in a recent decision that canceled six federal trademark registrations connected to the team. In an NFL media roundtable published on Sports Illustrated in July 2014, Schefter said it's "not my job to make a stand on their name."
Although a growing number of members of the media are rejecting the name, team owner Dan Snyder's stance on keeping it hasn't changed.
"You know, it's sort of fun to talk about the name of our football team, because it gets some attention for some of the people that write it, that need clicks, or what have you," Snyder said in an interview in August on ESPN 980, via The Washington Post. "But reality is, no one ever talks about what's going on on reservations, the fact that they have such high unemployment rates, health care issues, education issues, environmental issues, lack of water, lack of electricity."