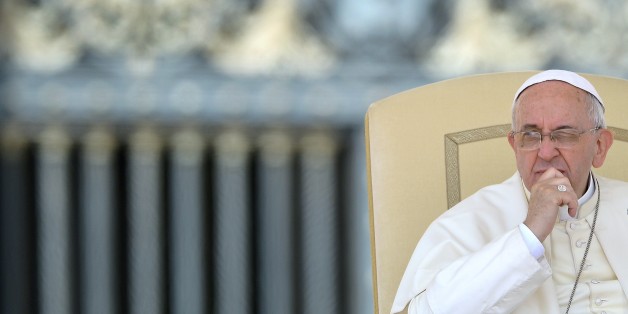 Pope Francis has expressed his "dismay and disbelief" over the atrocities committed by the Islamic State in Iraq, and on August 19 he reportedly reached out directly to an Iraqi priest to offer a message of solidarity.
Fr. Behnam Benoka works at a refugee camp for fleeing Christians in Iraq and sent a letter to the pope in which he thanked the pontiff for denouncing the violence committed by the Islamic State and expressed his fear for the fate of Iraq's Christians who have been mercilessly targeted by the extremist group.
In his phone call to the priest, Pope Francis reportedly said, "Know that I am with you in prayer always. I never forget you," Benoka told the Catholic News Agency.
Pope Francis sent an envoy to Iraq in August in order to show solidarity and offer financial support to those affected by the ongoing violence. The pope reportedly referred to this endeavor in his call with Benoka, saying, "I've personally sent Cardinal Filoni to check on the situation there for me. Tell everyone that Pope Francis called you. I never forget you, and I'll never leave you."
Benoka posted the letter he sent to the pope -- which was delivered by a journalist friend of his -- to Facebook in Arabic and Italian. CNS translated the letter:
To the Holy Father our merciful pastor: My name is Behnam Benoka, priest of Bartella, a small Christian city near Mosul. Vice rector of the Catholic seminary off Ankawa. Today I am in a tent that I founded with some medical staff and volunteers in order to give some medical relief to our brother refugees from persecution.

Holiness, the situation of your sheep is miserable, dying and hungry, your little ones are afraid and cannot go on. We, priests and religious, are few and are afraid of not being able to meet the physical and mental demands of your and our children.

I would like to thank you so much, in fact, very much because you always carry us in your heart, putting us there on the altar where the mass is celebrated so that God erases out sins and has mercy on us, and perhaps takes this up away from us

I write you with my tears, because here we are in a valley of darkness in the middle of a great pack of ferocious wolves.

Holiness, I am afraid of losing your little ones, especially the infants, who daily struggle and weaken more, I am afraid that death will kidnap some. Send us your blessing soas to have the strength to go on and perhaps we can still resist.

I love you,
Behnam Benoka
Benoka runs a clinic in Ankawa, Iraq for those fleeing the violence and has posted calls for aid on his Facebook page, urging the world to pay attention to the worsening situation in the country:
BEFORE YOU GO
PHOTO GALLERY
Pope Francis Tweets For Peace