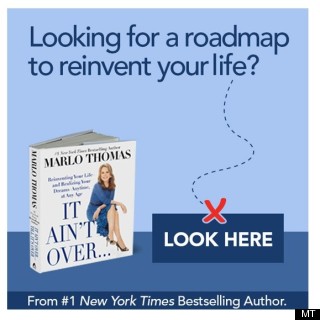 "One of the reasons I started my website is that I wanted a place for women to come together and dream. We women need to know that we don't have to hang on to an old dream that has stopped nurturing us—that there is always time to start a new dream. This week's story is about a stay-at-home mom who wanted to get back in touch with her love of music, and in the process, found a successful second career." —Marlo, MarloThomas.com
Heather Femia was excited as she headed to her first DJ gig—and she looked fabulous. The stay-at-home mom of three spent most of her days in the kind of casual clothes you'd wear to the supermarket, but as the former corporate fashion director of Nordstrom, she still had what it took to rock a great look: on this night, the baggy jeans then being shown on the runways, a spaghetti strap tank, and, thrown over her shoulders, a leopard-print shrug with "a beautiful lavender silk lining."
As great as Heather looked on the outside, inside she was torn. Her youngest, four-year-old Joey, hadn't felt well all day and she worried about leaving him at home. But she'd promised a friend she'd DJ her fortieth birthday bash. "She was counting on me. I was the music for her party." With her husband assuring her they'd be fine, she picked up Joey to kiss him good night—and he promptly got sick all over her. Not exactly how she'd pictured launching her glamorous new career.
As outlandish as it might seem for a 40-year-old minivan-driving mom from suburban D.C., becoming a DJ was not some kind of weird midlife crisis for Heather. It was a leap that she had finally, after years, gotten up the nerve to take.
Heather had collected music for as long as she could remember. As an only child in the seventies in Virginia Beach, Virginia, she says, "Music was like the sibling I never had." As young as six, she'd tag along with her dad to Woolworth's to pick out a record from the 99-cent rack: Sonny and Cher, Three Dog Night, Rod Stewart. "I remember my mom and grandma cooking and I'd be by myself with my grandfather's very old record player, dancing around the living room and looking at album covers. I can still tell you what those record labels looked like."
After earning a two-year degree in art and design, Heather spent more than a decade working her way up to become head style guru for Nordstrom, where she coordinated the company's high-profile fashion shows, including the music. Heather was fascinated by what the DJs did after she gave them a song list—editing and mixing the music, then adding a light show to create a mood for an event. "Someday I'm going to have your job," she'd tell them.
"I wanted to be the one pushing the buttons," she says. "I wanted a more intimate relationship with the music."
Article Continues Below Slideshow
PHOTO GALLERY
Heather Femia
But other things came first. By 1998, Heather was married with a four-year-old daughter, Natalie, and was traveling a lot: heading to New York City every season to pick the latest trends, presenting her findings at Nordstrom's Seattle headquarters, going to store openings across the country, and, during the holidays, heading back to New York to be interviewed on air about the hottest styles for the upcoming year.
Heather and her husband, who has a construction management and real estate development company, wanted more kids. "I knew I couldn't handle any more on my plate," Heather says. "Looking back on it, I feel like that whole 'you can have it all' thing is a misrepresentation. Something had to give, and as much as I loved my job, that something ended up being my career." In 1998, she resigned.
After what Heather dubbed her "detox" year ("I took yoga, did projects around my house, cooked healthy meals"), she felt ready to try for another baby—then promptly had two, a daughter and a son, exactly 12 months apart.
So, suddenly, the former glitzy fashionista was spending her days buried under laundry, diapers, and doctors' appointments.
Heather's savior was music. Whenever she could catch a break, she'd stop into a CD store, slip on headphones, and listen to the latest tracks. Or she'd wait until her husband got home and the kids were tucked into bed and go out to clubs with former coworkers, not only to dance, but to watch the DJs in action. "I had so much admiration for how they created that sweeping, uplifting mood through music," she says.
Her husband was totally supportive. "He knew I felt like I was losing a sense of self." So in 2005, she and a girlfriend celebrated her fortieth birthday by going to Ibiza, whose nightlife draws world-famous DJs and music enthusiasts.
When Heather left Ibiza, she needed a separate suitcase for all the music she bought.
"I thought, If I can bring just a tiny bit of this back home, I'll be offering some- thing special."
Heather knew good music. But the mechanics of a DJ's work? That she had to learn. For example, DJs create special effects to rev up a crowd, repeating a cool section of a song over and over or pulling out the bass for an uplifting beat. Most challenging is transitioning from one song to the next, matching the bass beats for a seamless sound. "When you do that wrong, dee- jays call it 'boots in the dryer' because it goes ba-bump, ba-bump," Heather says. "If you've got a dance floor going and you mess up a mix, everything stops. Managing a dance floor is high pressure."
Finally, her friend said, "I'm having a fortieth birthday party and you're DJing it!"
With only two weeks' notice, Heather DJed the party, and though her skills were basic, her set was a hit. "And I was hooked," she says.
Over the next year, Heather learned how to use professional equipment and met DJs, who would invite her to come to shows and sit in their booths. While she did have some screw-ups, her new career steadily flourished. By day, she was a full-time mom. But at night or on weekends, with the help of babysitters, her husband, and her mom, who took turns watching the kids, she was usually booked several times a week — a coup in an industry dominated by guys in their twenties. She has spun music in Times Square windows, at parties at the Smithsonian, and at trendy dance clubs all over Washington.
Not bad for a woman who is inching her way toward 50.
"It took a lot of guts to do this at my age, but it comes from an authentic place. I love the music I play."
* * *
To hear more about Heather's journey, and to read 59 other inspiring stories -- buy your copy of "It Ain't Over Till It's Over." Click here.
Add Marlo On Facebook:
Follow Marlo on Twitter:
Sign up to receive my email newsletter each week - It will keep you up-to-date on upcoming articles, Mondays with Marlo guests, videos, and more!