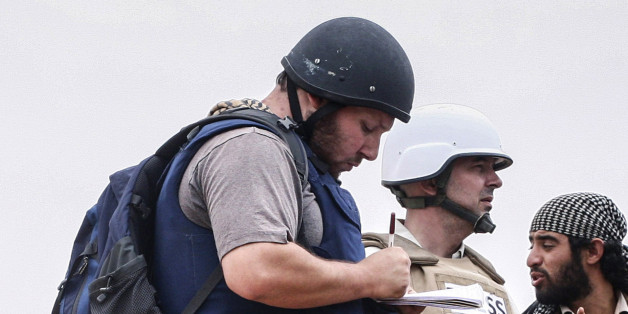 Reports of Steven Sotloff's alleged beheading by the Islamic State on Tuesday triggered a worldwide response of shock, horror, deep sorrow, and perhaps most importantly, reminders of the brave and admirable life lived by the American journalist.
A nearly 3 minute video released by ISIS claims to show Sotloff being beheaded.
But before this video, 31-year-old Sotloff was known to his peers and friends as a courageous reporter who spent years working in conflict zones and reporting on Turkey, Syria, Bahrain, Egypt and Libya.
Colleagues, other journalists and supporters tweeted their respects and prayers for Sotloff Tuesday. Others gave reminders of how the journalist should be remembered, posting old pictures and articles that showed his tremendous talent and the pure passion he had for reporting the truth.
Scanning through old photos from studying in Yemen in 2010, where I first met Steven Sotloff. Happier, more peaceful, even gentler times.

— Hamish Macdonald (@hamishNews) September 2, 2014
Saddened and outraged to see another reporter executed. #Sotloff didn't deserve this. Cold blooded murder

— Richard Engel (@RichardEngel) September 2, 2014
Prayers with the family and friends of Steven Sotloff.

— Wesley Lowery (@WesleyLowery) September 2, 2014
Prayers to #stevensotloff's family. A close friend described him: "The guy lit up a room. -was always such a loyal, caring and good friend"

— Sean Duffy (@RepSeanDuffy) September 2, 2014
Don't share ISIS's beheading video of journalist #jamesfoley. That's what they want - don't give them the satisfaction #ISISmediaBlackout

— Wajahat Ali (@WajahatAli) August 19, 2014
The blood of every journalist who has covered #Syria chills when hearing yet another colleague has been butchered. RIP Steven Sotloff.

— benwedeman (@bencnn) September 2, 2014
A look at Steven Sotloff's life. http://t.co/2BmQv1SUz0

— Lydia Polgreen (@lpolgreen) September 2, 2014
Praying for the family of #StevenSotloff This is another barbaric action by #ISIS Something must be done. This is unacceptable.

— Carson Daly (@CarsonDaly) September 2, 2014
Rest In Peace #StevenSotloff knowing your mom/thousands of people will advocate to avenge your death. Your search for truth has prevailed.

— Mohamed Fadel Fahmy (@Repent11) September 2, 2014
RIP Steve Sotloff. You were one of the good guys.

— Blake Hounshell (@blakehounshell) September 2, 2014
Steven Sotloff. Age 31. RIP. Thoughts with his family at such a distressing and traumatic time.

— Jenni Falconer (@Jennifalconer) September 2, 2014
I pray the reports are untrue. I am very proud to have worked with Steven Sotloff. No act of terror can diminish his courage and journalism

— howard chua-eoan (@hchuaeoan) September 2, 2014
RIP Steve Sotloff - a fine writer and very nice man murdered today by ISIS.

— Tom Coghlan (@TomCoghlan) September 2, 2014
Don't share #ISIS's beheading video, that's what they want. #ISISmediaBlackout

RIP Steven Sotloff. pic.twitter.com/c3gDLTbBar

— Zach Green (@140elect) September 2, 2014
If you're going to share a picture of Steven Sotloff, please share one like this, showing him during happier times. http://t.co/ziBN6CfP9v

— Andy Carvin (@acarvin) September 2, 2014
here's a piece by @stevensotloff, "Opposing Morsi but Defending Democratic Legitimacy"

— Jake Tapper (@jaketapper) September 2, 2014
TIME has also released a statement on Sotloff's reported death:
"We are shocked and deeply saddened by reports of Steven Sotloff's death," TIME editor Nancy Gibbs said. "Steven was a valued contributor to TIME and other news organizations, and he gave his life so readers would have access to information from some of the most dangerous places in the world. Our thoughts and prayers are with him and his family."