TOP STORIES
NATO CONSIDERS 'RAPID-RESPONSE' FORCES "The new force of some 4,000 troops, capable of moving on 48 hours' notice, will be supported with logistics and equipment pre-positioned in Eastern European countries closer to Russia, with an upgraded schedule of military exercises and deployments that are intended to make NATO's commitment of collective defense more credible and enhance its deterrence. The agreement is planned as the substantive centerpiece of the NATO meeting, which will take place Thursday and Friday and will be attended by President Obama, who will also stop in Estonia before the summit meeting." In response, Russia says it plans to "revise its military doctrine." Russia's ruble has hit the "lowest level ever" in anticipation of further sanctions. [NYT]
U.S. STRIKES GROUP BEHIND MALL ATTACK The U.S. attacked Al-Shabab in Somalia yesterday according to the Pentagon, and sources allege the drone strike targeted the terrorist group's senior leadership. Here's a refresher on Al-Shabab's terror legacy, as well as the other terrorists comprising the U.S.'s most wanted list. [AP]
BECAUSE THE EBOLA WASN'T BAD ENOUGH... Boko Haram has struck again in Nigeria, killing "scores" of people and, for the first time, seizing territory. The U.S. is opening its second drone base in Niger and third in West Africa. Check out the military's "footprint" in the region. [Reuters]
COPS WEARING BODY CAMS IN FERGUSON Starting Saturday, police began wearing body cameras in Ferguson, Missouri. Protests were quieter this weekend after the father of the unarmed teenager killed by the police asked that protestors not shutdown traffic over Labor Day weekend. [HuffPost]
NYT: 'SMALLER MILITARY HOSPITALS PUT PATIENTS AT RISK' "These small and underused hospitals are the focus of an evolving Pentagon plan to scale back the system — entirely separate from the scandal-plagued veterans health system — by converting some of them into either outpatient clinics or birthing centers. The downsizing plan has not been made public, but Winn was among the hospitals listed in a draft distributed internally last spring and obtained by The Times." This graphic details complication rates at each of the hospitals. [NYT]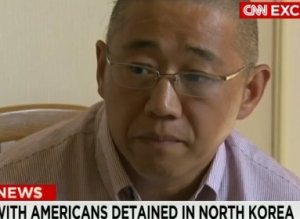 AMERICANS IMPRISONED IN NORTH KOREA PLEAD FOR RESCUE Watch the three detained Americans make their case for freedom. CNN examines why North Korea is using these men to send a message now. [AP]
CELEBRITY NUDE PHOTO LEAK DETAILS EMERGE One of the alleged hackers behind the massive leak of hundreds of nude photos of Jennifer Lawrence, Kate Upton, and other celebrities wrote on an anonIB thread that he and the ring of hackers responsible for the leak are on the run. Apple promised they fixed the glitch that allowed the hack in the first place. And here's the backstory behind the "darkest corner of the web" where the photos were posted. [Gawker]
WHAT'S BREWING
DIFFERENT FOUR HORSEMEN Four Phillies pitchers contributed to a no-hitter yesterday, a franchise first. Too bad they're still 15 and a half games back. [HuffPost]
IT JUST BECAME EASIER TO BLOW YOUR PAYCHECK The next iPhone will include a mobile payments system supported by Visa, Mastercard, and American Express. [HuffPost]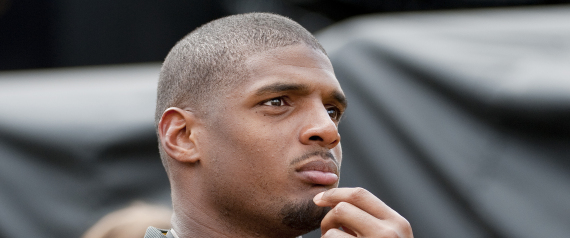 MICHAEL SAM LEFT OFF RAMS' PRACTICE ROSTER "Defensive end Michael Sam's bid to become the first openly gay player in the National Football League (NFL) looked even more remote on Monday when he failed to make the St. Louis Rams' 10-man practice squad. Two days after being cut from the Rams' final 53-man roster for the 2014 regular season, and a day after going unclaimed on wavers by any other NFL team, Sam was still on the outside looking in." Buffalo Bills player Eric Wood says ESPN's shower coverage is to blame for Sam's lack of NFL prospects. [Reuters]
STAR-STUDDED WEDDING ROUND-UP Check out the first photos of Brad Pitt and Angelina Jolie's wedding as well as the first snaps of the nuptials of Dwayne Wade and Gabrielle Union, Ashlee Simpson and Evan Ross, and Donnie Wahlberg and Jenny McCarthy. Mark Wahlberg was noticably absent from brother Donnie's wedding -- rumors are flying he and his wife aren't the hugest fans of Jenny.
'LABOR' DAY NEWS Carrie Underwood announced her first pregnancy with husband Mike Fisher yesterday with an adorable social media post. [Daily Mail]
HOW YOU SPEND EVERY MINUTE OF YOUR DAY We all really need to stop watching TV. [HuffPost]
NEW DAY FOR HEART FAILURE TREATMENT? "A new study reports one of the biggest potential advances against heart failure in more than a decade — a first-of-a-kind, experimental drug that lowered the chances of death or hospitalization by about 20 percent. Doctors say the Novartis drug — which doesn't have a name yet — seems like one of those rare, breakthrough therapies that could quickly change care for more than half of the 6 million Americans and 24 million people worldwide with heart failure." [AP]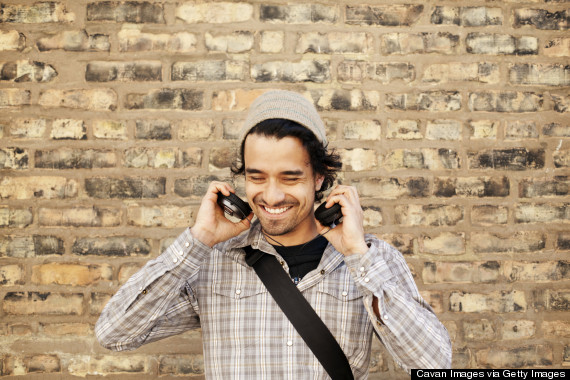 FEEL MORE CONFIDENT Turns out playing "The Man" on repeat is scientifically proven to make you actually feel like THE man. [HuffPost]
ON THE BLOG
EBOLA: 'AN EPIDEMIC OF FEAR' "But the true impact of the crisis in West Africa should not be measured in the numbers dying of Ebola itself, but rather in the wider impact the disease has wrought. Every day here in Liberia I hear horror stories of people dying of perfectly treatable diseases as hospitals and clinics have shut their doors: a woman in labor who bled to death, baby half delivered, for lack of a midwife willing to manage her delivery; the driver who crashed his truck and was left to die without a functioning trauma center; the young child seizing from malaria, whose mother visited multiple hospitals and clinics but couldn't find one open to treat him. It is not Ebola alone causing the catastrophe in West Africa today -- it is an epidemic of fear." [HuffPost]
WE THOUGHT YOU SHOULD KNOW
~ Meet the new Katniss hairdo: the lobster tail hair twist.
~ Watch out for that cheese with your burger after Kraft recalled their American singles cheese slices.
~ Ansel Elgort, besides being a heartthrob, likes to DJ by the name Ansolo in his free time. Cue even more high-pitched teenage screams.
~ Because wedding photos weren't enough -- meet the wedding gif.
~ You too can paint your nails with chevron stripes.
~ Feeling bad about your Labor Day weekend boozing? At least you probably didn't eat a Twinx, which is a fried Twinkie stuffed with a bacon-wrapped Twix.
~ Queen B and Jay Z look pretty darn happy in the photos from LA's Made in America, so you can all relax now.
~ This is a $169 hot dog.
~ And Martin Scorsese is making a TV show based on "Shutter Island," set before the movie -- nightmares about insane asylums guaranteed.

Got something to add? Send tips/quips/quotes/stories/photos/events/scoops to Lauren Weber (lauren.weber@huffingtonpost.com). Follow us on Twitter (@LaurenWeberHP). Does somebody keep forwarding you this newsletter? Get your own copy. It's free! Sign up here.