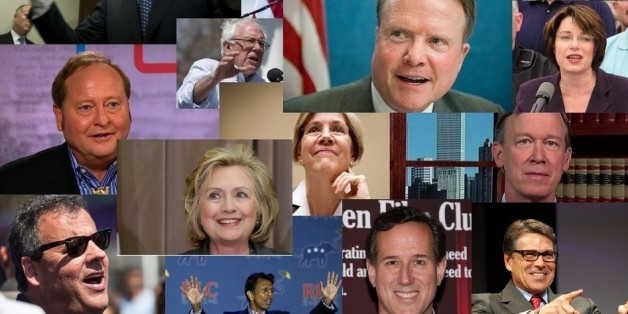 We've gone back over all of the 2016 presidential polls that have been conducted so far and discovered that as of this moment, pollsters have already included 55 people in various and sundry polls, for some reason.
Who are these people?
People Who Can Reasonably Be Said To Be 2016 Presidential Contenders:
1. Joe Biden
2. Jeb Bush
3. Chris Christie
4. Hillary Clinton
5. Bobby Jindal
6. John Kasich
7. Martin O'Malley
8. Rand Paul
9. Marco Rubio
10. Paul Ryan
11. Scott Walker
People Who Are Maybe A Tiny Bit Of A Stretch To Think Of As Running In 2016, But Who Knows?:
12. Ted Cruz
13. Andrew Cuomo
14. Peter King
15. Rob Portman
16. Bernie Sanders
17. Rick Santorum
18. Brian Schweitzer
Time Is A Flat Circle Where These People Are Always Running For President:
19. Michele Bachmann
20. Herman Cain
21. Howard Dean
22. Mike Huckabee
23. Jon Huntsman
24. John Kerry
25. Tim Pawlenty
26. Rick Perry
27. Mitt Romney
These People Are Not Running For President, But We'll Show Them By Putting Them In Polls, Anyway:
28. Cory Booker
29. Julian Castro
30. Kirsten Gillibrand
31. Deval Patrick
32. Elizabeth Warren
Pollsters Remember These People's Names Because They Did A Thing That One Time, Remember That Thing They Did?:
33. Kelly Ayotte
34. Tammy Baldwin
35. Evan Bayh
36. John Bolton
37. Jan Brewer
38. Ben Carson
39. Mitch Daniels
40. Rahm Emanuel
41. Nikki Haley
42. John Hickenlooper
43. Amy Klobuchar
44. Susana Martinez
45. Condoleezza Rice
46. Michael Steele
47. John Thune
48. Antonio Villaraigosa
49. Mark Warner
50. Jim Webb
LOL, Pollsters Are Straight Up Trolling You:
51. Scott Brown
52. Bob McDonnell
53. Sarah Palin
54. Joe Scarborough
55. Donald Trump
Most of these people, if history and common sense are any guide, will not come remotely close to running for president, let alone being elected. By our count, in 2008 -- the last presidential election without an incumbent -- 55 politicians were also mentioned in at least one poll. Of those, just under half ended up even briefly becoming candidates, while fewer than a third made it to the Iowa caucuses.
That list includes some less-than-serious options, from Bill Clinton (who was term-limited) to Arnold Schwarzenegger (who was born in Austria) and Stephen Colbert (who already had a better job). This serves as a reminder of the futility of trying to predict the winners of a contest before knowing who the contestants actually are.
FUN FACT: If you stacked all of these people end to end, the middle class would still have no future in America.
[Would you like to follow me on Twitter? Because why not?]
BEFORE YOU GO
PHOTO GALLERY
Potential 2016 Presidential Contenders