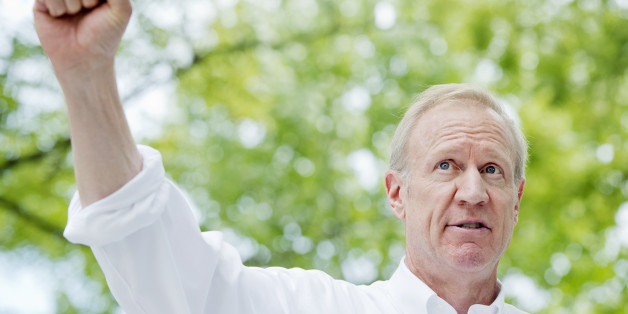 An Illinois GOP gubernatorial hopeful trying to downplay attacks related to his personal wealth has admitted he belongs to an elite California wine club where the initiation fee reportedly costs around $140,000 -- nearly three times the median household income for Illinois families.
Venture capitalist Bruce Rauner once made a point to describe himself as 1 percent of the 1 percent. His efforts at everyman relatability -- including donning a Carhartt work jacket in ads and waxing rhapsodic about his $18 watch -- haven't slowed Democratic comparisons to Mitt Romney.
Tuesday, he initially batted away a question about his membership to the Napa Valley Reserve wine club.
"I have many investments, and I am a member of many clubs," Rauner said at a press conference, according to the Chicago Sun-Times. He responded "Yes" when pressed to confirm his membership.
Rauner's lavish wine spending first came under scrutiny when the Chicago Tribune published a photo of the Republican candidate and Chicago Mayor Rahm Emanuel (D) palling around in one of Rauner's nine homes, a Napa Valley Reserve bottle in hand.
The image of two wealthy politicians enjoying pricey wine has been a favorite attacking point of Illinois Gov. Pat Quinn (D), whom Rauner hopes to unseat in the ever-tightening gubernatorial race.
On Tuesday, Quinn, a former tax attorney, told HuffPost Live he'd been eating meals of bananas and graham crackers for a week-long minimum wage challenge. His campaign, meanwhile, has continued to push a narrative of Rauner as an out-of-touch "billionaire." (Rauner, who made his fortune at a private equity firm, earned some $50 million in 2013.)
As Chicago Magazine notes, Napa Reserve isn't the typical bottle-by-mail "wine club" affair. Rather, "it's somewhere between a dude ranch, a time-share for hobbyist winemakers, and Costco for wine collectors."
The invitation-only club has a one-time membership fee roughly equivalent to the cost of a new home, and annual membership costs were previously reported to be around $7,000. Once part of the club, Napa Valley Reserve members can fork over as much as $175,000 to own two rows in the vineyard, or pay as little as $72 a bottle.
BEFORE YOU GO
PHOTO GALLERY
United States Governors