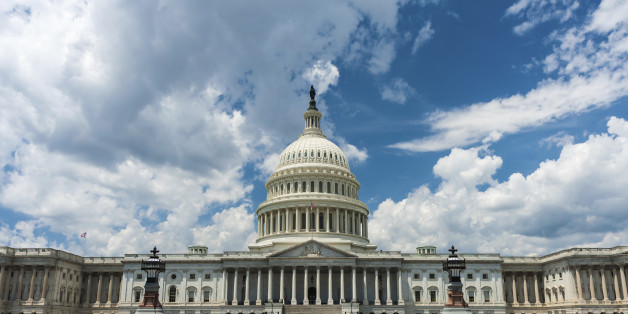 A new national poll gives Republicans the upper hand. We explain our new Senate forecast. And if you're looking for a wealth of nonpartisan polls, you might want to try Massachusetts. This is HuffPollster for Wednesday, September 3, 2014.
BATTLEGROUND GIVES GOP GENERIC BALLOT EDGE - In a bipartisan Battleground poll released Wednesday morning, 46 percent of Americans said they'd vote for a Republican congressional candidate, while 42 percent preferred a Democrat. President Obama's approval rating remained mired at 44 percent. One in 10 Americans said their feelings about him would determine their vote, while another 13 percent said they were voting mostly on Obamacare; a 24 plurality chose the economy as their top issue. From the press release: "An overwhelming majority of American voters feels that the nation is on the wrong track and the economy will be a key factor in November's elections, according to the latest George Washington University Battleground Poll...When weighing party choices on economic issues, the Republican Party holds a 7-point advantage with 49 percent of voters expressing more confidence in its ability to find solutions." [GWU]
The GOP spin - Republican Battleground pollsters Ed Goeas and Brian Nienaber: "As we enter the last sprint of this election cycle, Republicans are in position to make impressive gains this November. The GOP has intense and motivated supporters; the President's image continues to hover at all-time lows; the political environment clearly favors Republicans; and anxiety about the economy continues to be a dominant issue for a significant portion of the electorate….The vote intensity of Republican voters is strong – a net twelve-points more than their Democratic counterparts….The 2010 cycle saw Republicans make decisive wins across the country, driven by a motivated base and swing voters who were displeased with the policies of the Obama administration. Only a lack of skillful candidates, especially in US Senate races, kept the GOP from making even more gains. This cycle finds similar political dynamics – a motivated base of Republican voters, a depressed Democratic base, and dissatisfied 5 voters weary of the myriad of failed policies of the Obama administration. The only difference? This year's crop of Republican Senate candidates is getting much higher reviews across the board."
The Democratic spin - Democratic Battleground pollsters Celinda Lake, Daniel Gotoff, and Eric Schoenfield: "It is a longstanding and unavoidable reality that voters remain frustrated and discouraged with the direction in which the country is headed, and eager for change….While perceptions of Obama remain lukewarm, dissatisfaction toward the President cannot hold a candle to the public's palpable disdain for Congress….Congress' poor image means that, to be successful, individual Democratic candidates need to put their qualifications and priorities up against those of their opponents, rather than defending an unpopular status quo….This study relies on a tight turnout model; the warning here for Democrats is that typical levels of turnout among the base will not be enough this fall...Despite disadvantages due to the sheer number of seats Democrats must defend in the Senate, Democrats still have the ammunition they need to stave off a united Republican Congress."
INTRODUCING HUFFPOLLSTER'S SENATE MODEL - HuffPollster, with Natalie Jackson: "The race for control of the U.S. Senate remains very much in doubt, coming down to a coin flip based on current voter preferences as measured by the latest public polls. According to a new election forecasting model compiled by HuffPost Pollster and launched on Tuesday, Republicans have a 48 percent chance of taking control of the Senate. The outcome hinges on a handful of races where the poll-tracking model shows the Democratic and Republican candidates separated by less than 2 percentage points...The HuffPost Pollster forecast is slightly more optimistic about the Democrats' chances than some other prominent news media forecasts, most notably those produced by The New York Times, The Washington Post and FiveThirtyEight, which calculate the probability of Republicans retaking the Senate at between 52 and 66 percent. The difference is that these models also incorporate other factors that have been historically predictive of election outcomes, such as candidate fundraising and measures of the national political environment, which are less favorable for the Democrats in 2014 than the current polling snapshot.…[T]he differences between these forecasting models are slight. 'Fundamentally,' as Princeton neuroscientist and election forecaster Sam Wang puts it, 'any probability in the 40-60% range is a numerical way of saying 'I don't know.''...A new feature of the HuffPost Senate Forecast allows readers to move 'sliders' to try out different win probabilities for the most competitive seats, and it illustrates the tenuous nature of the overall chance each party will control the Senate." [HuffPost, forecast page]
Jon Bernstein reviews the differences between forecasts - "Right now, in aggregate, the polls-only versions are more favorable to Democrats….most everyone agrees that polls are increasingly better for predicting outcomes as the election draws closer. And almost everyone agrees that well in advance, fundamentals are more useful. So one way to look at the differences is that right now Democrats are doing a bit better than the fundamentals suggest -- and that we have no way of knowing how that will play out by November….we shouldn't trust any single model, or even a single average of the various models. Instead, the best way to read all of this is to focus on the range, both in individual models when supplied by the authors, and across models….we don't know who is going to win the Senate, and there's a very good chance we won't on Election Day morning, or on Election Day night." [Bloomberg]
Still haven't found the perfect Senate forecast? - The Upshot offers another make-your-own forecast option. [NYT]
A CLOSER LOOK AT GEORGIA'S POLLING - A new automated poll of landline phones in Georgia gives a nominal edge to Democrat Michelle Nunn over Republican David Perdue (45 to 43 percent) in Georgia's race for U.S. Senate. The poll was sponsored by Columbus, Georgia television station WRBL and the Ledger-Enquirer newspaper but conducted by a Republican pollster who runs the website GaPundit.com. The two most recent polls in our chart -- both landline-only automated surveys conducted by Republican affiliated organizations -- give nominal leads to Nunn. Since 7 of the 9 surveys before that showed Perdue leading -- and since the HuffPost Pollster poll model is calibrated to non-partisan polls with a record of performing well, it continues to give Perdue the advantage (48.8 to 45.3 percent). However, the model's confidence that Perdue's overall polling advantage will translate into a win in November has dropped from 75 to 58 percent. [WRBL, Pollster Chart]
MA IS 'ROLLING IN POLLING' - MassINC's Steve Koczela: "We can add political polling to the state's brag list. Massachusetts is home to no fewer than seven independent, nonpartisan pollsters churning out high-quality poll data to satisfy political obsessives. And we churn out a lot of it. Using data from the Huffington Post's HuffPollster, we ranked all 50 states on the quantity and quality of their polling. Here's where Massachusetts stands: Total state-level governor or Senate polls: 3rd most (108), Nonpartisan polls: 4th most (79), Nonpartisan live-interviewer polls: 3rd most (60)..But the polling here is more than just plentiful, it is also high-quality stuff...Massachusetts is second only to New Jersey in the percentage of totals polls conducted by nonpartisan pollsters...Of the seven public nonpartisan pollsters in Massachusetts, six use live telephone interviewers." [WBUR]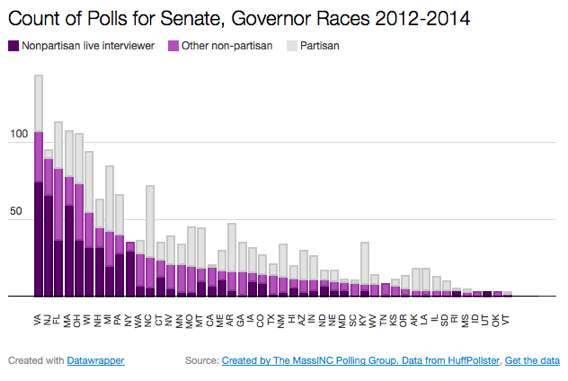 HUFFPOLLSTER VIA EMAIL! - You can receive this daily update every weekday morning via email! Just click here, enter your email address, and and click "sign up." That's all there is to it (and you can unsubscribe anytime).
WEDNESDAY'S 'OUTLIERS' - Links to the best of news at the intersection of polling, politics and political data:
-Kathy Frankovic takes a retrospective look at Bill Clinton's presidency. [YouGov]
-Obama's job approval in California sinks to a new low. [Field Poll]
-A pair of polls show a surprisingly close race in Arizona. [RCP]
-Americans say they were less willing to discuss the Snowden-NSA story on social media than they were in person. [Pew Internet]
-Americans' support for NATO is at the highest level in 40 years. [Chicago Council on Global Affairs]
-Two thirds of New Yorkers agree that Brooklyn is "the new 'hip place.'" [Quinnipiac]
-Mark Mellman (D) finds the "rather messy fundamentals" of the 2014 election "leave open a fairly wide range of outcomes. [The Hill]
-Ezra Klein explains how political science conquered Washington. [Vox]
-YouGov finds support for Scottish independence has risen eight points since mid-August. [YouGov]
-Brendan Nyhan finds political consultants are often not punished for underperforming. [NY Times]
-Out, liar. [FlowingData]
CORRECTION: The original version of this story identified WRBL as an Atlanta television station. It is actually located in Columbus, Georgia.
BEFORE YOU GO
PHOTO GALLERY
Conservatives Pointing Fingers