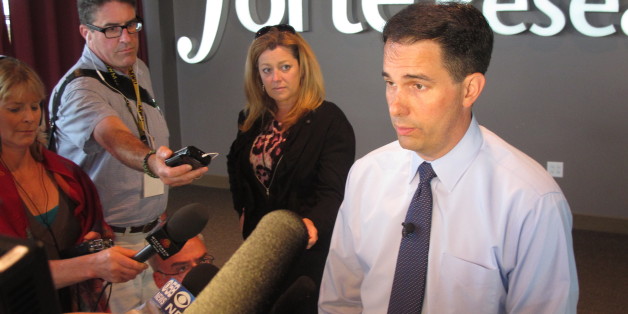 WASHINGTON -- During Scott Walker's 2010 campaign, he promised to create 250,000 Wisconsin jobs in his first term as governor. As the Republican's first term winds down, the state census shows he's fallen short of his goal, with only 103,000 jobs created since he took office.
Politifact Wisconsin calls Walker's promise "stalled," and his Democratic challenger has used the pledge as a political weapon.
And now, even the governor seems to have conceded defeat: Speaking to reporters Tuesday, Walker said he would not make a similar jobs promise in his second term.
"You know, you take over a team and say, 'We're going to turn around and be in the playoffs, we're going to win the Super Bowl eventually' ... We aim to have a Super Bowl-performance economy. We think we're heading in the right direction, but we still have more work to do, which is why we're asking for four more years to do it," said Walker, arguing that his promise was more of a long-term goal.
PolitiFact Wisconsin notes that in order to meet the goal, the state would have to create more jobs per month for the rest of 2014 than it did over the whole of 2013.
Challenger Mary Burke didn't miss the opportunity to bash her opponent in the tight gubernatorial race.
"The fact is Governor Walker failed in his first promise so I guess it's understandable why he's not making another one," she told an audience in Milwaukee on Tuesday.
Burke has touted her experience as an executive at her family's bicycle business and as commerce secretary under the state's last Democratic governor as proof of her own business acumen. She says she would like to help Wisconsin rank among the top 10 states in the nation across a number of economic metrics, according to the Milwaukee Journal Sentinel.
Attacks over jobs have become a hallmark of this race: In July, Walker's campaign released an ad accusing Burke of sending Wisconsin jobs abroad during her time at her family's company. In response, Burke's brother accused the governor of hindering Wisconsin companies' global prospects. Even The Wall Street Journal, which has previously featured Walker op-eds, called out the governor for trying to "fan populist furies." Walker got into further trouble when critics pointed out that a jobs agency he established in the state had previously endorsed Burke's family business and given financial awards to other Wisconsin firms involved in outsourcing.
Speaking to Wisconsin Public Radio in June, Wisconsin labor economist Laura Dresser said if Walker's initial jobs promise had been fulfilled, the governor could have brought the state back to 2007 employment levels. Instead, she noted, Wisconsin has faced a slower recovery from the recession than neighboring states have.
"Every time the national economy produced three jobs, the Wisconsin economy produced two," Dresser said.
Milwaukee Journal Sentinel columnist Craig Gilbert wrote in June that Wisconsin "ranks behind all its closest and most comparable Midwest neighbors" in terms of private-sector jobs growth. But he added that this represents a continuation of a trend: Wisconsin also had slower growth than its Midwestern cohorts for most of the time Walker's Democratic predecessor was in power.
Walker has responded to criticism of his jobs promise by enumerating other successes, such as the state's unemployment rate falling to its lowest point since 2008, his handling of the state's budget deficit, and the fact that Wisconsin ranked No. 1 in the Midwest for personal income growth this year.
PolitiFact Wisconsin rated that last claim as true -- though it noted that the growth in personal income was in the "rental income, personal dividends and interest" counting category, and not income from employment.
According to HuffPost Pollster, which combines all publicly available polling data, Walker currently leads Burke by just less than 2 points in the gubernatorial race.
BEFORE YOU GO
PHOTO GALLERY
Scott Walker Pointing Fingers