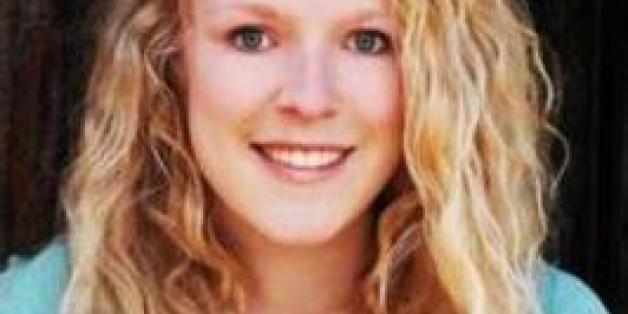 By all accounts, Linnea Lomax entered college a strong, athletic, ambitious young woman -- which is why it was so shocking to her parents as they watched her grow anxious, obsessive and suffer a breakdown toward the end of her freshman year. During finals, the Lomaxes visited Linnea at her dorm at the University of California, Davis and walked in on her as she was attempting suicide.
In an op-ed for the Sacramento Bee, Craig Lomax said that they took Linnea to a hospital where she stayed for several days before doctors felt she had shown enough progress to be released. Linnea was moved to an outpatient treatment center, but on her first day of therapy she left and never came back. She was found dead from suicide after an exhaustive 10-week search.
The Lomaxes do not see their personal tragedy as an isolated incident. Citing the 3,500 deaths by suicide that occur annually in California, the Lomaxes made one simple request in their op-ed: "We want mental health professionals to have suicide prevention training."
To that end, the Lomaxes have lent their support to a pending piece of legislation in California that would mandate suicide prevention training for all licensed mental health professionals, including psychologists, social workers and even marriage counselors. Such a requirement is startlingly rare: Only two other states have laws similar to the proposed California bill, despite evidence that suggests such training can lower rates of suicide among at-risk groups.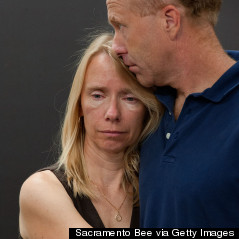 Craig and Marianna Lomax embrace after speaking to the media about the search for Linnea in 2012.
Nearly 40,000 people die from suicide in the U.S. every year -- a number that has climbed recently. CDC data show that in the first decade of the millennium, the suicide rate among U.S. adults rose 28 percent. As researchers told The New York Times last year, this figure may be even higher due to under-reporting.
Inadequate measures for suicide prevention are also an international problem. The World Health Organization released a report on Thursday that showed only 28 countries worldwide have national strategies for suicide prevention.
"The numbers are incredibly alarming," said Marc Levine, the California assemblyman who introduced the state bill. "There's a lot more that we can do."
Dr. Christine Moutier, the chief medical officer at the American Foundation for Suicide Prevention, said that better training could go a long way toward stemming the rising rate of suicide.
The training that U.S. mental health professionals currently receive is spotty, according to Moutier, who referred to suicide as "an orphan topic" in education circles. "No one has really taken ownership of how to approach it in the most strategic way."
Currently only Washington state and Kentucky have adopted laws that require suicide prevention training be included in mental health education programs. It's too soon to tell how effective those laws have been, but smaller scale efforts have shown great results. The Henry Ford Health System, a Detroit-based health care organization, found that suicide rates among its patients dropped by 75 percent in the first four years after implementing a new depression care program that includes suicide-specific education for its care providers.
According to the American Foundation for Suicide Prevention, 30 percent of those who die by suicide had seen a mental health professional in the last year of their life, while 19 percent had seen one within the last month. In other words, suicide-specific training on a larger scale could reach a lot of vulnerable people.
"Even the providers are coming out and saying, 'I really need to have this'" type of training, said Dr. Bill Schmitz, president of the American Association of Suicidology. A 2012 study co-authored by Schmitz found that 76 percent of directors of graduate programs in psychology said they wanted more training focused on suicide prevention.
A federal task force on suicide recommended in 2012 that all mental health professionals "should be trained on how to address suicidal thoughts and behaviors." One year later, a study conducted at the University of Washington found that a mere 50 percent of psychologists, 25 percent of social workers, and 6 percent of counselors had received training in suicide risk assessment.
The California bill -- which has passed both the State Senate and Assembly but has yet to be signed into law by Gov. Jerry Brown -- would mandate six hours of suicide prevention training for those who haven't obtained their licenses yet and those who are trying to renew their licenses.
Levine, the assemblyman who sponsored the bill, said that he's hopeful the new law will help mental health practitioners learn how to treat both patients who express suicidal thoughts and those who aren't as open about their ideations.
"The training will assist with risk assessment, which will help professionals identify the signs if patients aren't being forthright," he said. The proposed law would also require the state to conduct a study to evaluate the efficacy of this type of education.
The bill doesn't specify a training plan, but a spokesman for Levine pointed to Assessing and Managing Suicide Risk, a six and a half hour course designed by the Suicide Prevention Resource Center. Using this method, Magellan Health Services in Arizona saw a 67 percent reduction in suicide deaths among their behavioral health patients. Washington and Kentucky have trained hundreds of providers using ASMR as well.
One major challenge for mental health professionals in assessing suicide risk accurately is getting patients to open up. The fear of being involuntarily committed to a hospital can deter patients from being honest about their mental health.
Katie -- who is in her mid-20s, and spoke to HuffPost on the condition that her last name not be used -- has struggled with depression since high school. She said that when speaking with health professionals, she feels a hesitation that she doesn't necessarily have among friends in her support network.
"I have been afraid of trusting health officials to fully communicate suicidal thoughts," she said. "I'm just so aware that ... if you say certain things, they might have to say something."
Katie said that the support of close friends has been essential to her recovery.
Schmitz suggests that suicidal thoughts fall onto a broad spectrum, ranging from minor and fleeting feelings to an immediate risk.
"Mental health experts are scared to talk about suicide, and they view it as a very dangerous area of practice," he said. "They're terrified of liability. And because they don't have the right training, it's easy to overreact and say, let's hospitalize this person."
There are some cases, he said, where hospitalization is the best alternative, but in most cases it's not. "For providers that don't have training, they hear 'suicide' and they yank [patients] away from their social support and their jobs," he said.
Hospitalization can be traumatizing for individuals already suffering from mental health issues, he said. But when it's necessary, hospitalization can also saves lives.
Dese'Rae Stage, who runs Live Through This, an online art project about suicide attempt survivors, recalled her own suicide attempt.
"I kept calling my ex and asking her to please come home. At some point, she hung up on me and called the police. They banged on the door, just banging and the lights outside were flashing. I had a small apartment and all of a sudden there were 10 people in it asking me what I took, what I did ... I was taken away in an ambulance."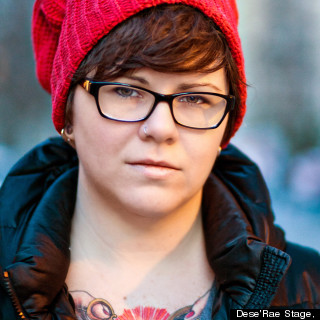 Dese'Rae Stage
Although the experience was difficult, Stage said she doesn't regret it.
"I regret that I went through that pain," she said, "but that experience is what made me want to live. It's what made me decide to change myself and the way that I dealt with things."
Of course, many doctors are prepared to deal with suicide and self-harm. Schmitz, a clinician himself, said that he engages patients in "rational discussion" about such impulses to determine how at risk they are. "I very rarely hospitalize people, and any time I do, it's an open dialogue." He said that he believes this approach helps patients to feel they are in a safe space where they can be honest about what they're going through.
Craig Lomax is hopeful that the new bill in California will save lives.
"This bill is a vital, common-sense response to understanding that the experts who might be able to save many lives are not always prepared to do so," he wrote in the Sacramento Bee. "AB 2198 will make the difference between life and death for some patients."
Have a story about depression that you'd like to share? Email strongertogether@huffingtonpost.com, or give us a call at (860) 348-3376, and you can record your story in your own words. Please be sure to include your name and phone number.
Need help? In the U.S., call 1-800-273-8255 for the National Suicide Prevention Lifeline.
CORRECTION: An earlier version of this article incorrectly stated that AB 2198 would apply to psychiatrists; it would apply to psychologists and educational psychologists, among others.
Enjoy reading this article? Read more selections from the best of HuffPost in Huffington Magazine.