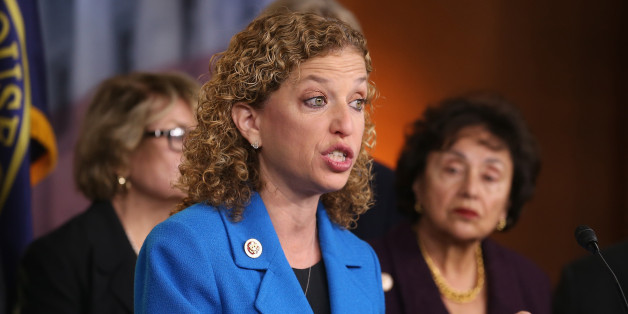 Democratic National Committee Chair Debbie Wasserman Schultz on Wednesday used some visceral language to describe Wisconsin Gov. Scott Walker's (R) record on women's issues.
"Scott Walker has given women the back of his hand. I know that is stark. I know that is direct. I know that is reality," she said, according to the Milwaukee Journal Sentinel.
"What Republican tea party extremists like Scott Walker are doing is they are grabbing us by the hair and pulling us back. It is not going to happen on our watch," she added.
Joined by Rep. Gwen Moore (D-Wis.) for an event at the Milwaukee Athletic Club, the Florida congresswoman criticized Walker for opposing a proposal to raise the state's minimum wage, as well as his signing of a bill in 2012 that prevents victims of employment discrimination from seeking punitive and compensatory damages in state courts.
Asked for comment on Wednesday, a spokeswoman for Walker forwarded The Huffington Post a statement from Lt. Gov. Rebecca Kleefisch (R), who said she was "shocked" that Wasserman Schultz used such charged language.
"I think the remarks were absolutely hideous and the motive behind them was despicable," Kleefisch said.
Lily Adams, deputy communications director at the DNC, said Wasserman Schultz was "by no means belittling the very real pain survivors experience."
Kleefisch also called on Democratic gubernatorial candidate Mary Burke, who has closed to within two points of Walker according to recent polls, to denounce the "outrageous statements" made by Wasserman Schultz.
A spokeswoman for Burke distanced the Democratic challenger from Wasserman Schultz's remarks on Wednesday.
"That's not the type of language that Mary Burke would use, or has used, to point out the clear differences in this contest," said Burke press secretary Stephanie Wilson. "For the last 11 months of this campaign, and in the final 9 weeks left to go, Mary is committed to pointing out those clear differences - there is plenty that she and Governor Walker disagree on - but those disagreements can and should be pointed out respectfully."
BEFORE YOU GO
PHOTO GALLERY
United States Governors