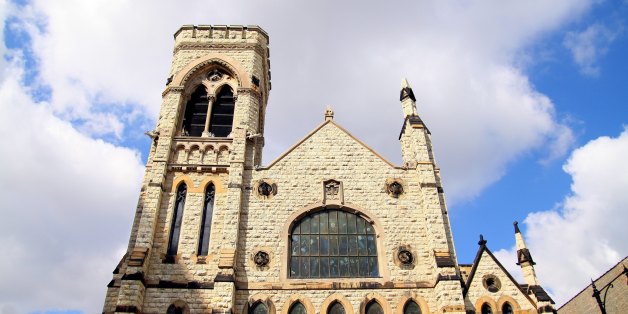 Chicago city inspectors opened an investigation after a woman was killed Thursday morning by a piece of stone, which fell from a historic church.
Citing photos from the scene, the Chicago Tribune reported the piece of "falling masonry" was likely the head of an ornamental gargoyle on the exterior of the Second Presbyterian Church, a landmark in the neighborhood of South Loop.
Witnesses told the Tribune that 34-year-old Sara Bean was crossing the street with another pedestrian just after noon when she was struck in the head by the stone, which fell from about 30 feet above. One witness told the paper he saw the scene unfold and watched the stone hit the woman then "crash onto the pavement and split in half."
A woman was struck and killed by a falling facade from a South Loop church: http://t.co/mtqN8b1y3n pic.twitter.com/dubkvNmOfe

— RedEye Chicago (@redeyechicago) September 4, 2014
Bean, a local resident and mother of two, was taken to an area hospital, where she was pronounced dead, NBC Chicago reports. She was an employee at Lurie Children's Hospital and was planning on marrying her boyfriend, Lance Johnson, who was with her at the time of the accident at Second Presbyterian, according to the Tribune.
#BREAKING city inspectors at 2nd Pres Church after falling facade kills woman walking nearby @WGNNews pic.twitter.com/q1QrXAXXQt

— Julie Unruh (@UnruhJulie) September 4, 2014
Built in 1874, the church was designated a National Historic Landmark in 2013. Once the place of worship for prominent Chicago families like those from the Pullman rail dynasty or Marshall Fields, the church failed building inspections in 2007, 2009, 2010 and twice in 2011, the Chicago Sun-Times reports.
Building department records from 2010 indicated the church's outside walls had issues that included "fractures, washed out mortar at various locations, spalling (flaking) stone at various locations of the tower elevations," the Tribune reports.
The church did, however, pass its most recent inspection in March of 2013, per media reports.