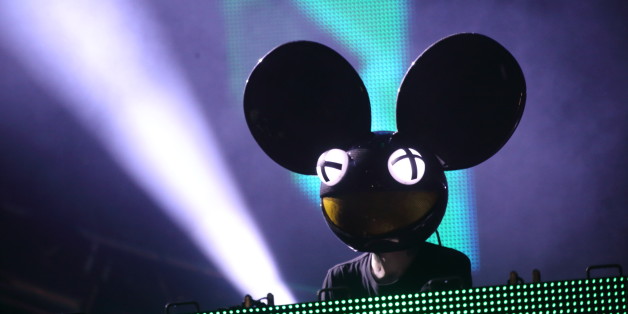 Disney's got a big bone to pick with another big-eared mouse.
Internationally known DJ and producer Deadmau5 is applying for a U.S. trademark of his longtime logo -- a big-eared mouse head with a letter "X" over each eye -- and the company isn't happy. On Tuesday, Walt Disney Co. filed an objection with the U.S. Patent and Trademark Office to block his application, Variety reports.
Disney claims the DJ's emblem bears too much resemblance to its own iconic mouse logo, and that the likeness could cause confusion and impact business.
Deadmau5, a Canadian whose real name is Joel Zimmerman, has been performing around the world for over a decade behind his signature mouse head. His attorney Dina LaPolt told TMZ it's been trademarked in 30 countries; it was only after his most recent U.S. trademark application filed on Aug. 18 that Disney decided to squeak up.
Disney's 171-page objection points out that it's been using a mouse silhouette since 1928, calling its logo "famous", "iconic" and "classic," according to The Independent.
Speaking of his mouse head in 2012, Deadmau5 told Rolling Stone that "Someone at the Disney patent office fell asleep on that one." But LaPolt told Buzzfeed in a statement Wednesday that Deadmau5 "will not be bullied by Disney and is prepared to fight to protect his rights to his property."
Zimmerman has until Oct 12. to respond to Disney's objection, according to Variety. It's obvious from his Twitter feed, though, that he plans to give a good fight:
landed home to some interesting news: looks like Disney officially just filed in opposition of my trademark... lawyer up mickey.

— deadmau5 (@deadmau5) September 3, 2014
@eringrlevy sorry, im no little bitch whos going to fold under a money hungry corperation overt some bullshit. you do your thing tho. k?

— deadmau5 (@deadmau5) September 3, 2014
Disney thinks you might confuse an established electronic musician / performer with a cartoon mouse. That's how stupid they think you are.

— deadmau5 (@deadmau5) September 3, 2014
He even took a blow at "Frozen":
im sorry frozen fucking tanked huge.... i really am. but cmon.

— deadmau5 (@deadmau5) September 3, 2014
BEFORE YOU GO
PHOTO GALLERY
Deadmau5 Photos and Videos