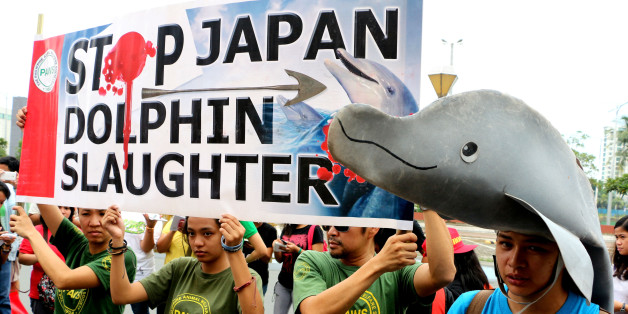 Japan's annual dolphin drive hunting season began on Monday in the small town of Taiji, but activists are working hard to increase awareness and document the events that will unfold in the coming months.
Dolphin drive hunting involves herding a large number of dolphins and small whales into a secluded cove using noise or nets and then capturing or killing them. Japan's annual hunt drew international attention after it was documented in the Oscar-winning documentary The Cove, which offered viewers a disturbing look at the process using hidden and remotely operated cameras.
Each year the dolphin hunt prompts outcry from the international community. During the last dolphin season, U.S. ambassador to Japan Caroline Kennedy tweeted her opposition, saying that she was "deeply concerned by inhumaneness of drive hunt dolphin killing." Celebrities and activists took to Twitter to voice their outrage over the killing and capture of so many dolphins, while on the ground activists tried to document as much of the hunt as possible.
This year activists from Sea Shepherd returned to the cove to resume what they call "Operation Infinite Patience," during which volunteers from around the world keep an eye on the dolphin hunt in Taiji. On the campaign website, Sea Shepherd's Cove Guardians vow, "We will not stop until the slaughter ends."
Ric O'Barry, a former dolphin trainer turned activist who was featured in The Cove, also arrived in Japan last week to campaign and meet with activists and leaders. His campaign, the Dolphin Project, will also continue coverage of the hunt. Both groups are tweeting and live streaming the events at the cove in Taiji.
September 4, 2014 ~ All boats have returned to Taiji harbor for a Blue Cove day! The dolphins are safe for another day. #tweet4taiji

— Cove Guardians (@CoveGuardians) September 4, 2014
Taiji: Boats coming back - BlueCove
ボートが戻ってくる
September 3rd, 2014 8:40am
#Tweet4Dolphins http://t.co/RZGQGUmwaH

— Dolphin Project (@Dolphin_Project) September 2, 2014
Japan's chief cabinet secretary, Yoshihide Suga, defended the hunt earlier this year, calling it "a form of traditional fishing in our country." But veterinarians and behavioral scientists who watched a video of the dolphin killing said that it "would not be tolerated or permitted in any regulated slaughterhouse process in the developed world."
The dolphin hunt will continue through February.
Follow @seashepherd @SeaShepherd_USA @CoveGuardians
4 EVERYTHING you need from the ground in Taiji!
#Tweet4Taiji
RT pic.twitter.com/i3QxnBIMAT

— Sandy McElhaney (@SandyMcElhaney) September 2, 2014
BEFORE YOU GO
PHOTO GALLERY
Amazing Sea Creatures