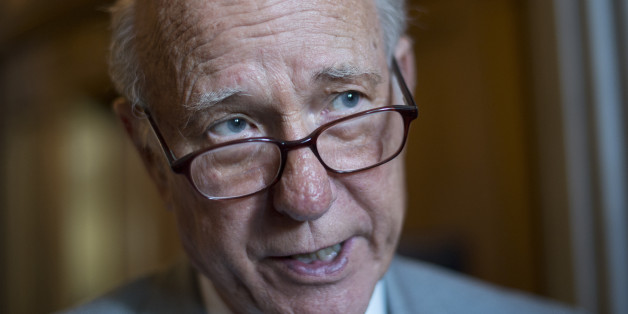 WASHINGTON -- Almost as quickly as Democrats grew giddy over the prospects of an out-of-nowhere win in the Senate race in Kansas, the dream took a hit on Thursday.
A ruling from Kris Kobach, Kansas' secretary of state and a longtime bête noire of liberals, upended a move to essentially coalesce the Democratic Party around the independent candidate in the race, businessman Greg Orman. The Democrat in the race, the underwhelming and underfinanced Chris Taylor, would remain on the ballot, Kobach said, despite his request to expunge his candidacy from the election.
The announcement had the feel of partisan leg swipe.
"The least surprising thing I heard all day was that Kris Kobach made a strictly partisan decision," said Raj Goyle, a former Kansas state representative. "Perhaps he should spend less time on his immigration law practice and more time running his office professionally."

The impact, however, was more of a balloon being punctured. Taylor said he'd challenge the ruling, which could end up being settled in the courts. Orman's campaign did not comment. By later afternoon, the anticipation that Democrats had had the day before, when news first broke that Taylor was bowing out, was diminished.
But not entirely lost. In interviews after the Kobach ruling was offered, national Democrats said they were not yet ruling out the possibility of unseating incumbent Sen. Pat Roberts (R), who has been plagued by the same type of he's-too-focused-on-Washington/he-literally-lives-in-Washington criticisms that have felled other incumbents this cycle. Now, the task is just trickier.
And not just because Democratic voters may still end up seeing Taylor's name on the ballot. In fact, the general consensus was that the expected effect of the Kobach ruling was overblown. Voter awareness tends to be underappreciated (not everyone blindly casts a ballot for the person with a D or R next to his or her name); Taylor could end up winning his challenge or endorsing Orman; and, at the very least, the episode had raised the name ID of the lesser-known candidates.
Rather, the trickiness was in how Democrats could or should finesse such an unconventional contest. Leadership sources in the party were adamant that they were not puppeteers behind the scenes orchestrating Taylor's departure from the race -- though reports stated that Sen. Claire McCaskill (D-Mo.) did play such a role. The less direct attachment that they had to Orman's rise, the better for Orman.
That's because Orman, though he ran against Roberts in 2008 as a Democrat (before dropping out of the race) has been dogmatically independent this go-around. His reticence in saying which party he would caucus with should he end up winning the seat became the source of a mad reportorial scramble on Thursday, with Democratic sources in Kansas and Washington, D.C., telling The Huffington Post that they'd received calls from numerous journalists searching for hints as to which way he'd go. Were national Democratic leaders to be seen as helping orchestrate Orman's campaign, the thinking goes, it would complicate the message and give fodder to Roberts.
The alternative, however, isn't staying strictly on the sidelines -- certainly not with national Republicans coming to Roberts' aid. Two top officials told HuffPost that a Democratic-affiliated outside group was set to privately poll Kansas in the days ahead to get a better sense where the race stood and to answer the question of what, if any, resources to invest. The current polling of the race is best defined as sparse.
Some resources are already there. One Democratic operative said the party has a decent opposition research file on Roberts dating back to the 2008 cycle. In that race, former Rep. Jim Slattery (D) drew some late-stage national attention as the party tried to expand the map to take advantage of the Democratic wave. It didn't work in Kansas. But the notes didn't end up tossed in the trash heap, either.
Roberts certainly seems in a more vulnerable position now than then, owing in large part to a backlash against the conservative movement of the state. Some of the state's disaffected Republicans made a show of their Orman endorsements earlier this week.
But that does not a winning campaign make. With Orman now under intense scrutiny, his standing seems likely to worsen. It's already not entirely clear whether he was on all that solid political ground to begin with, with a set of socially progressive views (he's pro abortion rights and favors expanding background checks on gun purchases) that may put off voters in a state that's still Republican.
Moreover, unlike 2008, Democratic resources this cycle must be spent on candidates in need of defense. Any dollar put into Kansas to score an upset that once seemed improbable is a dollar taken away from a vulnerable incumbent.
"I believe in [electoral] magic, but I'm not a big believer in magic without money, especially in Senate races," said a top party strategist.
Want more updates from Sam? Sign up for his newsletter, Spam Stein.
BEFORE YOU GO
PHOTO GALLERY
Senate Seats Up For Grabs In 2014