Odin and Rorschach are pit bull brothers who live in Arizona, where they like to do everything together: Play, hike in the desert, take adorable siestas all piled up on top of each other.
And it's lucky they get to do all these things as a pair.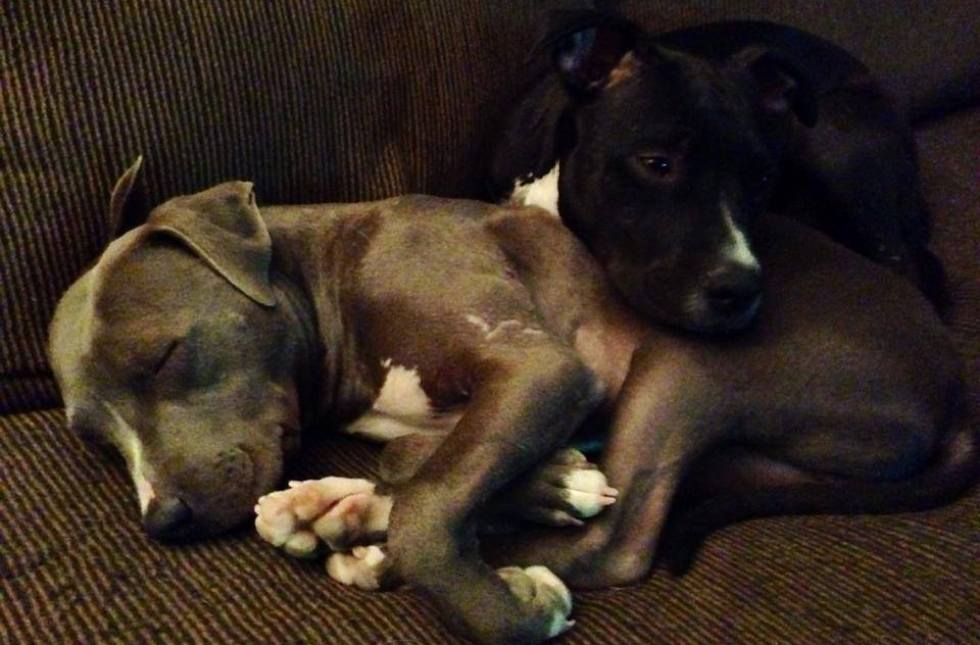 Odin and Rorschach snuggle up together.
The pit bulls could easily have been split up for good. It was October 2013 when Mary Davis -- who lives in Phoenix, Arizona, with her husband and two sons -- saw a news report about these two pups, just 4 months old at the time, with bodies so badly injured that police thought they likely had been used as so-called bait dogs.
"For people who are into dog fighting, they use these puppies to train their dogs on aggressive methods," Heather Allen, CEO of Helping Animals Live On -- the rescue group that took in the puppies -- told a local newspaper at the time.
Davis immediately sent an email to HALO, asking to adopt one of the two. A week later, Odin -- the grey dog, then called Tyco -- was hers.
"We were in love with this little guy," says Davis.
But she couldn't stop thinking about his brother, the black-and-white Rorschach, who at the time was called Mokie. It wasn't long before the Davis family adopted him, too.
"They do have a special bond," Mary Davis says. "I am so glad we went back for Rorschach. They are always somehow connected."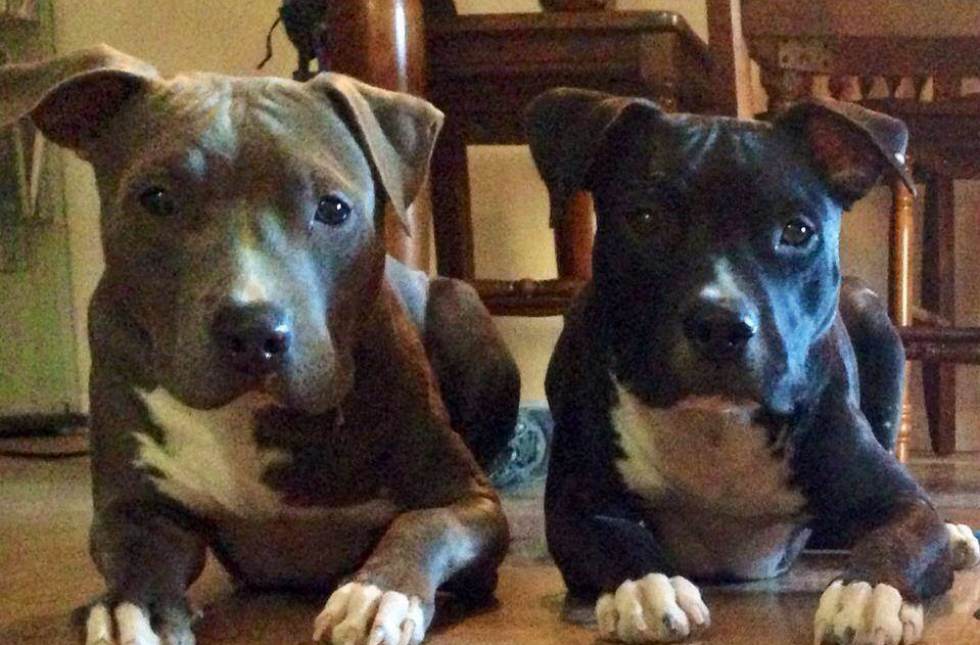 Odin and Rorschach, ready for their close-up.
Despite the horrors they were subjected to as puppies, the brothers are "so loving, and just really amazing dogs," Davis says. They even get along well with the Davis' other two dogs, Jazz, a 12-year-old Lab, and Johnny, a 4-year-old rescue who is deaf and understands sign language.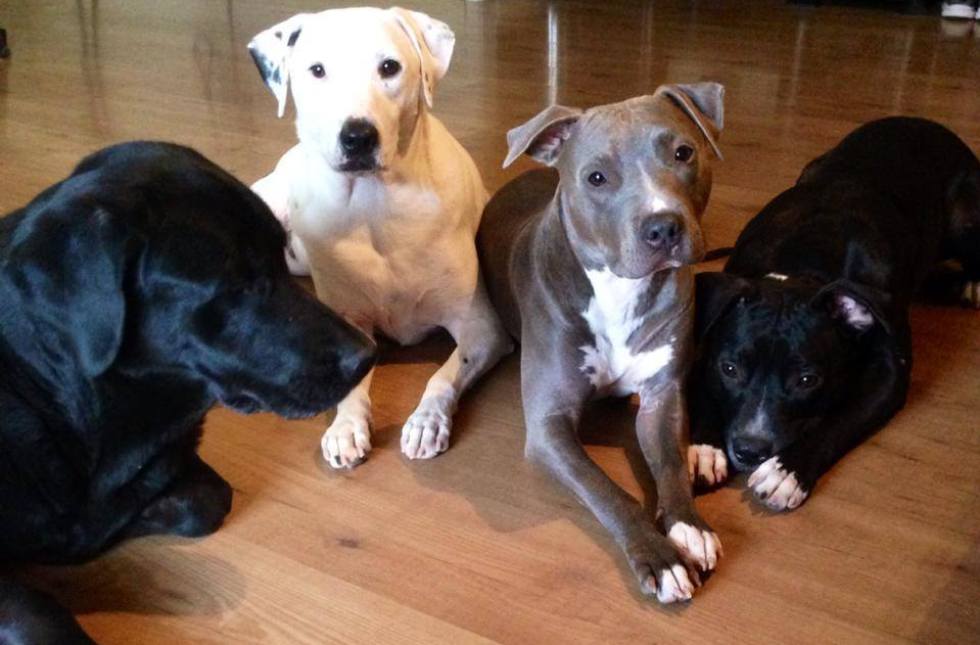 Odin and Rorschach (right) pose with Jazz and Johnny.
Not that there aren't challenges. For example, both Odin and Rorschach "were terrified of our pool" when they first arrived, and they still haven't fully come around on the swimming issue, Davis says. "That is still a work in progress."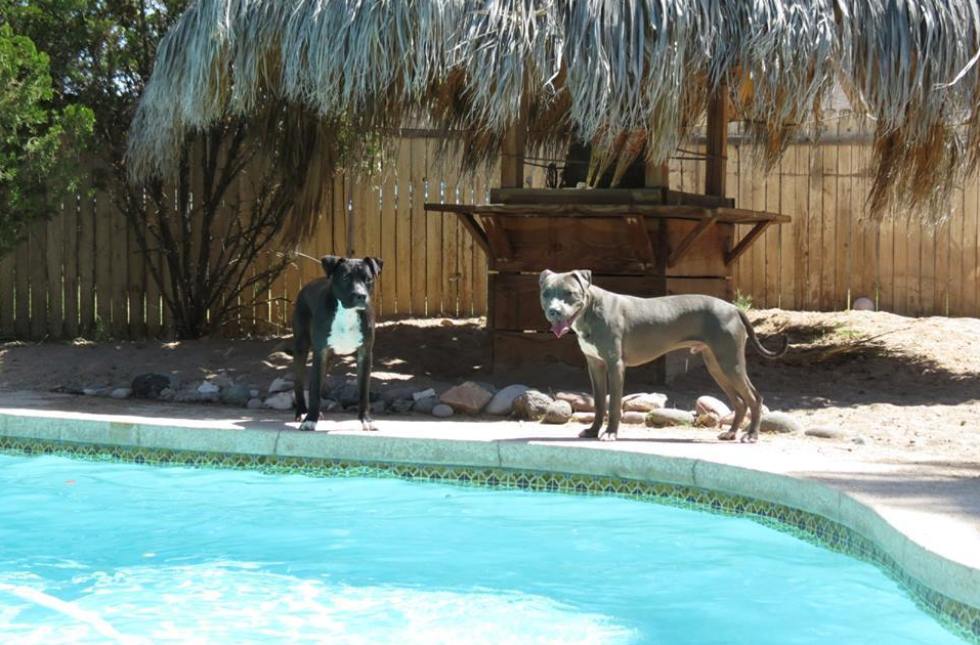 We wouldn't mind helping Odin and Rorschach get accustomed to the Davis family's pool. Looks refreshing!
As wonderful as the Davis family know them to be, the pups are pit bulls, with blocky heads and those damaged bodies, and they've faced prejudice together, as well.
Odin's injuries are not too apparent, which shields him a bit, unlike his brother, who wears more apparent marks of their past. Rorschach has "a lot of scars" that make "people react to him differently," says Davis, who described "a long scar down his neck [and] back" and more on his legs.
Fittingly, his name comes from the Rorschach test, the psychological survey that is supposed to provide insight into a person's psyche by having them examine inkblots and interpret what they see. In addition to being a formerly abused dog who is now a beloved pet, a scaredy-cat swimmer and the ever-present buddy to his brother, Rorshach is the "ultimate personality test," says Davis.
"The people that see him as an innocent guy who has scars are the people that I want in my life," she says. "The people that cross the street to get away from us or lecture us about pit bulls when we are hiking are the people I wish to never see again."
Mary Davis and her husband, Ben, with Odin and Rorschach.
Find out more about Odin and Rorschach on their Facebook page. And get in touch at arin.greenwood@huffingtonpost.com if you've got an animal story to share.
BEFORE YOU GO
PHOTO GALLERY
Your Pit Bulls