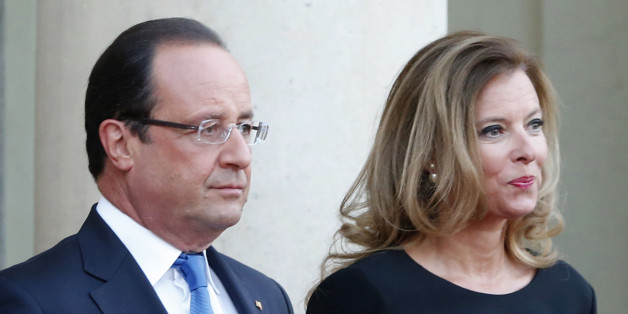 The former partner of French President Francois Hollande has written a tell-all book about her life with the socialist leader and the painful unraveling of the couple's relationship. The book, which was released on Thursday and is titled Merci Pour Ce Moment or Thank You For This Moment, is the latest headache for the embattled French leader.
The seven-year relationship between Hollande and 49-year-old Trierweiler, a journalist for the magazine Paris Match, ended in January when the magazine Closer published photos documenting the president's secret affair with actress Julie Gayet. Two weeks after the scandal broke, Hollande announced that he and Trierweiler had separated.
As Reuters notes, Trierweiler vowed in the wake of the highly-publicized break-up that she would not keep quiet -- a promise she lived up to. In her book, she spills some of the deeply painful details of the events in January. An excerpt published in Paris Match on Wednesday and translated into English below describes Trierweiler's reaction to the news:
The news about Julie Gayet is on the front pages (...) I crack. I can't listen to it. I rush into the bathroom. I take the little plastic bag with sleeping pills ... Francois has followed me. He tried to snatch the bag. I run into the room. He catches the bag and it split. The pills scatter across the bed and the floor. I recover some of them. I swallow what I can. I want to sleep, I don't want to live the coming hours. I feel the storm that will come over me and I don't have the force to resist it. I want to flee. I lose consciousness.
In addition to these revelations, one part of the book in particular has sparked uproar in France. Trierweiler writes: "He's presented as the man who doesn't like the rich. In reality, the president doesn't like the poor. He, the man of the left, calls them 'the toothless' in private and is so pleased at how funny he is." The accusation is a heavy blow for a politician who campaigned as "Mr. Normal."
HuffPost France explains that while Trierweiler doesn't spill a single state secret in her book, she deals a severe blow to Hollande's image. Many have jumped to the president's defense, but the revelations provide ample new ammunition to Hollande's political opponents.
Hollande did not know about the upcoming publication, according to The Guardian. He hasn't made a public statement about it, but government spokesman Stephane Le Foll seemed to dismiss the political implications of the book.
"In the current environment in France and with the responsibilities we face, we have no time to lose," Le Foll said on a French digital channel, according to Bloomberg.