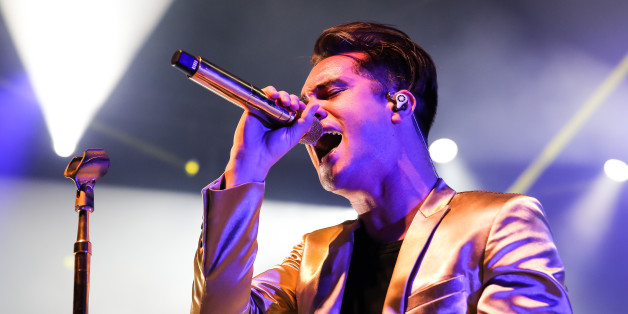 Panic! at the Disco frontman Brendon Urie says he isn't bothered by fans or media outlets that have mislabeled him bisexual after he admitted to having "experimented" with homosexuality and bisexuality last year.
"It's interesting because it's what people do when they don't have a way to label something," Urie tells The Advocate's Jase Peeples. "They freak out and have this need to separate everything into predetermined boxes. But life isn't always that simple."
He also sounded off on his band's sexually-tinged track, "Girls/Girls/Boys," which appears on the 2013 album, "Too Weird To Live, Too Rare To Die!"
"The perfect summarization of that song is in the lyric, 'Love is not a choice.' I really believe that," Urie, who is married to Sarah Orzechowski, said. "These people who try to say otherwise -- I just think, Really? You really think people choose this? You really think some little kid is going to choose something [that puts them at risk of being] ridiculed and bullied."
He went on to note, "I feel like [sexual fluidity] should be celebrated. There's no shame in it. And if I can help shed some light on that fact, then great."
Watch the "Girls/Girls/Boys" video below:
Earlier this year, the glam-rockers vowed fight back against a planned Westboro Baptist Church protest of their Kansas City concert, promising to donate $20 to the Human Rights Campaign for every protester that picketed.
Urie now describes the protest as "disappointing," noting, "They were so weak."
To read the full Advocate interview, head here.
BEFORE YOU GO
PHOTO GALLERY
Celebrities Who've Faced Gay Rumors